Cannabis Stocks And Substantial Gains In 2021
At the present time investing in marijuana stocks is gaining substantial value for investment portfolios in 2021. Currently, the best cannabis stocks to buy have seen double-digit percentage gains in the market to start the year. This is partly due to investors seeing cannabis reform on the horizon and how well cannabis companies have performed during 2020.
Some of the biggest gainers on February 8th are MedMen Enterprises Inc. (OTC: MMNFF) up over 50% by noon. In reality, marijuana stocks under $1 have seen substantial gains in 2021. But with so many different pot stocks to choose from investors can get lost in the market. Currently, investors seem to be putting their money into Canadian cannabis stocks in the market. In reality, this has continued to push stocks like Aphria Inc. (NASDAQ: APHA) higher in the market gaining over 13% in trading on February 8th.
In general, Canadian cannabis companies are well established globally and also have plans to enter the U.S. markets. Although this entry is not possible until federal reform occurs most have established strategies to enter the American market. Others have made investments and acquisition agreements with U.S. companies. But with leading marijuana stocks reaching such high value in the market it could be time to look in other places.
Top Pot Stocks Look Bullish In The Market
Provided that marijuana stocks continue showing upward momentum this marks the sixth week of consecutive gains in the market. Actually, the first week in February was the most gains seen in the cannabis sector since before the presidential election.
Generally speaking, marijuana stocks are looking bullish right now. More investors are recognizing the potential for growth cannabis companies has at the moment. But with top pot stocks reaching some of their highest price points in the market cannabis investors are looking at lower-priced stocks for value.
In 2021 some of these Canadian pot stocks have already gained substantial market value but they have also gained notoriety amongst investors. Because of this, they manage to deliver massive gains in a short period of trading. For the purpose of looking into these companies and taking a deeper look into the company. Let's focus on 2 marijuana penny stocks with big gains in 2021.
Read More
Marijuana Stocks To Watch:
OrganiGram Holdings Inc. (NASDAQ: OGI)
Sundial Growers Inc. (NASDAQ: SNDL)
OrganiGram Holdings Inc.
OrganiGram Holdings Inc. is one of the only major Canadian cannabis companies with only one cultivation and growing facility. The company utilizes a three-tier growing process that maximizes its yield in that facility. In essence, this has allowed OrganiGram to streamline supply with its supply needs making it more efficient. On January 12th the company reported Q1 fiscal 2021 results showing adult-use recreational net revenue grew by 30% to $16.8 million. Additionally, the company is reporting it has begun increasing production to meet increased and capture more sales in the market.
On February 2nd OrganiGram announced changes to its executive staff in the company. In specific Matt Rogers, Senior Vice President will be leaving at the end of May 2021. In detail, Mr. Rogers will work closely with Nathalie Batten the companies newly named plant manager. In 2020, Organigram began a product portfolio revitalization to address what it believes to be some of the biggest consumer trends and preferences. This includes demand for higher THC potency in dried flowers as well as new genetic strains and novel products.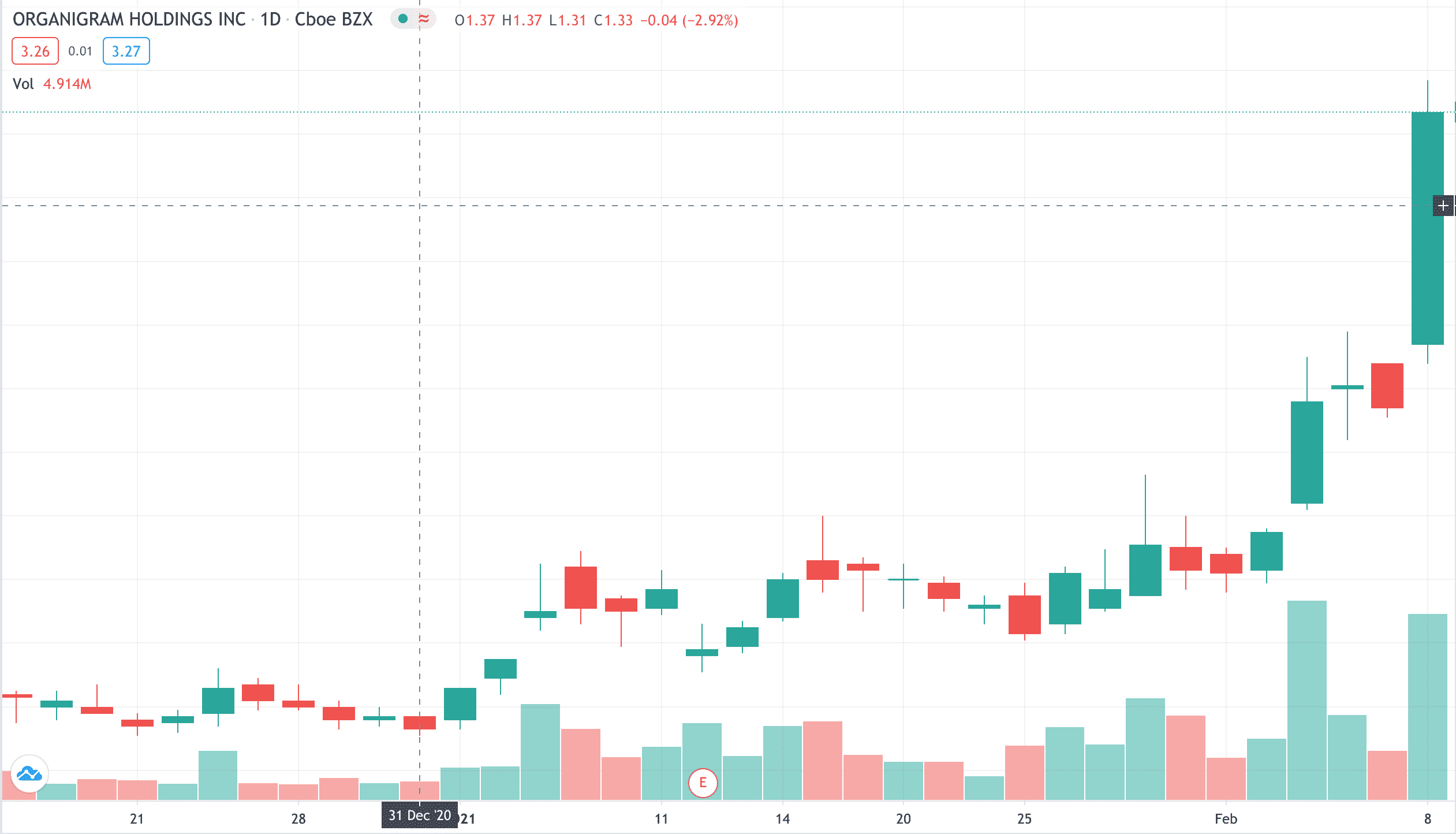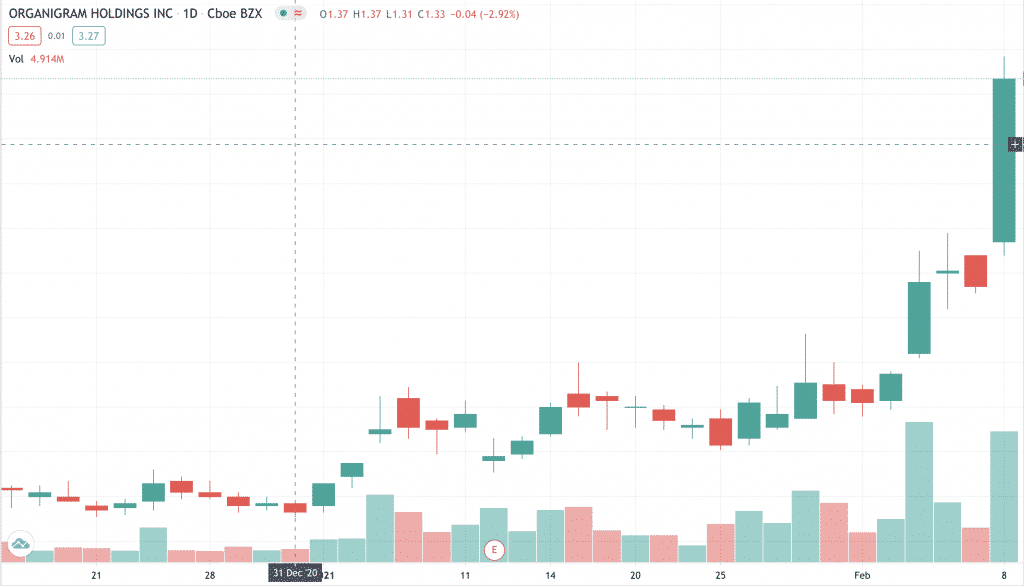 OGI stock is up 143.23% year-to-date reaching a new high of $3.36 in trading on February 8th.  Currently, analysts at Stock Invest are expecting the stock to rise 52.78% in the next 3 months given short-term trends. As OrganiGram captures more of the Canadian cannabis market its revenue growth could be a catalyst for the stock. With this in mind, OGI stocks is a top cannabis stock to watch the second week in February.
[Read More] Are These Marijuana Stocks A Buy Right Now? 2 Top Pot Stocks To Add To Your Watchlist
Sundial Growers Inc.
Sundial Growers Inc. is a Canadian licensed producer of cannabis using state-of-the-art indoor cultivation facilities. On January 11th Sundial launched a high-quality cannabis derivative product under its Top Leaf brand.  Sundial's focus on premier inhalable branded retail offerings of flower, preroll, and vape cartridges. In February Sundial also closed on two registered offerings totaling $174.5 million.
In 2020 Sundials Q3 financials show the company reporting a branded net cannabis sales increase of 77%. Net cannabis retail for Q3 2020 was $12.9 million a decrease of 36% over Q2 of 2020. In addition, Sundial's net loss was $71.4 million in Q3 with an adjusted EBITDA loss of $4.4 million. Sundials CEO Zach George says," While our third-quarter revenue decreased, we are pleased with the demonstrated improvement in operating discipline, successful cost optimization initiatives, and a material reduction of our debt."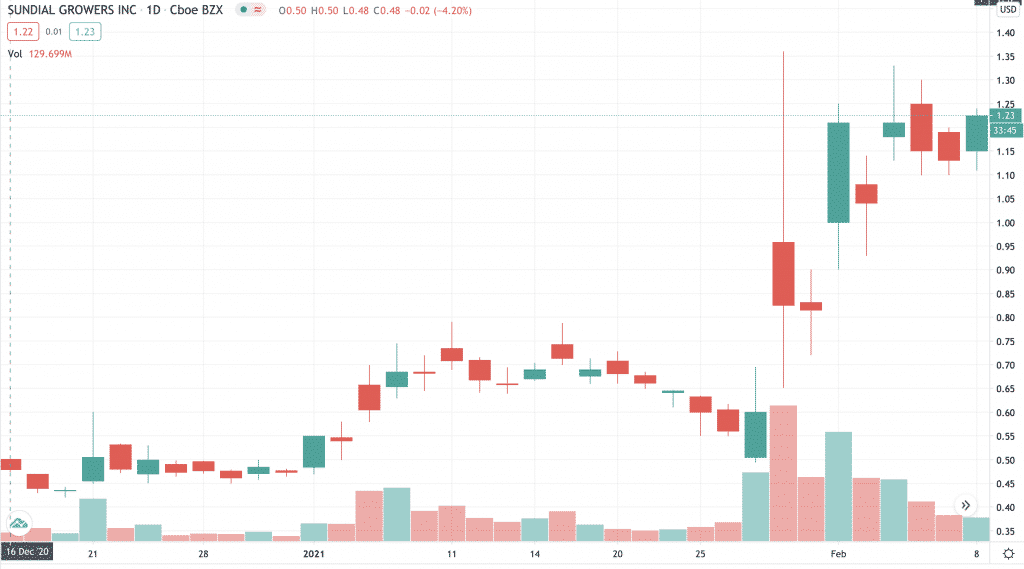 SNDL stock is up 149.21% year-to-date and has almost doubled since the last week in January. Currently trading at $1.18 up 4.42% on February 8, 2021, the stock has a 52-week high of $1.70 in February of 2020. This could mean the stock could still have some upward momentum after it assesses recent gains. At the present time analyst at Market Beat are giving SNDL stock a consensus price target of $1.25. In reality, this would be a modest upside of 8.7% from current levels. But with newfound notoriety investors could continue buying SNDL stock giving it gains in the market. For this reason, SNDL stock is marijuana penny stock to watch this week in February.
[Read More] 2 Top Marijuana Penny Stocks To Watch Under $1
---
MAPH Enterprises, LLC | (305) 414-0128 | 1501 Venera Ave, Coral Gables, FL 33146 | new@marijuanastocks.com