Substantial Market Growth For Cannabis Industry
The cannabis industry is a market that has massive growth potential for the next five years. One area that will grow alongside the cannabis market is the hydroponic and gardening segments associated with cannabis cultivation. During 2020 many companies that provide hydroponic equipment and lighting solutions for indoor growing saw a significant rise in demand.
Because of the growing cannabis industry in the U.S., many have begun expansion in the key growth markets for the cannabis industry. In recent reporting, these types of ancillary cannabis companies have shown record revenue growth. On March 24th the "Home Depot of the cannabis industry" GrowGeneration Corp. (NASDAQ: GRWG) reported record Q4 and full-year 2020 financial results and raised its 2021 full-year guidance. In 2020 GRWG stock climbed 880% in the market and continues to show future potential from recent levels.
There are a few cannabis companies that have developed relationships with the cannabis sector in the agricultural sense. While some are more commercial based others supply to both individual growers and large cannabis companies. Actually, this part of the cannabis industry is not touching the actual plant, so the companies are fully legal in the U.S.
Predicting Gains For The Cannabis Market
As analysts predict a high growth period for the cannabis market in the next few years, it could be time to add some of these top pot stocks to your April watchlist. At the present time, many of the best marijuana stocks to buy are trading much lower than their recent highs in February.
In reality, this has more to do with investor sentiment than it does with the cannabis industry's performance. Now that many people are looking for ways to invest in marijuana stocks these marijuana stocks could see substantial upward momentum in 2021. For the purpose of researching some of the top marijuana stocks that focus on the cultivation aspects of the cannabis market, we can look in-depth into specific companies.
Some of these cannabis companies have only recently entered the stock market but have been in the private sector for years. Others are some of the only pot stocks that currently provide a dividend to shareholders. With this in mind let's look at 2 top marijuana stocks to watch before April 2021.
Read More
Marijuana Stocks To Watch:
The Scotts Miracle-Gro Company (NYSE: SMG)
Hydrofarm Holdings Group, Inc. (NASDAQ: HYFM)
The Scotts Miracle-Gro Company
The Scotts Miracle-Gro Company is an industry-leading branded consumer lawn and gardening products provider on a global scale. Apart from its regular gardening segment Scott's also is the owner of its subsidiary Hawthorne Gardening which is a leading hydroponic and indoor lighting supplier for the cannabis market. In February Scott's announced its Q1 and fiscal 2021 results that showed strong growth in sales. In  specific U.S. consumer sales are up by 147% and Hawthorne sales are up 105% to $748.6 million. Additionally, Hawthorne's Q1 sales are $309.4 million from an increase in demand for growing equipment and gardening supplies.
One incentive for investors provided by Scott's is a dividend for shareholders. Specifically, Scott's provides an annual dividend of $2.48 per share a rare gem amongst cannabis stocks. Also, Scott's also gives investors exposure to more parts of agriculture than just cannabis. In March SMG stock is one of the few marijuana stocks showing upward momentum in the market.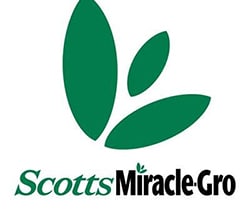 SMG stock is up 18.46% year to date with a high of $250 in February. Heading into the close on March 25th SMG stock is at $235.97 up 2.36% at the moment. According to analysts at CNN Business SMG stock has a 12-month median price target of $270 per share. In essence, this is a 14.46% gain from current levels. For this reason, SMG stock is a top ancillary marijuana stock to watch in April of 2021.
[Read More] Top Marijuana Stocks Are Down In The Market, Are You Buying The Dip?
Hydrofarm Holdings Group, Inc.
Hydrofarm Holdings Group, Inc. is a distributor and manufacturer of hydroponics equipment and supplies for controlled environment agriculture. After 40 years in the private sector in 2020, Hydrofarms became a publicly-traded company. At the present time, the company sells high-intensity grow lights, climate control solutions, as well as a large portfolio of branded products. With its introduction to the market, HYFM stock has seen significant gains in a short time.
In February Hydrofarm announced its growth outlook for fiscal 2021. To elaborate, the company is expecting 20% growth for the fiscal year 2021 compared to 2020. This month Hydrofarms will announce its Q4 and full-year 2020 results on March 30th after the market closes. Recently Hydrofarms path to profitability could have it generating positive gains in 2021. With a market cap of $1.8 billion Hydrofarms could be one of the major companies in the cannabis hydroponic supply industry.

HYFM stock is up 18.85% year to date with a high of $95.48 in February. Currently, HYFM closed trading on March 25th at $62.64 down 5.29% for the day.  According to analysts at Tip Ranks HYFM stock has a 12-month average price target of $75.75 per share. This would be a 21.36% increase from current price levels. With this in mind, HYFM stock is a cannabis stock to watch to close this week.
[Read More] Best Marijuana Stocks To Buy Before April? 2 For Your Watchlist This Week
---
MAPH Enterprises, LLC | (305) 414-0128 | 1501 Venera Ave, Coral Gables, FL 33146 | new@marijuanastocks.com