Marijuana Stocks Emerging In The U.S. And Global Markets
Marijuana stocks and the cannabis industry have come a long way since the market crashed in March of 2020. In reality, the future of the cannabis market in the U.S. and on a global scale has never looked more promising. In the U.S. cannabis companies are expanding their brands and dispensaries into emerging key markets nationwide.
Additionally, Canadian cannabis companies are also establishing their entry into the growing U.S markets. Also, these Canadian companies are seeing revenue growth from the derivatives market in Canada.  As February begins top pot stocks are recovering gains lost in the last week of trading in January. Actually, this could be an opportunity for investors to find better prices for some of the top pot stocks to watch.
In 2021 some of these companies are expanding their brands to new markets. In essence, this could add to future revenue and add value to the market. Currently, top marijuana stocks like Cresco Labs Inc. (OTC: CRLBF) continue to show upward momentum heading to highs reached in January. In general, some of these other smaller cannabis companies are also showing momentum.
Finding The Best Cannabis Stocks To Invest In
For investors finding the right marijuana stocks to invest in could be difficult with so many different choices in the market. One thing to keep in mind before investing in pot stocks is they are known for volatility in the market. In reality, this is good for day traders and swing trades but could be a nail-biting experience for the long hold. Some marijuana stocks that could be better for long term positions are ancillary cannabis stocks like Innovative Industrial Properties, Inc. (NYSE: IIPR).
By doing research into these cannabis company's investors can better understand how the company is performing. In turn, this could help them make better decisions before starting a position in the market. While currently, most top cannabis stocks are climbing higher in the market some smaller pot stocks could hold potential value. In this case, these pot stocks have not yet seen the gains the leading cannabis stocks have. For the purpose of shedding light on some cannabis stocks that could hold gains for 2021 let's take a look at 2 marijuana stocks to watch in February 2021.
Read More
Marijuana Stocks To Watch:
Planet 13 Holdings Inc. (OTC: PLNHF)
Acreage Holdings, Inc. (OTC: ACRHF)
Planet 13 Holdings Inc.
Planet 13 Holdings Inc. is a vertically integrated cannabis company with award-winning cultivation, and one of the biggest dispensary concepts currently in existence. The company has a 115,000 sq. ft. location on the Las Vegas strip properly named the Planet 13 Superstore. In 2020 Planet 13 has expanded to Santa Ana, California where the company is expecting to open its second Superstore location. Additionally Planets 13 has also opened its smaller scale dispensary The Medizin which is in a good location to serve local cannabis consumers in the Las Vegas area. Recently Planet 13 announced it agreed to a $50 million public offering for 7.15 million shares at a price of $5.46 per share.
Planet 13 had a strong performance in 2020 regardless of tourism being hurt by the pandemic shutdowns. In fact, in Q3 of 2020 Planet 13 has revenue of $22.8 million and an adjusted EBITDA of $6.2 million. Additionally, Planet 13 increased its assets to $125.5 million compared to $62.9 million in the same quarter the prior year. As things progress in 2021 Planet 13 could have more revenue growth due to its recent expansions.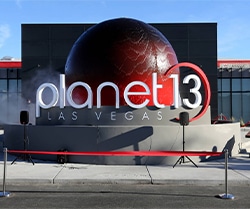 PLNHF stock is down over 5% since the start of 2021 with a 52-week high of $6.32 on January 11th. Currently trading at $5.32 on February 2nd the stock has been losing some market share since it peaked in January. At the present time, analysts at MarketBeat are giving PLNHF stock a consensus price target of $5.75. In essence, this would be an 8.9% gain from current levels. With this in mind, PLNHF stock is marijuana stock to add to your watchlist for 2021.
[Read More] Are These 2 CBD Marijuana Stocks A Good Investment For 2021?
Acreage Holdings, Inc.
Acreage Holdings, Inc. is based out of New York its national retail store The Botanist carries national and regional cannabis products. In 2020 Acreage and Canopy Growth Corporation (NASDAQ: CGC) began a merger that will help the Canadian company gain entry into the U.S. market. In addition, the two companies also have plans to launch Canopy's THC-beverages as early as summer 2021.
At the present time Acreage owns or manages 29 operational dispensaries across 11 states. In Acreage's Q3 2020 financials its revenue of $31.7 million is up 42% from the prior year. Another important factor is Acreage saw same-store growth of 36% marking the seventh consecutive quarter of double-digit percentage gains. With Acreages growing presence in the U.S. cannabis market and its situation with Canopy it could have growth potential.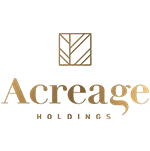 ACRHF stock is up 117% year-to-date and has a 52-week high of $7.50 on January 14th. Currently ACRHF stock is trading at $6.85 on February 2nd up 3% in today's trading session. As Acreage opens new locations in key markets like Massachusetts it could produce revenue gains in the future. Some analysts at Stock Invest say short term trends have the stock rising 73.6% in the next 3 months. For this reason, ACRHF stock is a top pot stock to watch for gains in 2021.
[Read More] 2 Of The Best Marijuana Stocks In February That Have Seen Substantial Gains In 2021
---
MAPH Enterprises, LLC | (305) 414-0128 | 1501 Venera Ave, Coral Gables, FL 33146 | new@marijuanastocks.com