Cannabis Stock Sector Gains Popularity With Investors
Marijuana stocks have become a focus in investor interest because of the growing possibilities they can become legal across the United States, Mexico, and Canada. As American legalization progresses on the state level U.S. cannabis companies are expanding at a rapid pace. In Canada, most Canadian companies are seeing revenue growth from the introduction of the derivatives market there.
Additionally, the top Canadian cannabis companies are also establishing their entry into the U.S. markets once it's federally legal to do so. In Mexico legislation that could legalize recreational cannabis use in the country is expected to pass in 2021. So far in 2021 global cannabis stocks are up over 28% in January adding to the rally that began in November.
In fact, Canadian marijuana stocks like Tilray (NASDAQ: TLRY) have gained 119.1% for the month of January. Realistically, most of the gains produced in January have been focused on the Canadian sector. In part, this is due to investors believing the legal cannabis industry will catapult growth for Canadian cannabis stocks that are best positioned in the market. While the current market continues growing in Canada with the derivatives market in the U.S. elements from the Canadian product line could begin to make their way to the U.S. markets.
Global Cannabis Market Growth And U.S. Predicted Sales
In addition to the already established global presence, most Canadian cannabis companies already have an entry into the U.S. market and would benefit from its growth. Currently, analysts believe U.S. cannabis sales could grow to about $41 billion by 2025. This would give the best-positioned marijuana companies substantial growth potential for the next five years. As it stands January took most marijuana stocks to new highs in the market. Although things cooled down in the last week of January trading, February could see another pot stock rally.
Because the Canadian sector showed the most gains in January there could be more potential gains for these stocks this month. Finding the top cannabis stocks to watch involves some research into the best pot stocks in the sector. For the purpose of taking a deeper look into some of the top Canadian marijuana stocks in 2021 let's look at these 2 Canadian cannabis stocks that are best positioned for growth in the U.S. market.
Read More
Marijuana Stocks To Watch:
Aphria Inc. (NASDAQ: APHA)
Canopy Growth Corporation (NASDAQ: CGC)
Aphria Inc.
Aphria Inc. is a leading global cannabis consumer packaged goods company with operations in Canada, United States, Europe, and Latin America. Recently Aphria rocked the Canadian cannabis industry when its merger with another Canadian giant Tilray Inc. Actually, now the two combines to be the largest revenue-producing cannabis company in the world. In Aphria's most recent financial results released on January 14th, the company announced record Q2 fiscal 2021 results. In detail the company report's net revenue of $160.5 million and an increase of 33% from the prior quarter. Additionally, Aphria had adjusted EBITDA of $12.6 million marking the 7th consecutive quarter of increasing positive EBITDA.
Another important factor accomplished by Aphria was the strategic acquisition of Sweetwater Brewing Company a U.S. independent craft brewer. In turn, the move gives Aphria access to the U.S. beverage market and also distribution channels already established by the company in the U.S. In a recent interview, Aphria Chairman and Chief Executive Officer said," Our market-leading adult-use cannabis brands and sales remained strong and our international medical cannabis sales are off to a solid start. We also advanced our long-term vision for building a global cannabis lifestyle consumer packaged foods company positioned for sustainable, profitable growth with the closing of our acquisition of SweetWater late in the second quarter. In addition to advancing our long-term vision and growth objectives, the addition of SweetWater is a cornerstone within our U.S. strategy and a strong complement to our existing Aphria business that we believe will return compelling financial benefits.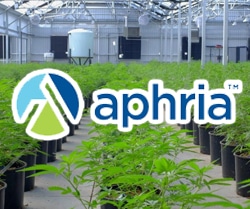 APHA Stock Performance
APHA stock is up 80.92% year-to-date and has a 52-week high of $14.01 achieved in January of 2021. Currently, APHA stocks are trading at $12.55 on February 1st up over 3% for the day. At the present time, analysts at MarketBeat have a consensus price target of $17.00 for APHA stock. In reality, this would be a 35.6% gain from current trading levels. With this in mind, APHA stocks is a top Canadian marijuana stock to watch for February 2021.
[Read More]  Top Marijuana Stocks To Watch For Long-Term Investing in 2021
Canopy Growth Corporation
Canopy Growth Corporation is a world-leading diversified cannabis and cannabinoid-based consumer product company.  The company offers a variety of high-quality dried flowers, oil, soft gel, capsules, infused beverages, edibles, and vaporizer devices. Canopy has entered the health and wellness consumer markets in key places like Canada, the U.S., and Europe. At the present time Canopy is establishing its entry into the U.S. market with two top U.S. marijuana companies.
In detail, Canopy has initiated an agreement between itself and Acreage Holdings, Inc. (OTC: ACRHF). Actually, the two have plans to release Canopy's line of infused beverages in the U.S. in the summer of 2021. Another way Canopy has been working its way into the U.S. is by investing in TerrAscend Corp (OTC: TRSSF). In fact, Canopy has been buying into the company since November 2017.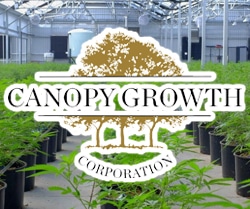 CGC Stock Performance
CGC stock is up 61.12% since the start of 2021 with a 52-week high of $41.75 in late January trading. Currently CGC stock is trading at $39.75 on February 1st going into power hour. At the present time, analysts at Stocks Invest are giving CGC stock a gain of 48.26% during the next 3 months. For this reason, CGC stock is a top Canadian cannabis stock to watch in February trading.
[Read More]  3 Marijuana Stocks To Watch Next Week
---
MAPH Enterprises, LLC | (305) 414-0128 | 1501 Venera Ave, Coral Gables, FL 33146 | new@marijuanastocks.com