Last week we began coverage on our newest Connect The Dots feature Integrated Cannabis Company (ICNAF)(ICAN). First off, if you're not familiar with what precisely a Connect The Dots featured company is, click here immediately. These have been some of our most explosive features in the history of our site and for Integrated Cannabis Company (ICNAF) (ICAN), right now could be the most important time to be paying attention to this company.
What we saw last week may be just the beginning in our opinion. Countless times in the past, our Connect The Dots features have seen momentum trend higher for months and ICNAF/ICAN has already set a firm tone. Last week we watched as it saw some of its most active trading days in the history of the company and further to that, early Friday (9-14) morning, the stock closed the 2-day gap from our initial alert.
Why is this important? Well, for starters, when stocks make such an aggressive move (ICNAF jumped over 60% in 2 days), the market typically needs to adjust, and usually, nothing goes up in a straight line every day after such a jump like that. On top of it, Integrated Cannabis Company (ICNAF)(ICAN) didn't break its lower support either and actually ended up rebounding by roughly 11% before the closing bell.
3 Potential Near-Term Catalysts For Integrated Cannabis Company (ICNAF)(ICAN):
Technicals + Corporate Events + Canadian Pot Stock Bull Trend
So, why is now the time to be paying attention to Integrated Cannabis Company (ICNAF) (ICAN)? Let's look at corporate events and some strong technical indicators:
1. ICNAF/ICAN just announced the completion of a market-ready THC-infused spray product and the required licensure for manufacturing of the product in Colorado.
Product launches are vital to seeing companies move forward and for ICNAF/ICAN to be hot on the path of a THC infused product (Not just CBD) could be a big opportunity when it comes to reporting sales figures at the end of the year – 1st potentially bullish catalyst for ICNAF/ICAN.
2. ICNAF/ICAN pulled back from highs, held its 3-day support & is already beginning to bounce
Late Thursday (9-13) night there was a bash piece sent out from a major publication that triggered a brief sell-off in many Canadian marijuana stocks (we brought some clarity to this far-reaching article, here). Instead of breaking down entirely, ICNAF/ICAN pulled back to support, held support, and then bounced back by 11% before the week came to an end – 2nd potentially bullish catalyst for ICNAF/ICAN.
3. ICNAF/ICAN's chart pattern and specifically its 50-day and 200-day moving averages have triggered a trend that has come to be known as one of the most bullish chart patterns for long-term uptrends: The Golden Cross.
According to the definition, the golden cross is a bullish breakout pattern formed from a crossover involving a security's short-term moving average (such as the 50-day moving average) breaking above its long-term moving average (such as the 200-day moving average) or resistance level. According to Investopedia, "As long-term indicators carry more weight, the golden cross indicates a bull market on the horizon and is reinforced by high trading volumes."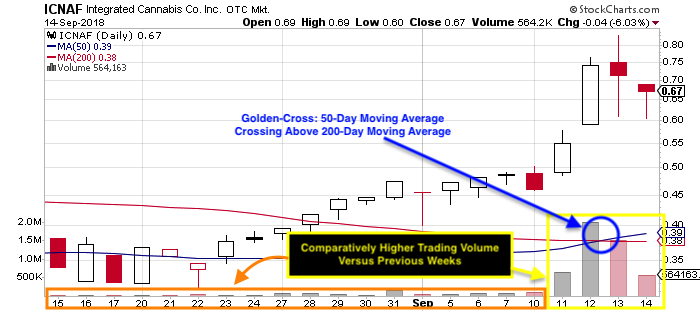 As far as this chart looks, ICNAF/ICAN has hit all critical points for this Golden Cross to be confirmed and surely after people wrote off the negative article regarding Canadian cannabis stocks, the market this week could be primed for more momentum to build – the 3rd potentially bullish catalyst for ICNAF/ICAN.
4. If this wasn't enough, the entire market for Marijuana Stocks (especially Canadian pot stocks) could be poised for a bullish trend of its own.
Both the Alternative Harvest ETF (MJ) and the Horizons Marijuana Life Science ETF (HMLSF) are approaching possible gold cross setups of their own. Momentum over the last few weeks has been building, and despite a slight pullback from Friday morning, both have already begun to bounce back strong heading into this week.
Horizons Marijuana Life Sciences Index ETF (HMLSF)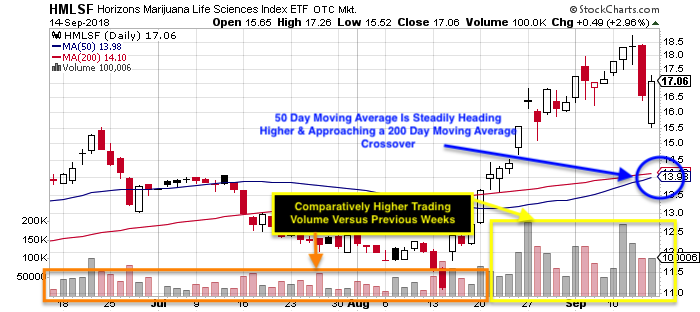 Alternative Harvest ETF (MJ)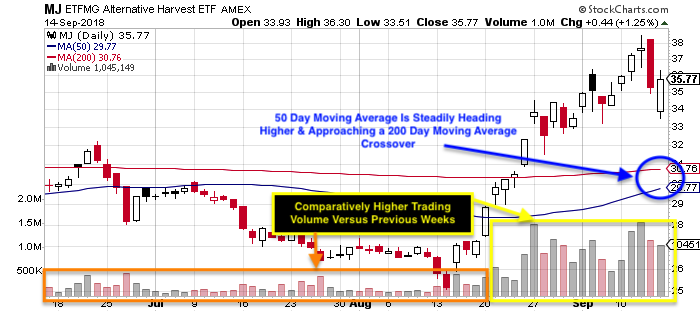 The Week Ahead
Over the last 4 years, we have selected less than 10 companies to be featured in a "Connect the Dots" segment. As the marijuana industry continues to evolve into the most excellent investment opportunity since the Internet Boom, so does the Marijuana Stocks subscriber base and loyal following. We take great pride in providing you with the most up to date industry and financial information available today.
It's our goal to "connect the dots" for our readers to help identify opportunity in this budding industry. And thus far we have done more than just recognize opportunity; we have helped some earn a small fortune. Integrated Cannabis Company (ICNAF) (ICAN) had already shown great potential after running from right around $0.44 to nearly $2 last year, which was before any significant developments had even been solidified. Now we've got an opportunity to not only see Integrated Cannabis Company (ICNAF)(ICAN) after a major acquisition, and a milestone announcement like it made last week, but we're also seeing this company as the Canadian marijuana sector is on the verge of potentially seeing a massive boom.
"Long-term bullish indicators" aren't just showing on the ICNAF/ICAN chart but strong bullish indicators are showing up on the charts that track the entire sector as ETF's.
We expect the Canadian marijuana market to rally in the second half of 2018 especially ahead of the highly anticipated legalization of recreational marijuana across the nation. We think that the second half of 2018 is the perfect time to start identifying opportunity. And we've only just begun to follow the progress being made from Integrated Cannabis Company (ICNAF)(ICAN).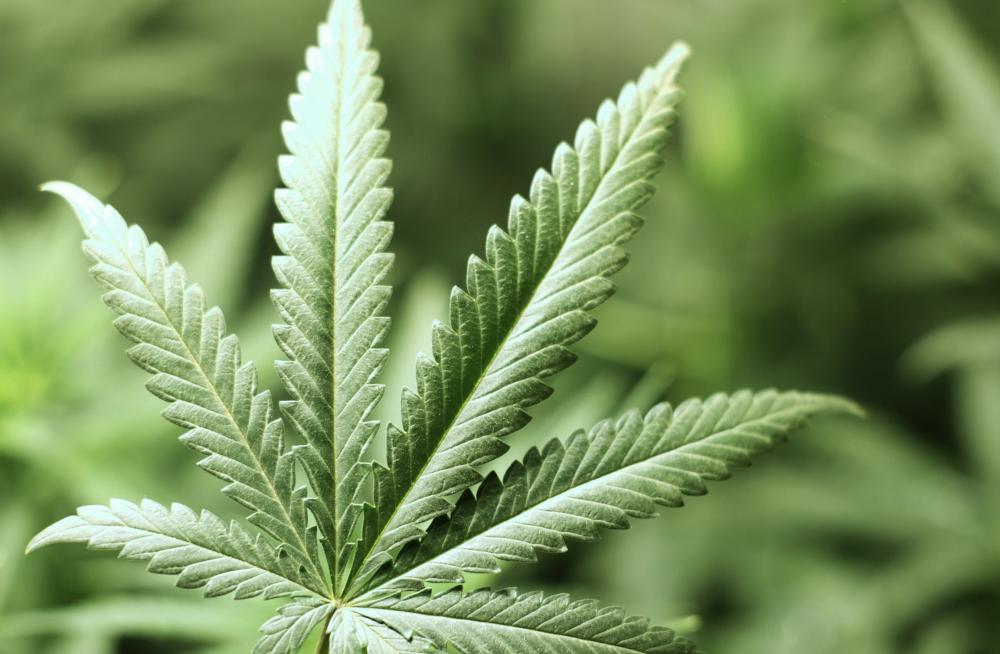 Disclaimer: Pursuant to an agreement between an affiliate of MAPH Enterprises, LLC (owners of MarijuanaStocks.com), Midam Ventures LLC and Integrated Cannabis Company, Midam is being paid $25,000 per month for a period of 6 months beginning September 4, 2018, and ending March 9, 2019. We own ZERO shares of Integrated Cannabis Company. We may buy or sell additional shares of (ICNAF)/(ICAN) in the open market at any time, including before, during or after the Website and Information, to provide public dissemination of favorable Information about Integrated Cannabis Company. Full Disclaimer Here