Marijuana Stocks Going Into December 2020
Marijuana stocks to buy holding most of the gains this month on the last day of November. As a crucial week for the U.S. cannabis industry begins investors are already betting on the outcome of federal legalization and decriminalization in the states. And cannabis investors are not only investing in U.S. MSOs but in Canadian marijuana stocks as well. In fact, Canadian cannabis companies like Tilray Inc. (TLRY Stock Report) have climbed substantially in the last couple of trading sessions. It's important to realize that although laws may become more favorable for Canadian cannabis companies to enter the U.S. market this could still take some time to accomplish. Even though many Canadian marijuana companies have already put their entry plans in place.
[Read More]
But this has not stopped investors from buying up shares in these companies since the election rally at the beginning of November. In fact, most stock prices are seeing gains on much higher share volume in the market. Currently, companies like Sundial Growers Inc. (SNDL Stock Report) are experiencing almost five times its average daily volume and SNDL stock is up over 40% in market value today. For many, this could be the time to get in on cannabis investing at a big turning point in the industry.
U.S. Cannabis Market And Canadian Companies
As it stands regardless of the upcoming vote this week on the MORE Act the U.S. cannabis industry is predicted to almost triple in revenue growth in the next five years. In reality, this could be one of the biggest investment opportunities in modern times and cannabis investors are taking advantage. While U.S. leading MSOs are currently at some of the highest stock value, they have seen for 2020 investors are also looking for value in other sectors. While Canadian cannabis stocks have not seen the same gains as most top U.S. pot stocks to watch have, they could have more growth potential for December.
In general, Canadian marijuana companies have been reporting better than expected earnings in the latter part of 2020. In essence, this can be interpreted as the derivatives market in Canada making some headway after a rough start due to the pandemic shutdowns. But many of the Canadian powerhouses have plans to enter the U.S. cannabis market when the laws change. With this in mind, let's take a look at two Canadian cannabis companies that have expansion plans into the U.S.
Best Canadian Cannabis Stock #1: Canopy Growth Corporation
Canopy Growth Corporation (CGC Stock Report) is the first and largest publicly traded Canadian marijuana company and a front runner for entry into the U.S. Recently the company released Q2 fiscal 2021 financials that achieved a record quarterly net revenue of $135 million. In addition, the company cut its net loss to $97 million a 43% improvement versus Q2 of 2020. At the present time, the company is building momentum in the U.S. and establishing a leadership position there.
In general, Canopy has entered the U.S. through an amended agreement between themselves and Acreage Holdings, Inc. (ACRHF Stock Report). In detail, the agreement provides Canopy with majority ownership of Acreage upon changes in federal laws in the U.S. As a result, the companies have announced plans for Acreage to launch THC-infused beverages in California, and Illinois in the summer of 2021. Once these distribution lines are in place it should be easier to establish other Canopy products at a later time.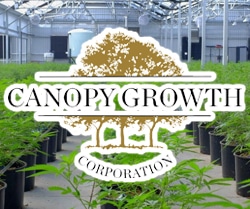 CGC stock is currently trading at $29 a share coming off its high of the year November 30th of $29.39. As one of the biggest cannabis companies Canopy's moves into the U.S.  could continue strengthening growth. CGC stock is over 35% year-to-date and analysts have given it a median price target of $20.19 almost 30% lower than current levels. As it comes off its YTD high today it could be a cannabis stock to watch for a lower entry point. For this reason, CGC stock is a pot stocks to watch going into December 2020.
Best Canadian Cannabis Stock #2: Aphria Inc.
Aphria Inc. (APHA Stock Report) is a leading global cannabis company with operations in Canada, Europe, Latin America, and now the U.S. Currently, the company is announcing the closing and acquisition of SW Brewing Company. In detail, the company is one of the largest independent craft brewers in the United States. Aphria is building the foundation to enter the U.S. market with the recent acquisition. And will further diversify its product offering with SweetWater's complimentary cannabis lifestyle brands. In detail, Aphria will pay $250 million in cash and $50 million in APHA stock at closing. In essence, the company found a way into the U.S. as the cannabis market is slated to become federally legal.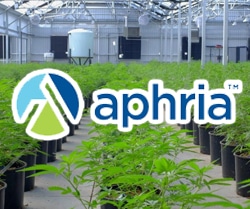 APHA stock is up almost 10% on the news of the closing acquisition. Currently trading at $8.45 the stock hit its high of the year today of $8.67. At the present time, APHA stock is beating many analysts' price targets and could possibly keep climbing. For this reason, APHA stock is a marijuana stock to watch with entry into the U.S. cannabis market in 2021.
[Read More]
---
MAPH Enterprises, LLC | (305) 414-0128 | 1501 Venera Ave, Coral Gables, FL 33146 | new@marijuanastocks.com