Since the advent of trading marijuana stocks, there've been plenty of metrics to follow. These metrics are used in order to understand the sheer size and scope of the sector. Lately, however, there's been a rise in the interest of pot stocks by a younger generation.
This generation tends to rely on mobile apps more than they do a desktop. Enter Robinhood, a trading platform built for mobile users that doesn't charge trading fees. Some might say it has helped evolve the landscape and opened doors to low or no-fee trading.
We're still fighting for an end to the PDT Rule (Pattern Day Trade Rule). But cutting fees is a big first step to opening access to all investors. Needless to say, even though there are multiple platforms offering no-fee options, Robinhood was the pioneer. It has also offered interesting metrics that were harder to find on other platforms.
Popular Marijuana Stocks On Robinhood
When it comes to popularity, the app allows users to track certain stocks in groups. One of these is most popular. When it comes to marijuana stocks on Robinhood, it gives a nice glimpse into the money flow in the cannabis industry.
Read More
Suffice to say, the most popular stock among Robinhood users is a marijuana stock. Furthermore, of the top ten stocks on Robinhood, 3 of them are pot stocks. To say that marijuana stocks on Robinhood are popular may be an understatement. As we close out the year, let's take a closer look at some of the most popular pot stocks on Robinhood right now.
Marijuana Stocks On Robinhood #5: Tilray Inc.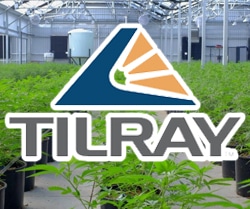 With nearly 40,000 accounts holding shares of Tilray Inc. (TLRY Stock Report) in their portfolios, this remains one of the top marijuana stocks to watch. It's no secret that this was one of the biggest head fakes in pot stock history.  Many of you will remember that TLRY stock skyrocketed to $300 within months after its IPO. What followed was one of the worst breakdowns we've seen in a while.
Most recently the company has focused on beefing up its leadership team. Earlier this month the company appointed former Mattel and General Mills executive, Katy Dickson. She'll become Tilray's Manitoba Harvest team as President. The main focus is for her to implement her history in food to build Tilray's hemp foods growth. Dickson takes the helm of Manitoba, which now sells products across 20+ countries. It also includes roughly 16,000 retail stores in North America.
[Read More] What Do Marijuana Stocks & Mexico Have In Common?

According to Morningstar, the bullish case in favor of Tilray is its "expanding cultivation into countries like Portugal to help it meet global medical demand with lower-cost production. Tilray's joint venture with AB InBev to develop infused beverages will help it expand its consumables offering. Tilray's acquisition of Manitoba Harvest and agreement with Authentic Brands Group to market and distribute CBD products gives Tilray some limited U.S. exposure."
Marijuana Stocks On Robinhood #4: Aphria Inc.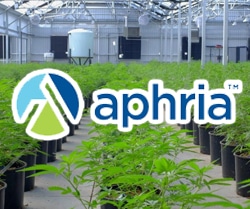 Nearly 90,000 accounts on Robinhood hold a position in Aphria (APHA Stock Report). The company recently secured $80 million in financing with a chartered bank in Canada. The new credit facility is backed by the company's Aphria Diamond assets and has a 3-year term. The asset previously secured a Health Canada license last month and has been "coming on scale" according to Aphria.
"We are pleased to have secured a term loan that will repatriate a portion of our investment in Aphria Diamond, to be strategically deployed by Aphria. This loan strengthens our balance sheet without being dilutive, and positions Aphria Diamond for success as we expand into new categories and growth opportunities in cannabis to enhance value for shareholders long term," interim CEO Irwin Simon said in a statement.
Among the 11 analysts covering the stock, 64% rate it a "Buy" with another 27% sitting at "Hold". Despite the popularity among traders, is there any end in sight to the latest sell-off? I think that the answer will become clearer closer to the start of 2020.
Marijuana Stocks On Robinhood #3: Canopy Growth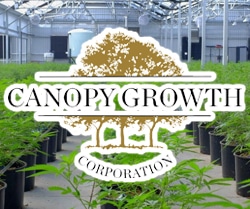 Despite what some may assume, Canopy Growth (CGC Stock Report) isn't the most popular marijuana stock on Robinhood right now. But it does come in the top 3. Among the 22 analyst ratings on the stock, 41% rate it a "Buy." The majority give it a "Hold" rating right now. According to analysis from Morningstar, a bullish case for Canopy Growth stocks stems from the investment from Constellation Brands (STZ Stock Report).
Also, partnerships with entertainers like Martha Stewart and Snoop Dogg could give the company additional positioning. These "provide potential expansion opportunities into infused products and topicals. If successful, Constellation Brands may increase its ownership or try to acquire Canopy."
Since hitting 52-week lows of $13.81 last month, CGC stock has recovered slightly and now trades in a sideways channel between $17.50 and $19.75. The biggest thing for Canopy right now is the pending date for cannabis 2.0 sales to begin in Canada. December 16th marks the first official day for these doors to open. According to the company, its first line of chocolate products will actually be available in early January. This includes Tokyo Smoke Go, Tokyo Smoke Pause and Tweed Bakerstreet chocolate bars. The company is also bullish on its prospects in 2020 if and when its Ontario stores roll out on time.
[Read More] Marijuana Stocks, Frequently Asked Questions, & The Road To 2020
Bank of America Merrill Lynch's Christopher Carey, who has a Buy rating on the stock, supported this stance as well. "We believe incremental stores in Ontario above our 180 store outlook has the potential to drive upside to our Canopy Growth Canada adult-use revenue estimates, which would drive upside to our total company estimates too."
Marijuana Stocks On Robinhood #2: Cronos Group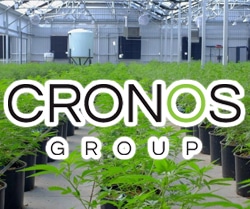 The second most popular marijuana stock on Robinhood inched out its spot with over 180,000 portfolios holding Cronos Group (CRON Stock Report). Some of the top stories in the cannabis sector have hinged on big deals being conducted with non-cannabis related names. Cronos and Altria Group's (MO Stock Report) deal has remained a top focus for those bullish on the pot stock. Morningstar's buy-side suggests Altria's CAD $2.4 billion allows the company versatility to further develop its product portfolio and enhance branding.
On top of that, if successful, Altria can up its 55% stake in Cronos or possibly acquire the company outright. "Cronos has strengthened its medical cannabis export business through production expansions in Israel, Colombia, and Australia, and distribution agreements in Poland and Germany," according to Morningstar. But there are still risks to assume that aren't related to the cyclical nature of the industry.
There is still a very prevalent black market for cannabis. This, of course, limits the potential price performance that marijuana stocks like Cronos can push through to consumers. Furthermore, the tax situation that tobacco and alcohol companies can pass onto consumers, doesn't really exist with cannabis at this point. This obviously cuts into margins as we've already seen in previous earnings reports this year. Cronos remains one of the top pot stocks to watch. That's considering its multibillion-dollar investment from Altria Group.
Marijuana Stocks On Robinhood #1: Aurora Cannabis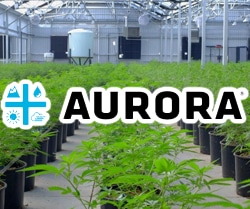 If you haven't guessed it by now, the most popular marijuana stock on Robinhood is Aurora Cannabis (ACV Stock Report). It's also the most popular stock on Robinhood in general. With over 570,000 holding ACB stock, it has 250,000 more users holding the stock than runner up, Ford (F Stock Report).
A few things are happening right now with the company that supports both bullish and bearish cases. First, the company's CBD oil obtained approval as a medical product in Ireland. Under the country's new Medical Cannabis Access Programme, Aurora's CBD Oil Drops were added to a regulatory schedule by the Irish Minister of Health. This now allows patients to receive prescriptions of the oil. It's also one of just 2 products to receive such approval.
"Aurora is pleased to be able to assist patients who are seeking treatment with high quality EU-GMP (good manufacturing practice) certified pharmaceutical-grade medical cannabis in Ireland," Dr. Shane Morris, Aurora's chief product officer, said in a statement. But other international news didn't help the base case for Aurora.
Germany halted the company's product sales. The reason being was that products awaited inspection by health authorities. Until the review is finished, there won't be any products available to the market. However, based on the company sourcing its products from an EU GMP facility, it may simply be an extra step in the process. Aurora expects sales in Germany to start "very early in the new year." Of the 18 analyst ratings on the cannabis stock, 50% are a "Buy" with 39% rating ACB stock a Hold.
Top 5 Marijuana Stocks On Robinhood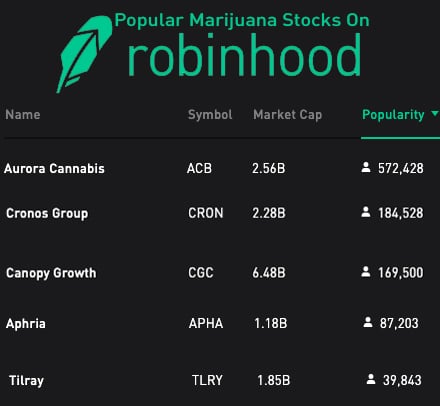 ---
MAPH Enterprises, LLC | (305) 414-0128 | 1501 Venera Ave, Coral Gables, FL 33146 | new@marijuanastocks.com