January Shows Momentum For Canadian Cannabis Stocks
The month of January has given substantial gains to marijuana stocks mid-way through the month. As it stands the most gains have been seen in Canadian cannabis stocks to watch like Aurora Cannabis Inc. (NASDAQ: ACB). In fact, ACB stock is up over 44% since the start of 2021. This is due to investor belief that federal reform is highly likely to occur sometime this year.
[Read More]
In essence, this could lead to Canadian marijuana companies gaining entry into the U.S. cannabis market. While the Canadian cannabis market is a recreational market its size is much smaller than that of the United States. In comparison, Canadian cannabis sales revenue of about $2.54 billion is similar in size to the state of California sales in 2020. So, entry into the U.S. is key to future growth in the Canadian industry.
Most Canadian marijuana companies have already established entry into the U.S cannabis market when the opportunity arises. At the current time, the timeline is not set-in-stone and could still take some time. But cannabis investors know when federal policy is passed leading Canadian cannabis companies could grow substantially. Currently, the Canadian cannabis industry has grown because of the introduction of the derivatives market. In addition, a new method of distributing dispensary licenses in Canada has enabled companies to obtain them faster.
Canadian Cannabis Industry Growth Potential
In essence, a larger footprint could potentially mean more revenue growth for the future. Globally Canadian cannabis companies are well established and could continue to scale revenue across the world market. Recently, the U.N has reclassified cannabis for medicinal purposes and could increase the potential for growth in that sector.  But looking at the historic volatility Canadian pot stocks have shown in the past some investors are wary of this recent rally.
Being one of the first legal markets established globally has come with many lessons for Canadian cannabis companies. In 2020 most marijuana companies in Canada went through massive changes in their business models and market strategies. For the most part, we saw major changes that could help improve these companies balance sheets going forward.
Specifically, these marijuana stocks seem to have the best potential currently in the market. Granted that recent gains make them more of a risk for investors at current price points some analysts consider them undervalued. For the purpose of researching the top Canadian plays in the market let's look at 2 of the best cannabis stocks to watch in 2021.
[Read More] Are These The Best 2 Canadian Marijuana Stocks To Buy Now?
Marijuana Stocks To Watch:
Aphria Inc. (NASDAQ: APHA)
Canopy Growth Corporation (NASDAQ: CGC)
Aphria Inc.
Aphria Inc. is currently classified as the largest Canadian cannabis company by revenue. Actually, on January 14th the company reported net revenue of $160.5 million up 33% from the prior year. In addition, adjusted EBITDA of $12.6 million marks the 7th consecutive quarter of increases in this measure. Also, in this earnings period, Aphria closed the strategic acquisition of SweetWater Brewing Company an independent U.S. craft brewing company. Another area of growth where Aphria is showing massive potential is in adult-use of cannabis.  In fact, with record revenue of $72.1 million, this marks an increase of 149% from the prior year. Combined with its recent merger with Tilray, Inc. (NASDAQ: TLRY) is aggressively coming for the leading position in the Canadian industry.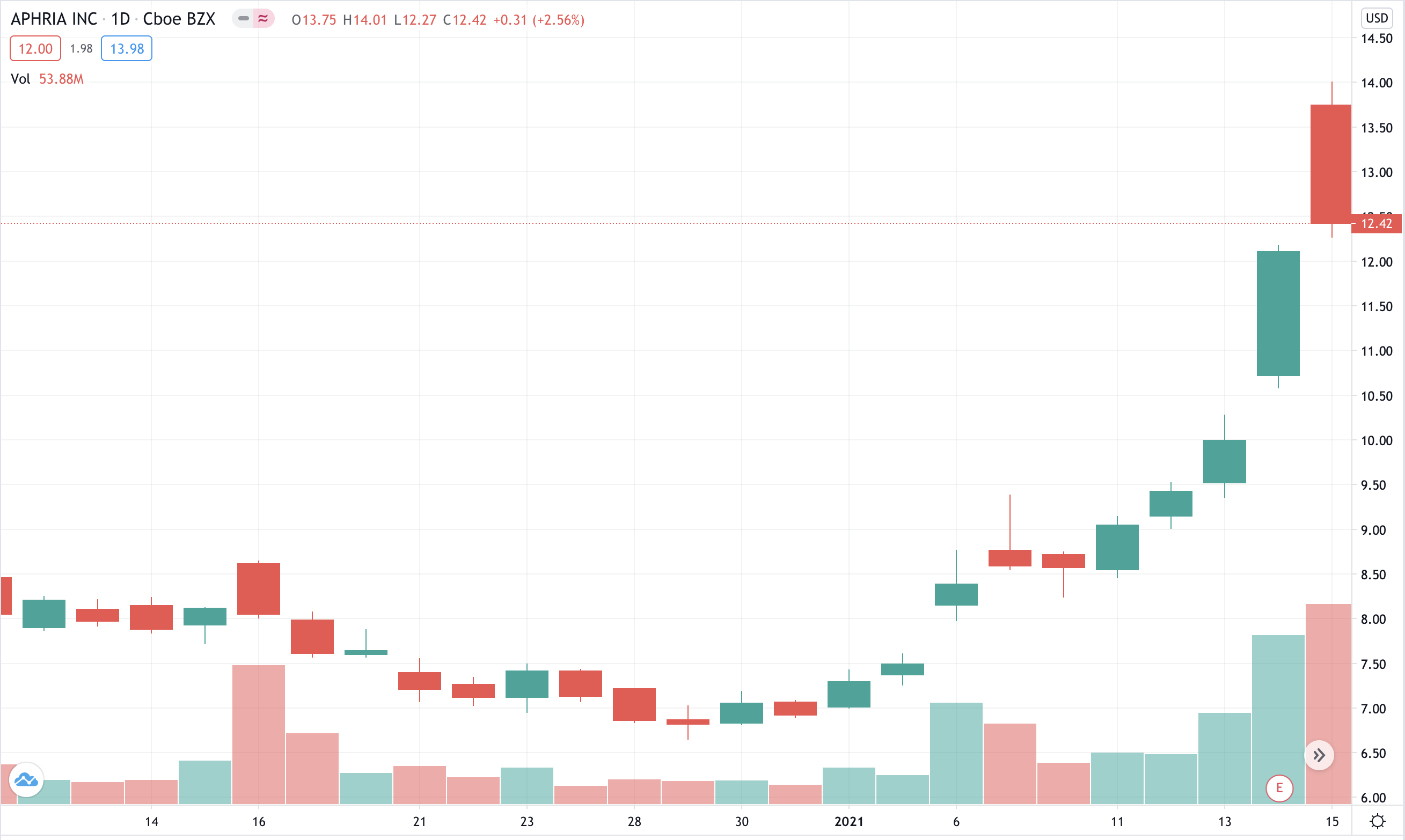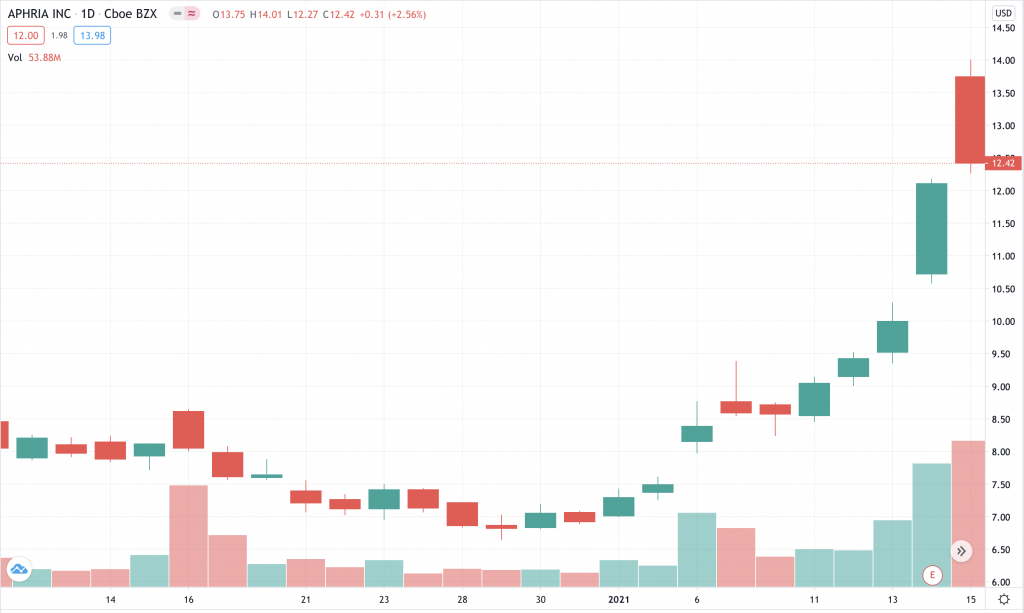 APHA stock is up 79.34% so far in January after its more than stellar Q2 fiscal 2021 results. Additionally, APHA stock saw momentum when Cantor Fitzgerald analyst increased the price target for shares from C$11.75 to C$26. Currently, Aphria continues growing its global footprint and making itself a dominant company in Canadian cannabis. For this reason, APHA stock is a top Canadian marijuana stock to watch for next week.
[Read More] 2 Top Canadian Marijuana Stocks To Watch Right Now
Canopy Growth Corporation
Canopy Growth Corporation is the largest Canadian marijuana company by market cap at $12.55 billion. During 2020 Canopy made many changes to improve its balance sheet and align its cannabis production to current market demands. In the companies, Q2 fiscal 2021 results Canopy achieved a record net revenue of $135 million. Some of the cuts made by the company could capture $150-$200 million in savings across cost structure. Additionally, Canopy has building momentum in the U.S. establishing a long-term leadership position in the growing market. Another important growth margin is the company's increases in the Canadian market.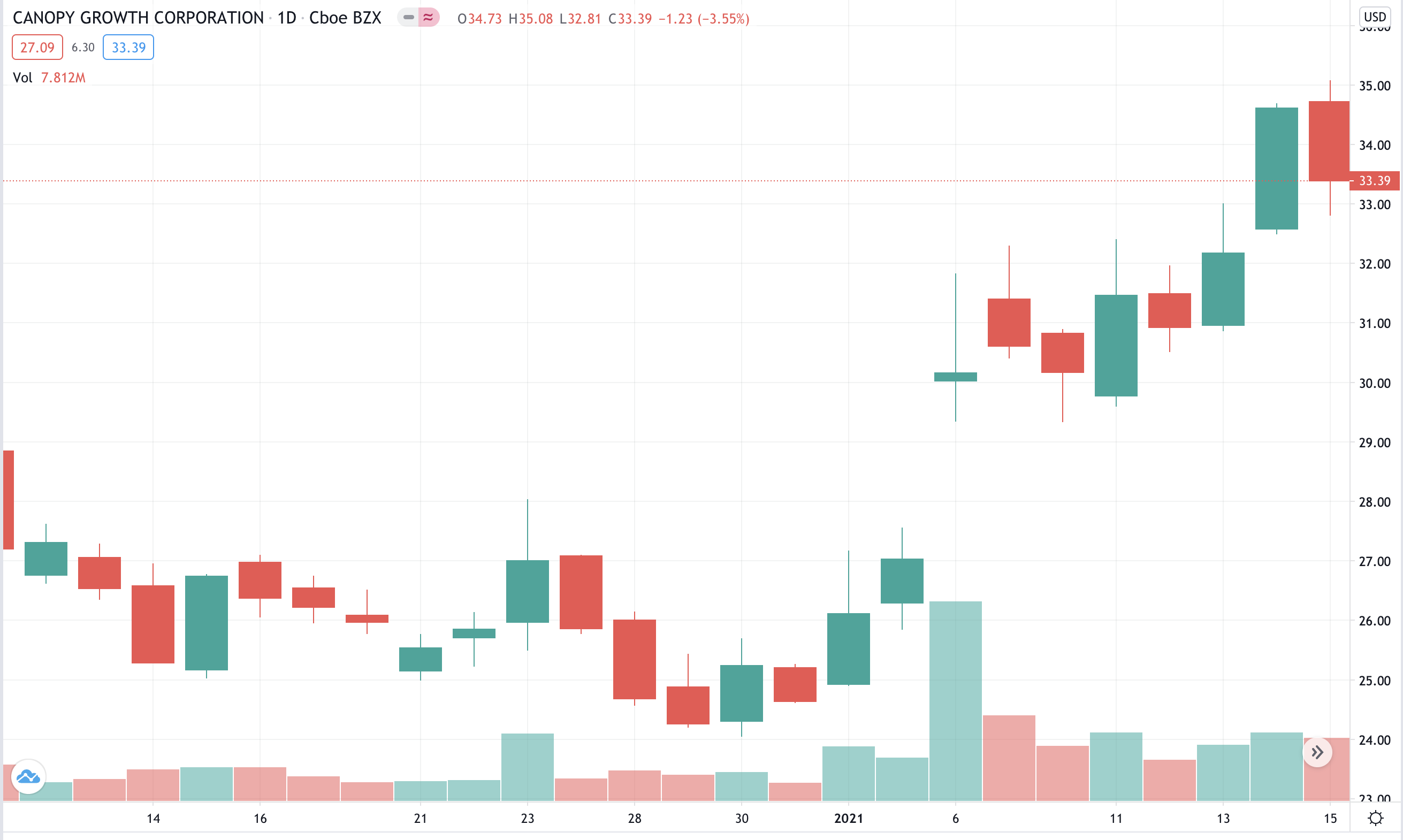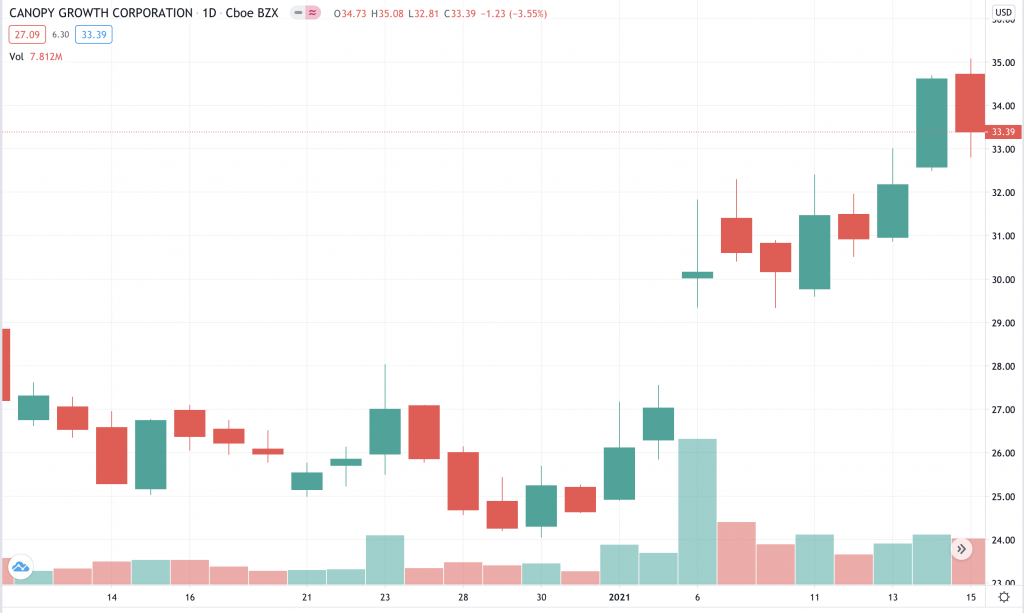 CGC stock is up 35.55% year-to-date and finished last week's trading at $33.40. At the current time Canopy had been positioning itself into the U.S. cannabis market as things develop during the year. In 2020 Canopy led the Canadian industry for the most part. But now with Aphria becoming more competitive can Canopy bring in more revenue in its next reporting? In any event with Canadian potential on the rise CGC stock is one of the best Canadian marijuana stocks to watch next week.
---
MAPH Enterprises, LLC | (305) 414-0128 | 1501 Venera Ave, Coral Gables, FL 33146 | new@marijuanastocks.com