Unveiling Top Ancillary Cannabis Stocks This Quarter
The cannabis industry continues to flourish, driven by legalization and increasing acceptance. As we approach the close of 2023, investors are eyeing ancillary marijuana stocks, particularly those supporting US cannabis cultivation.
Industry Growth Snapshot:
The global legal cannabis market is projected to reach $73.6 billion by 2027, fueled by expanding legalization and changing consumer attitudes. In the US, cannabis sales are expected to surpass $41 billion by 2025, showcasing the immense potential for ancillary businesses supporting cultivation. Increased legalization efforts are unlocking opportunities for companies involved in cannabis research, technology, and cultivation infrastructure.
As we navigate the dynamic landscape of the cannabis industry, keeping a watchful eye on ancillary cannabis stocks can offer investors unique entry points into a market poised for continued expansion. In addition, the intricate web of cultivation support, from hydroponics to sustainable solutions, presents diverse investment opportunities for those seeking to capitalize on the burgeoning cannabis sector.
[Read More] 3 Marijuana Stocks To Watch Mid-November 2023
Leading Ancillary Cannabis Stocks in Q4 2023
GrowGeneration Corp. (NASDAQ: GRWG)
The Scotts Miracle-Gro Company (NASDAQ: SMG)
Hydrofarm Holdings Group, Inc. (NASDAQ: HYFM)
GrowGeneration Corp.
GrowGen owns and operates a retail hydroponic and organic growing facility. GrowGen now runs 62 locations in 18 states. Additionally, GrowGen operates a superstore on growgeneration.com specifically for cultivators. In general, GrowGen provides a wide range of products to both home and commercial growers, including state-of-the-art indoor and outdoor hydroponic equipment, organic soils and nutrients, and state-of-the-art lighting.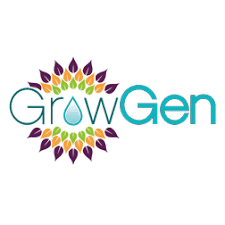 Third Quarter 2023 Highlights
Net sales decreased 13% quarter-over-quarter to $55.7 million
Comparable store sales decreased 14.4% to the prior year
A gross profit margin of 29.1%, an increase of 320 basis points to the prior year
Net loss of $7.3 million, compared to a net loss of $7.2 million in the prior year
Adjusted EBITDA(1) loss of $0.9 million, an improvement of $1.8 million to 2022
Year-to-date cash flow provided by operations of $2.8 million
Cash, cash equivalents, and marketable securities of $66.6 million
Maintains full-year 2023 guidance for revenue to be $220 million to $225 million and Adjusted EBITDA(1) to be a loss of $4 million to $6 million
GRWG Stock Performance
GRWG stock closed at $1.95 on November 13th,   down 23.83% in the last month of trading. In addition, GRWG stock has a 52-week range of $1.855-$8.63 and is down 50.26% year to date. According to analysts at CNN Business, GRWG stock has a 12-month median price target of $4.00. In this case, this represents a 106.19% increase from its last trading price of $1.95.
[Read More] Navigating the Green Wave: Top Marijuana Stocks to Watch in Mid-November
The Scotts Miracle-Gro Company
The biggest producer of branded consumer lawn and garden goods in the world, Scotts Miracle-Gro, has made a move into the cannabis industry. Hawthorne Gardening, the company's fully-owned subsidiary, provides hydroponic gardening supplies, lighting, and fertilizers. In January, Scotts introduced Luxx Lights and True Liberty Bags to the Hawthorne collection. In addition, the acquisition will allow Hawthorne to expand its already exceptional range of lighting products. The predicted year-end results for Hawthorne are unaffected by the reduction in profits.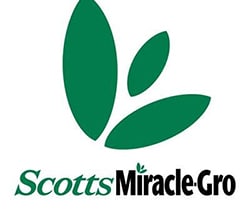 Fourth-Quarter Fiscal 2023 Highlights
The Scotts Miracle-Gro Company (SMG) recently released its fourth-quarter fiscal 2023 financial results, which revealed a net loss of $468.4 million, equivalent to $8.33 per share. This represents a significant increase compared to the loss of $220.1 million, or $3.97 per share, reported in the same quarter the previous year. However, after adjusting for one-time items, the adjusted loss per share came in at $2.77, a bit wider than the $2.04 loss in the prior year but still slightly better than the Zacks Consensus Estimate of a $2.83 loss.
The company's net sales for the quarter decreased by approximately 24.1% year-over-year, reaching $374.5 million. Despite the decline, this figure surpassed the consensus estimate of $331.2 million. The drop in sales was primarily attributed to lower sales in the U.S. Consumer and Hawthorne segments.
U.S. Consumer division
In the U.S. Consumer division, net sales in the fiscal fourth quarter were down 33% year over year to $201 million, surpassing the estimate. In the Hawthorne segment, net sales decreased by 11% year over year to $149.7 million, slightly above the estimate. The other segment experienced a 3% increase in net sales year over year, totaling $23.8 million.
Looking at the company's balance sheet, at the end of fiscal 2023, it held $31.9 million in cash and cash equivalents, a decrease from the previous year's $86.8 million. Long-term debt also decreased to $2,557.4 million from $2,826.2 million in fiscal 2022.
For fiscal 2024, The Scotts Miracle-Gro Company has set an optimistic outlook, emphasizing margin recovery, higher share count, effective tax rates, and average cost of borrowing compared to fiscal 2023. The company plans to maintain strong engagement with retailer partners, manage costs effectively, generate free cash flow, and make substantial debt repayments.
SMG Stock Performance
SMG stock closed at $49.99 on November 13th, up 4.65% in the past month. In this case, the stock has a 52-week price range of $43.67-$88.61 and is up 2.88% year to date.
[Read More] Cannabis Bulls: Top US Marijuana Stocks Blaze a Trail with Strong Weekly Gains
Hydrofarm Holdings Group, Inc.
Hydrofarm is a leading independent manufacturer and distributor of branded hydroponics supplies and equipment for controlled environment agriculture, including grow lights, climate control systems, growing media, fertilizers, and a wide range of house-made and imaginatively branded items. For more than 40 years, Hydrofarm has helped farms develop more easily and profitably. In general,  the company aims to provide farmers, cultivators, and growers with products that raise the bar for growing operations in terms of quality, effectiveness, dependability, and speed.

Third Quarter 2023 Highlights vs. Prior Year Period:
Net sales decreased to $54.2 million compared to $74.2 million.
Gross Profit decreased to $3.3 million compared to $5.9 million. Gross Profit Margin decreased to 6.1% of net sales compared to 7.9%.
Adjusted Gross Profit(1) increased to $12.5 million compared to $7.8 million. Adjusted Gross Profit Margin(1) increased to 23.0% of net sales compared to 10.5%.
Net loss was $19.9 million compared to net loss of $23.5 million.
Adjusted EBITDA(1) increased to $0.5 million compared to $(9.0) million.
Inventory charges and accounts receivable reserves impacted results in the quarter(2).
Cash from operating activities is $7.7 million, and Free Cash Flow(1) is $6.9 million.
Initiated a second phase of the restructuring plan, which includes U.S. manufacturing facility consolidations, to improve efficiency and generate further cost savings.
HYFM Stock Performance
HYFM stock closed at $0.8333 on November 13th, down 24.25% in the last month of trading. At present, HYFM stock has a 52-week price range of $0.6720-$3.25, down 46.24% year to date.
Ancillary Marijuana Stocks Powering Cultivation in Q4
In summary, Q4 2023's ancillary cannabis stock market offers a diverse range of attractive investment opportunities, all contributing differently to the rapidly expanding cannabis sector. Businesses with expertise in hydroponics, lighting, sustainable solutions, soil health, extraction, packaging, and data analytics come to light as we dig further into the complex ecosystem that underpins cannabis farming. These ancillary pot stocks support broader developments in the business, such as data-driven decision-making and sustainability, in addition to meeting the immediate needs of growers. Also, given the potential for significant gains in the changing cannabis ancillary stock market, intelligent investors seeking long-term growth and diversification should watch these industries carefully as the worldwide legal cannabis market continues to rise.
In this dynamic market, the interconnected nature of these ancillary services and products underscores the importance of a holistic investment approach. Overall, the symbiotic relationship between cultivation support and the growth of the cannabis business puts these ancillary stocks in a position of a strategic asset in a sector poised for continuous expansion as Q4 2023 plays out. In addition to being green, the cannabis sector has a diverse future. Astute investors can profit from the creative contributions of ancillary companies that are influencing the industry's direction well into the upcoming quarter and beyond.
---
MAPH Enterprises, LLC | (305) 414-0128 | 1501 Venera Ave, Coral Gables, FL 33146 | new@marijuanastocks.com