We saw marijuana stocks jump late in the week last week. Both The Cannabis ETF (THCX Report) and ETFMG Alternative Harvest ETF (MJ Report) started the week lower but finished strong before the end of the week. THCX rose from an open of $12.78 on Monday and by Friday had reached highs of $13.59.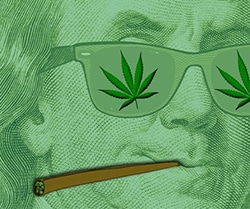 Similarly, Alternative Harvest rose from $16.83 on Monday to highs of $17.91 early Friday morning. Something to note was the THCX finished its Friday session flat while MJ seemed to have faded by the close.
Last week we got word that the province of Ontario, Canada will see its retail market open for business soon. The Canadian province plans to issue around 20 new store approvals starting next April. Furthermore, as CBC News reported, "Individual companies will be allowed to own up to 75 retail stores by September 2021."
High Hopes For The Future For Marijuana Stocks
Right up until recently, would be retailers needed to have a letter of credit of at least $50,000 and pay a $6,000 application fee (non-refundable of course). Submission of this was required within 5 days of being picked in a lottery. For those companies interested in the Ontario market, applications should be submitted to the Alcohol and Gaming Commission of Ontario by January 6, 2020.
[Read More] How To Invest In Marijuana Stocks; Top Brokers For Cannabis
"In response to the federal government's decision to legalize cannabis, our government is determined to open the cannabis market as responsibly as possible," said Attorney General Doug Downey in a news release. "We have said all along that opening more legal stores is the most effective way to combat the illicit market, protect our kids and keep our communities safe."
Thanks to these new updates, cannabis stocks saw one of the more positive weeks last week:
| | | | | |
| --- | --- | --- | --- | --- |
| Symbol | Company Name | Open On 12/9 | High On 12/13 | % Change |
| ACB | Aurora Cannabis | $2.43 | $2.74 | 13% |
| CGC | Canopy Growth | $19.30 | $22.25 | 15% |
| APHA | Aphria Inc. | $4.74 | $5.55 | 17% |
| ORHOF | Origin House | $2.84 | $3.65 | 29% |
| CRON | Cronos Group | $6.76 | $7.57 | 12% |
| GWPH | GW Pharma | $100.50 | $109.05 | 9% |
These are just a few of the marijuana stocks that quietly rallied last week. It's no secret that 2019 was a rough year for pot stocks. But recently it seems like the dust may have settled for now. Last week, the top names in cannabis flooded Las Vegas at MJBizCon 2019. One of the biggest topics from the convention focused on uniformity. This came in the wake of the recent crisis brought about by black market vape products as well as some companies attempting to pass cannabis supply as high-grade.
Marijuana Stocks Now And In 2020

In a Q&A with Chris Day, VP of External Relations for MJBizDaily, he told MarijuanaStocks.com several topics to keep in mind during this latest evolution of the cannabis industry.
First, he explained that "Each year we produce MJBizCon, it is important for us to highlight the advancements the industry has made. This year, we are launching the Investor Intelligence Conference and the MJBizDaily Awards."
"For the first time, we will also surpass 35,000 attendees from more than 70 countries. The rapid growth of the conference reflects the global expansion of a new industry. We are fortunate to be the world's largest gathering point for professionals focused on building the legal cannabis industry."
This sentiment remains a keystone to sparking more interest in 2020. Day explained that "It's clear if you look at market data and consumer behavior in medicinal and adult-use markets that the industry has only begun to develop here in the United States and the globe. Our annual Marijuana Business Industry Factbook recently projected the enormous YOY growth rates for the next five years. I have no reason to believe those types of curves won't continue to be seen far into the future."
Marijuana Stocks – Read More
With things like the SAFE Banking Act passing and the pending MORE Act in the throngs of Washington, the future for cannabis could look bright leading into 2020. As we've seen plenty of times in the past, the sector is cyclical in nature and the end of the year is an interesting time to look for marijuana stocks to buy. We discussed earlier this month as to how events like MJBizCon open the eyes of investors looking to get in on the next cannabis boom.
New States Could Implement Cannabis Legalization Initiatives In 2020
Next year also poses more opportunities for growth. Roughly 18 states have some type of legislation on the table or in the process that could legalize medical and/or recreational markets next year:
| | |
| --- | --- |
| State | Proposed Action |
| Vermont | The Vermont Senate passed a tax-and-regulate bill this year that failed in the House but is up for another opportunity at the 2-year legislative session early next year |
| New Mexico | New Mexico's House had passed a legalization bill before and its Senate president appears open to the idea. Gov. Michelle Lujan Grisham aims to have a reform plan in place for the 30-day legislative session in January. |
| New York | Taxation and regulation efforts stalled this year after Gov. Cuomo didn't agree with the details of the plan. However, the topic still appears to be a top legislative priority in 2020 |
| Nebraska | Buffalo County Young Democrats and Nebraskans for Medical Marijuana are pushing for ballot initiatives in 2020. While nothing definitive has come about, there are petitions out there aiming to collect enough signatures before the July 1, 2020 cutoff to be on the November ballot. |
| Connecticut | Its Governor, Ned Lamont supports legalization for adult use. He was also one of the participants at the summit of Northeastern Governors where the main discussion was on cannabis legalization. The State punted the ball forward with new discussions on regulation but didn't bear fruit in 2019. We'll see how it unfolds for 2020 |
| New Jersey | In 2020, the topic of legalization will go to the hands of voters in a measure known as a "legislatively referred constitutional amendment." However, the vote won't be near-term as the vote comes in November 2020. |
| North Dakota | Activists submitted measures to legalize marijuana for adult use to state officials in December. After validation, petitions will be sent out to collect signatures and qualify for next year's ballot. These need to be collected by July 6, 2020 |
| Arizona | Similar to Florida a few years ago, AZ voters came close to passing legalization into law. The vote came in just shy of 49% but that comes up for a vote again in 2020. |
| Pennsylvania | The state's Governor, Tom Wolf recently came out in support of treating marijuana like alcohol in the eyes of taxation measures. He also attended the Northeastern summit in 2019. Comments were made where Wolf used the vaping epidemic to push for legalization. But could that trigger a strong push for Penn. Legalization in 2020? |
| Arkansas | Two support groups have plans in place to get legalization on the ballot in 2020 for Arkansas. Medical was already legalized in 2016. |
| Ohio | Medical law was passed through the legislature a few years ago in 2016. Next year there will be another opportunity to push for a ballot initiative on recreational. Ohioans support legalization, however, there's nothing formally on the table quite yet. |
| Idaho | Signatures are being collected for a medical marijuana option called the "Idaho Medical Marijuana Act" with a hopeful addition to a ballot in 2020 |
| South Dakota | South Dakota's Secretary of State will now review the qualifying number of signatures which could lead to the 2020 ballot seeing two different marijuana initiatives to vote next year. Constitutional initiatives require 33,921 valid signatures and statutory measures require just under 17,000. Advocates have submitted more than 50,000 for proposed constitutional ballot measures to legalize cannabis for adult use. |
| Florida | Medical is already in place and the support for recreational has been strong. Multiple campaigns are being put in the spotlight for a position on 2020 ballots. The difficulty in Florida comes from the fact it requires 60% approval for constitutional amendments. |
| Missouri | Medical has been legalized. Now, there are a few initiatives in motion for recreational legalization but in the very early stages. The MO market is still very young so there may be some pause to observe market conditions before jumping into recreational. |
| Montana | Medical has been legalized. But when it comes to treating cannabis like alcohol, support is light. New Approach Montana could spend $3-$6 million on a legalization campaign to get it on the ballot for 2020. |
| Mississippi | Mississippians for Compassionate Care have submitted signatures to get medical marijuana on the ballot for 2020. Now it waits on the State to verify. |
| Rhode Island | The state's Governor has said she will look to get discussions on legalization going again in 2020. |
One of the biggest things to keep in mind is that we're approaching a Presidential election year. Why's that important? These years are the ones we historically see more young voter turnout than others. Since cannabis is a big topic of discussion for younger generations, we could see building interest over the next few months as far as legalization talks are concerned.
---
MAPH Enterprises, LLC | (305) 414-0128 | 1501 Venera Ave, Coral Gables, FL 33146 | new@marijuanastocks.com