2 Marijuana Stocks That Have Started To See Better Trading
Some marijuana stocks are starting to see their momentum become even more volatile. This has led some marijuana stocks to see a decline in trading. However, this is not all bad and the current pullback may present a future upside. When a decline in trading takes place it gives people a chance to find marijuana stocks to buy. Particularly at the lower entry points. If you can take a position at a low share price it will put you in a better position.
Yet with how volatile the cannabis sector can be building a plan and being able to adjust that plan can give you an advantage. The thing with most cannabis stocks is they are unpredictable and when you think a company may rise it does not. That is why when looking for marijuana stocks to watch learning how the sector reacts to certain catalysts is also important.
For example, when there is big news or things dealing with regulations and legislation these are reasons why the sector can see better trading. As well you want to do your homework on the companies you feel are worth investing in. Learning about a company and watching how they trade can give you insight into whether it's worth buying shares or not. The more you do to limit your risk and increase your odds of seeing a good return is a good strategy to implement.
Top Marijuana Stocks To Watch In 2022
Ascend Wellness Holdings, Inc. (OTC:AAWH)
Acreage Holdings, Inc. (OTC:ACRHF)
Ascend Wellness Holdings, Inc.
Ascend Wellness Holdings, Inc. engages in the cultivation, manufacture, and distribution of cannabis consumer packaged goods. On October 21st the company announced it has started its medical operations in Pennsylvania. In other updates, Ascend Wellness will be holding a third-quarter 2022 earnings conference call. This call is set to take place on Thursday, November 10th.
Words From The Company 10-21-22
"Ascend is thrilled to open dispensary doors in Pennsylvania, an exciting emerging market in medical cannabis," said Frank Perullo, interim co-CEO, president and co-founder of Ascend Wellness Holdings. "With its bustling commerce and strategic location in the northeast, Scranton is the perfect city to establish our roots in the Keystone State.
[Read More] Looking For The Best Marijuana Stocks To Buy? 2 Penny Pot Stocks Under $1
Acreage Holdings, Inc.
Acreage Holdings, Inc. formerly High Street Capital Partners, is a principal investment firm specializing in the cannabis industry. So Acreage Holdings, Inc. was founded in 2014 and is based in New York, New York. In recent news, the company announced AFC Gamma, Inc. has amended its previously announced $100 million credit facility. Under the terms of the Amended Credit Facility, an additional $25 million is now available for an immediate draw by Acreage.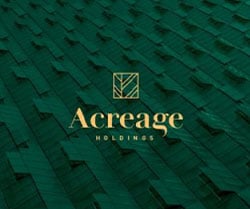 In addition to a $25 million available in future periods under a committed accordion option. Which is accessible upon achieving certain predetermined milestones. The terms of these additional draws replace the prior $50 million accordion option.
[Read More] Best Cannabis Stocks Last Week In October? 3 For Watchlist Now
The Amended Credit Facility now includes a variable interest rate equal to the U.S. prime. Plus 5.75 % per annum, payable monthly in arrears, with a Prime floor of 5.50%. Acreage intends to use the proceeds to fund expansion initiatives and provide additional working capital.
---
MAPH Enterprises, LLC | (305) 414-0128 | 1501 Venera Ave, Coral Gables, FL 33146 | new@marijuanastocks.com