Are Canadian Pot Stocks a Buy at These Levels?
Ultimately Canadian marijuana stocks have not had the same recovery as U.S pot stocks to watch. Since the March crash cannabis stocks to the north have displayed much more market volatility and have not seen the upward trend American marijuana stocks have experienced. While the demand in the U.S was higher due to the pandemic the same thing did not occur in Canada. For example, Canadian cannabis company Aphria Inc. (APHA Stock Report) reported a mixed earnings report in mid-October. This in turn brought most Canadian pot stocks on your watchlist trading lower. Currently, the stock market seems to be moving higher as election week comes to an end and many pot stocks recover some of their market value.
[Read More]
So, this brings up a good question, should you buy or sell marijuana stocks right now? Of course, that all depends on what kind of position you're in when dealing with your investment. If you currently have some decent profits from your position it could be a good time to realize some of those gains. In fact, some investors that buy and sell marijuana stocks like to take some profits when the sector is up. And then reinvest it into their position when the marijuana stock goes lower. This is one manner of taking advantage of market volatility that is prominent in top marijuana stocks to buy.
U.S Marijuana Stocks Vs. Canadian Marijuana Stocks
On the other hand, if you're just now looking to find a marijuana stock to buy there are a couple of things you should take into account. For fear that many U.S pot stocks are reaching year-to-date highs currently, it might be a good time to start in another area. Due to the fact, Canadian cannabis stocks have not rebounded in a similar fashion they might currently have better entry points. As it stands there are Canadian pot stocks like Canopy Growth Corp. (CGC Stock Report) who have established entry into the U.S cannabis market. Canopy has made an agreement with Acreage Holdings Inc. (ACRHF Stock Report) to market and helps distribute Canopy's line of  THC-infused beverages in the U.S. in 2021.
As we focus on Canadian marijuana stocks, we want to look at ones that have not fully rebounded after Covid. In 2020 most leading cannabis companies had issues with the overproduction of marijuana and that impacted their financials. In addition, most Canadian pot stock also had much less demand due to the shutdowns. Although beaten down these companies might have value at their current levels. With this in mind let's look into 2 Canadian marijuana stocks that might be positioned for a rebound.
Canadian Marijuana Stocks to Watch for a Rebound: Cronos Group Inc.
Cronos Group Inc. (CRON Stock Report) cultivates and sells medicinal and recreational cannabis across 5 continents. Although based in Canada the company exports cannabis to Poland, Germany, Colombia, Australia, and Israel. In addition, the company has acquired Redwood Holdings to be able to sell CBD in the U.S.  On November 5th the company reported earnings that sent the stock up over 16% but the news was not all good. While the company increased sales from $5.8 million in Q3 2019 to $11.4 million in Q3 in 2020, losses also increased. In fact, Cronos is reporting an operating loss of $41.2 million in the third quarter, which is $10.5 million higher than the same quarter in 2019. Although the company continues to lose money, it is moving in the right direction cutting gross losses in the 3rd quarter to $1.5 million from $3.1 million in Q3 of 2019.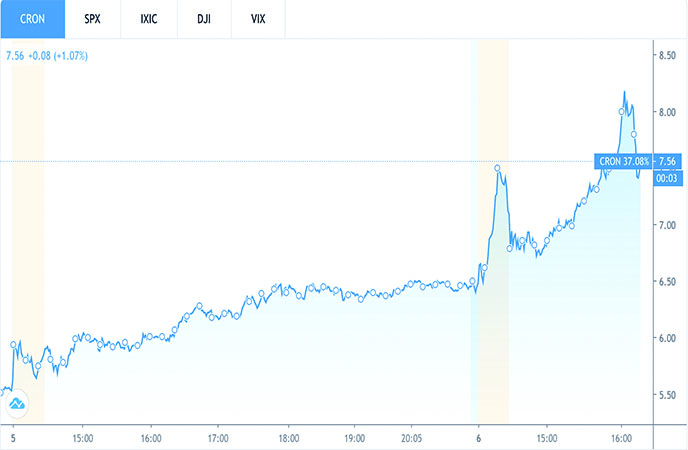 CRON stock is still trading lower than its YTD high of $8.17 back in mid-January. The stock could have further upside as the entire marijuana stock sector moves higher in this election rally. It's important to realize that Cronos has had major struggles through the pandemic shutdowns. As it stands if Cronos continues to cut losses the company might be poised for a rebound. Its entry into the U.S. CBD market could be a revenue booster for 2021.
Canadian Marijuana Stocks to Watch for a Rebound: Tilray Inc.
Tilray Inc. (TLRY Stock Report) is another Canadian giant that could rebound in the next few weeks if it improves investor sentiment. TLRY stock soared an impressive 30.33 % in trading on November 5th. Generally, this was partly due to the election rally and also the better than expected earnings from Cronos. As more people believe the U.S. will make federal marijuana legalization a prospect for 2021, investors are picking which marijuana stocks to buy. Currently, Tilray is trying to get its infused beverage line launched in the U.S.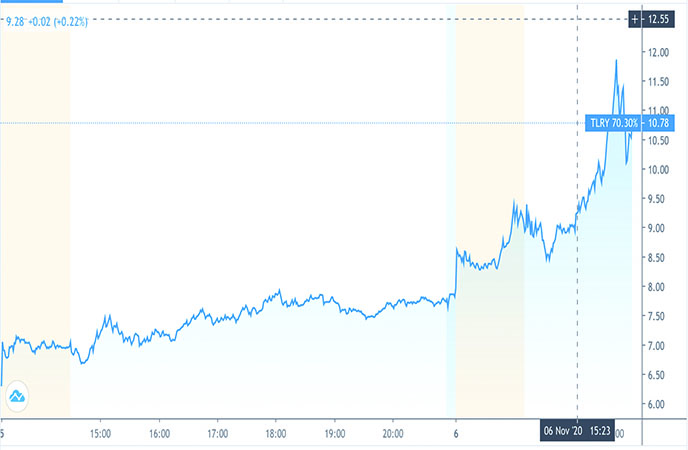 TLRY stock is currently showing upward momentum in impressive fashion. Since the stock is still not near its YTD high of $21.22 back in January, it could have more upside. As Tilray improves its balance sheet and continues to cut the overproduction issues it could be positioned for a rebound. While the stock market continues its rally take notice of which Canadian pot stock to watch is best positioned in the emerging U.S. cannabis market.
---
MAPH Enterprises, LLC | (305) 414-0128 | 1501 Venera Ave, Coral Gables, FL 33146 | new@marijuanastocks.com