Best Marijuana Stocks With Upside In 2023
What marijuana stocks should you purchase in 2023? The marijuana ancillary stock market is one industry that has experienced significant losses in 2022. Cannabis ancillary companies provide services to the cannabis industry but don't handle the actual plant. Numerous businesses typically support the cannabis industry. The cannabis industry can be supported by ancillary businesses that provide lighting and cannabis-growing equipment.
The federal cannabis reform and SAFE Banking bills are now being delayed by Congress, which has negatively affected the cannabis industry. In actuality, the Senate has ignored marijuana reform for a second year. Day and swing traders frequently make the most money when trading in a market like this. In addition to their long-term investments in the cannabis industry, some long-term investors engage in short-term trading strategies.
In general, the stock market has had upward momentum since the beginning of 2023. Several of these marijuana stocks are currently available to investors at significant discounts. Potential cannabis investors may find that some of these stocks are great places to start their long-term investments or offer a chance to profit from recent market shifts. Below is a list of the top two ancillary cannabis stocks to watch in 2023.
[Read More] 2 Marijuana Stocks To Buy After MLK Day?
Ancillary Marijuana Stocks For Q1 2023
GrowGeneration Corp. (NASDAQ: GRWG)
Agrify Corporation (NASDAQ: AGFY)
GrowGeneration Corp.
GrowGeneration Corp. is well known for running and providing hydroponic and organic growing facilities in the US. The company provides cannabis producers with various hydroponic, organic, and lighting options. In the US, GrowGen currently owns and runs 60 organic gardening businesses. Growing and expanding its online presence has always been a top priority for GrowGeneration.com. With over 10,000 products ranging from nutrition to lighting technology, the website has developed into a one-stop e-commerce destination. The business intends to grow across the country by opening more than 100 outlets during the following five years. The business will build the biggest hydroponic garden facility in Los Angeles County during the third quarter of 2021.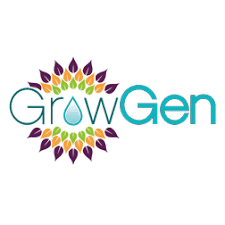 Earnings for GrowGeneration in the third quarter of 2022 exceeded expectations. The third quarter's revenue was $70.9 million, a 39% drop from the previous year's period. In turn, this caused Grow Gen's third-quarter profit of $4.3 million in 2021 to decline by 279% to a net loss of $7.2 million. Revenue exceeded analyst expectations by 24%. Additionally, EPS rose 7.7% higher than predicted by analysts. The updated range for the 2022 revenue prediction is $250 million to $275 million to $270 million to $280 million. In November, GrowGen inaugurated its 60th location in New Jersey. On January 9th, the company announced hiring Aaron Hook as Vice President of sales.
GRWG Stock Performance
On January 13th, the shares of GRWG finished at $4.66, up 11.22% in the last five trading days. GRWG stock is up 18.88% year to date, with a 52-week price range of $2.92-$10.79. According to CNN Business analysts, GRWG stock has a 12-month median price target of $5.13 per share. This would forecast a 10.33 percent increase over the last transaction price of $4.64.
[Read More] Best Cannabis Stocks To Buy? 3 Penny Stocks With Upside In January
Agrify Corporation
The US-based company Agrify Corporation provides dependable equipment and software to the indoor farming industry. The company now sells integrated grow racks, LED grow lights and vertical farming systems. Innovative software and technological solutions from Agrify let companies run at the highest dependability, effectiveness, and quality levels without spending the bare minimum. Consulting, engineering, and construction are the services the business offers. The company recently purchased Precision Extraction Solutions and Cascade Sciences, two well-known suppliers of equipment and services for inspecting, processing, and extracting hemp and cannabis. Lab Society, a pioneer in cannabis extraction, distillation, and solvent separation solutions with a $10 million yearly revenue, was an acquisition by the business in February.

Agrify's revenue fell from $15.8 million in the same period in 2021 to $7.0 million in the third quarter of 2022. Over the same period last year, revenue increased by 51.4% to $52.4 million from $34.6 million. Compared to the same quarter last year, when the gross loss was $(380) thousand, or (2.4%)%, the third quarter's gross loss was $(4.1) million, or (58.6%) of revenue. In contrast to the prior year-to-date quarter's gross profit (loss), which was $393 thousand, or (1.1%)% of revenue, the most recent quarter's gross profit (loss) was $1.7 million, or 3.2% of revenue. Agrify projects adjusted sales for the upcoming fiscal year 2022 to range between $65 million and $70 million.
AGFY Stock Performance
AGFY stock closed on January 13th at $0.66, up 88.57% in the past five days of trading. Currently, the stock has a range of $0.246-$86.35 and is up 98.20% year to date. According to analysts at CNN Business, AGFY stock has a median price target of $1.68 per share. In this case, this would represent an upside of 153.79% from its last trading price of $0.66.
[Read More] 2 Marijuana Stocks To Watch This Short Week
Top Ancillary Pot Stocks For Mid-January
When these top cannabis stocks start to rise once more, investors might find value in the stocks. These top cannabis companies reached new lows in December. Examine a company's financial records and most recent press releases to see if an asset fits your trading strategy and portfolio. Better trading decisions can be aided by understanding technical indicators and chart patterns. The most intriguing pot stocks to watch in January 2023 might be those with ties to cannabis growing.
---
MAPH Enterprises, LLC | (305) 414-0128 | 1501 Venera Ave, Coral Gables, FL 33146 | new@marijuanastocks.com