This Is How To Buy And Trade These Marijuana Stocks
This week could be big for marijuana stocks and those who hold shares. Right now more companies are reporting earnings and this can lead to better trading. Often times when one company has strong financials it leads to an increase in speculative trading. So the idea is that when one company does well others will follow. Especially in a sector that is still young and growing. The cannabis industry is still facing issues concerning regulations and expanding operations.
Along with new products and other legal issues that once resolved could have a positive impact on how marijuana stocks trade. Currently, the volatility inside the sector has only increased over time. Nevertheless, there are still moments when finding the best marijuana stocks to buy can happen. Many who are invested are adapting the how the sector is performing. When volatility leads to a recovery some take profits and others buy more shares when there is a decline.
Still, the growth of the cannabis industry regardless of its issues is happening. This puts investors in a place where preparation for the future is key. A lot of people feel once cannabis is no longer federally illegal we will begin to better upward consistency like once before. Below are a few marijuana stocks to watch for the rest of the month. Just make sure you do your research before and have a trading plan ready to go.
Top Marijuana Stocks To Watch In 2023
Curaleaf Holdings, Inc. (OTC:CURLF)
Trulieve Cannabis Corp. (OTC:TCNNF)
Curaleaf Holdings, Inc.
Curaleaf Holdings, Inc. operates as a cannabis operator in the United States. It operates through Domestic Operations and International Operations segments. The company engages in the cultivation, production, and sale of cannabis products through retail and wholesale channels. In recent news, the company has reported its Q1 2023 financial earnings.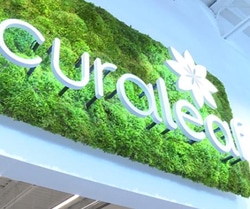 First Quarter 2023 Financial Highlights
Net Revenue of $336.5 million, a year-over-year increase of 14% compared to Q1 2022 revenue of $296 million, which excludes discontinued operations
Gross profit of $160.8 million and gross margin of 48%
Adjusted gross profit net of add-backs of $162 million, adjusted gross margin of 48%
Net loss attributable to Curaleaf Holdings, Inc., including discontinued operations, of $54.4 million or net loss per share $0.07
Adjusted net loss from continuing operations attributable to Curaleaf Holdings, Inc.(1) of $46 million or adjusted net loss per share1 of $0.05
Adjusted EBITDA of $73.2 million or 22% of revenue
Cash position at quarter end totaled $115.8 million
[Read More] Top Marijuana Stocks In The Sector Today
Trulieve Cannabis Corp.
Trulieve Cannabis Corp. together with its subsidiaries, operates as a medical cannabis company. The company cultivates and produces products in-house and distributes its products to Trulieve branded stores (dispensaries) in Florida, as well as through home delivery. Recently the company has opened an affiliated medical marijuana dispensary in Limerick, PA.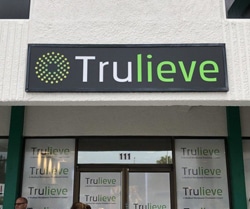 [Read More] 2 Marijuana Stocks To Watch In Todays Cannabis Sector
Words From The Company
"Pennsylvania is one of the strongest medical markets in America," said Trulieve's Chief Executive Officer Kim Rivers. "We are proud to serve customers by offering quality products, first-class service and convenient locations throughout Pennsylvania."
---
MAPH Enterprises, LLC | (305) 414-0128 | 1501 Venera Ave, Coral Gables, FL 33146 | new@marijuanastocks.com