GT Biopharma (GTBP) has been a force to be reckoned with for the better part of the summer in our opinion. Just look at some of the big runs we've seen so far & how much the support / resistance channel has shifted (upward) since the beginning of summer: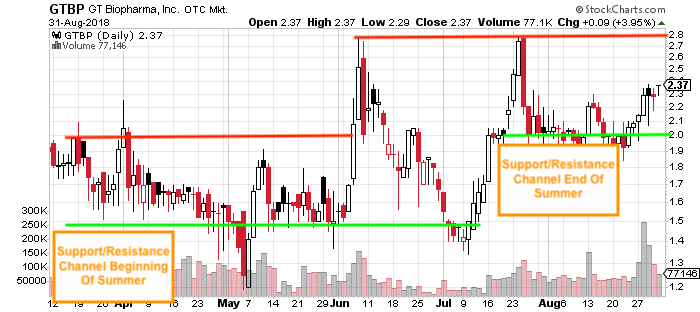 In between the end of May and the end of August, we've watched as GT Biopharma (GTBP) has gone on several clear breakouts in attempts to break past its upper resistance levels set on the chart. On numerous occasions, GTBP has run up by nearly 100% within the matter of a few weeks. In fact, not counting the 1-2 day rallies of 5-10%, since June 4 there have been 3 VERY CLEAR jumps that we've see from GTBP and the most recent move could be signaling something even more interesting (we'll get into that in just a moment)
Opening Bell, June 4, 2018 GTBP "weighs in at $1.58"
Within less than a week, GTBP hits a high of $2.79 on June 7 marking a run of 76.6%
Opening Bell, July 10, 2018 GTBP "weighs in at $1.41"
Within just 12 trading days, GTBP hits a high of $2.80 on July 25 marking a run of 98.6%
And just recently we watched as GTBP has continued to climb from $1.935 on August 23 and closed out August with a high of $2.37 on Friday the 31st. So far GTBP has been on a run of over 20% but there could be much more to the story that could open up the new month ahead, in our opinion.
The reason "why" has much to do with the activity GTBP has seen over the last few trading days. The fact that GTBP has recently seen near-record setting activity for 2018 might just indicate that there is a lot more attention on the company after it made its last few announcements. Let's get you caught up to speed:
The company announced a Material Transfer Agreement between a "Major Pharmaceutical Company" and Dr. Daniel Vallera, Director, Section of Molecular Cancer Therapeutics at the Masonic Cancer Center, University of Minnesota. Under the terms of the agreement, this unnamed, "Major Pharmaceutical Company" will supply a formulation of their "multibillion-dollar, widely prescribed oncology drug," which has been approved for use in several hematologic malignancies to Dr. Vallera to be used in this study.
On this day we found out that the company would be undertaking the actual initiation of a combination trial of OXS-1550 and a multi-billion dollar oncology drug, owned by a major Pharmaceutical Company. This time we found out the generic name for the drug: ibrutinib. This was revealed from Dr. Vallera's comments on the latest developments:
Dr. Daniel Vallera said: "Based on our exciting preliminary in vitro experiments, the initial preclinical work suggests a much greater effect when OXS-1550 is given with this drug. We are very excited about our progress with GT's OXS-1550 (DT2219) combined with ibrutinib, a potent small molecule Bruton Tyrosine Kinase (BTK) inhibitor which is already an established chemotherapeutic agent.  We believe combination therapies like these that kill cancer cells based on entirely different mechanisms are the future of cancer treatment."
And all of these developments could have posed near perfect timing. The big reason why is that during the same week that GTBP announced this, there was another company shedding light on the NK killer niche that GT Biopharma has been diligently working to enhance.
The collaboration, $96M upfront with $5B in milestone/royalty payments, announced on August 27th between a company called Affimed and Roche/Genentech not only provides validation of the NK cell hypothesis but more specifically of the NK cell – engager concept.
As CEO Dr. Raymond Urbanski stated, "GT Biopharma, since its inception on September 1, 2017 has been diligently working, along with our colleagues at the Masonic Cancer Center, on bringing our TriKE and TetraKE NK cell-engager platforms into and through the regulatory pathway and into clinical development."
Urbanski continued, "Although there are many similarities between Affimed and GT Biopharma, there are significant differences. Both platforms utilize fusion proteins with one end binding to NK cells and the other targeting a tumor antigen. Significant differences in the platforms reside in the way the proteins are constructed and how they address the NK activation and proliferation issue. Like first-generation CAR-T, without a specific stimulatory agent, the cells become exhausted as their numbers dwindle. GT Biopharma's innovative NK cell-engager platform incorporates IL-15, a potent activator and proliferator of NK cells. No other, including Affimed's, NK cell technology has this."
This is not only a big testament to NK cell development but could also be a big advantage to GTBP specifically. If big fish like Roche/Genentech are throwing millions & possibly billions into the development of this therapy, what could be in store for the innovative platform that GT Biopharma has in its arsenal?
Additionally, we did a bit of digging and what we found (as we believe others may have as well) were the origins of ibrutinib. Based on a simple search for "ibrutinib," we found that it was developed by Pharmacyclics up to Phase II, and then partnered with Johnson & Johnson's Janssen Pharmaceutica…but what could be the biggest piece of information with this drug is that Pharmacyclics was acquired by AbbVie who just reported annual 2017 net sales of ibrutinib of $2.573 Billion.
This could be a reason why so many people are beginning to pay closer attention to GTBP recently. The numbers speak for themselves in our opinion. Within the days that have followed the first announcement that revealed ibrutinib as the drug combining wit OXS-1550, the market has been its most active since way back in January when GTBP was trading north of $4!
Looking ahead into the days and months to come, we feel that GT Biopharma (GTBP) could be at a tipping point with the market echoing a strong sentiment after this recent flurry of big news. Meanwhile we see that the company has a hot pipeline of multiple therapies in different stages along with a continual flow of industry experience coming on board.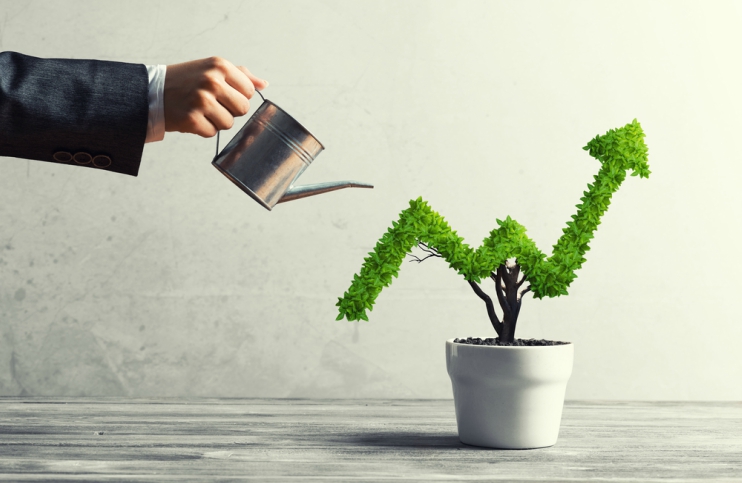 Pursuant to an agreement between an affiliate of MAPH Enterprises, LLC, Midam Ventures LLC and GT Biopharma, Midam has been paid $200,000 from the company and ZERO shares of GT Biopharma Inc. for a duration beginning July 16, 2018 and ending August 16, 2018. Midam Ventures has been paid an additional $200k by GT Biopharma and has extended its marketing period through Sept 16, 2018. We may buy or sell additional shares of (GTBP) in the open market at any time, including before, during or after the Website and Information, provide public dissemination of favorable Information.
---
MAPH Enterprises, LLC | (305) 414-0128 | 1501 Venera Ave, Coral Gables, FL 33146 | new@marijuanastocks.com