Most pot stock investors tend to focus on states like California or Colorado, but recently, Nevada has shown itself to be a formidable player in the cannabis market. A new report coming from BDS Analytics shows that the cannabis industry could see as much as $31 billion in sales within the next two years. As the Nevada cannabis market grows, investors are wondering just how much of this growth it will see.
After legalizing cannabis back in the summer of 2017, Nevada quickly became one of the fastest-growing cannabis markets in the country. Since that time, it has grown substantially to where it is today. In terms of sales, the state pushed as much as $530 million back in 2017, with that number growing ever since. Studies have shown that the cannabis market there could reach $1 billion within the next year or two. Because of this, many popular cannabis companies have decided to move operations into the state.
One of the main reasons that Nevada has so much potential is its massive tourism industry. Las Vegas, in particular, is one of the largest tourist destinations in the country. Because of this, investors believe that cannabis could simply add a new layer to tourism appeal in the state. Of course, the effects of smoking weed and gambling have yet to be studied, but Las Vegas-based cannabis companies want the two operations to be quite separate. Because of the burgeoning potential in this market, these marijuana stocks could just become major players in Nevada in the next few years.
A Pot Stock With a Major Foothold in Nevada
Planet 13 Holdings (PLNHF Stock Report) (PLTH) is already considered to be one of the largest pot stocks in Nevada. The company famously opened its SuperStore right off the Las Vegas strip. The plans are to have this facility span as much as 112,000 square feet by the time it is complete. Within it will hold everything from a coffee shop all the way to a cannabis testing facility. The company has also reported large gains in its customer's average ticket prices for the massive dispensary.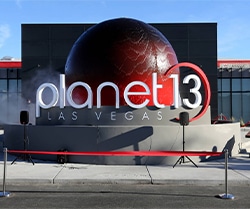 Because this is the first of its kind, Planet 13 Holdings has gained quite a reputation for itself already. In addition to this, the company plans to continue with its vertically integrated business model into its future endeavors. Planet 13 recently announced that it will be targeting the Californian market as well with new dispensaries. For now, the company is continuing to push margins to the highest levels, showing investors that this is one definite pot stock to watch.
Another Major Player in Nevada
Flower One Holdings (FLOOF Stock Report) (FONE) is a hard pot stock to recommend due to its massive declines in the past year. During that time, it has shot down in value by more than 80%. But, if we look past this, we see that there is a very strong business model with its basis in Nevada. The company has remained relatively under the radar, probably due to the aforementioned losses. But, FLOOF  has stated that it is working on building out a state of the art cultivation facility. This facility should span across almost 30,000 square feet, and hold the potential of growing more than 4,500 plants per harvest.
Its current facility spans a massive 455,000 square feet. Most of this will be dedicated to growing cannabis, with other areas dedicated to testing and other necessities. It has stated that with this facility, it should be able to put out around 150,000 pounds of cannabis per year. This, however, is not a very large amount given the size of the facility. But, with its ties to Nevada and despite its price shortcomings, the company is an interesting pot stock for investors to take a look at.
---
MAPH Enterprises, LLC | (305) 414-0128 | 1501 Venera Ave, Coral Gables, FL 33146 | new@marijuanastocks.com