Top Marijuana Stocks For Your Watchlist Next Month
It seems that most marijuana stocks have been able to sustain their current momentum. Now throughout January, there have been moments where the sector did decline. But overall the sector has looked much better for marijuana stock investors. Still, the big focus is set on several factors that could dictate the trading for the rest of the year. This year we will see several attempts to establish comprehensive cannabis reform. So far there are 2 bills set in motion one is for cannabis banking and the other is to end cannabis prohibtion.
A good amount of people feel that the potential passing of federal reform will lead to a possible run for marijuana stocks. Much of this speculation is from history showing better trading when positive news surfaces about federal reform. Not just that more places around the globe will vote to pass legislation for legal cannabis. As well as more states around the USA which will only further grow the cannabis industry. When new markets are being created it opens up the opportunity for companies to expand their operation.
This expansion can be in the form of new products, dispensaries or packaging, and cultivation facilities. When investors see this progress despite cannabis being federally illegal it allows them to feel more confident for the future. Many more people are finding an interest in looking for top marijuana stocks to buy. Just make sure you do your homework beforehand and develop a game plan. The companies below are 3 cannabis stocks to watch before next month.
Marijuana Stocks For Your 2023 Watchlist
Innovative Industrial Properties, Inc. (NYSE:IIPR)
Power REIT (NYSE:PW)
AFC Gamma, Inc. (NASDAQ:AFCG)
Innovative Industrial Properties, Inc.
Innovative Industrial Properties, Inc. is a self-advised Maryland corporation focused on the acquisition, ownership, and management of specialized properties leased to experienced, state-licensed operators for their regulated medical-use cannabis facilities. In recent news, the company reported its Q4 and FY 2022 operating investment and capital markets activity.
Operating Portfolio
100% leased (triple-net).
Weighted-average lease length: 15.3 years.
Total invested/committed capital per square foot: $274
– Portfolio statistics by invested/committed capital:
No tenant represents more than 14% of the total portfolio.
No state represents more than 16% of the total portfolio.
Multi-state operators (MSOs) represent 85% of the operating portfolio.
Public company operators represent 55% of the operating portfolio.
Industrial (cultivation and/or processing), retail (dispensing), and combined
industrial/retail represent 90%, 3%, and 7% of the operating portfolio, respectively.
[Read More] 2 Marijuana Stocks To Buy Under $5
Power REIT
Power REIT is a real estate investment trust (REIT) that owns real estate related to infrastructure assets. These assets include properties for Controlled Environment Agriculture, Renewable Energy, and Transportation.

The company is actively seeking to expand its real estate portfolio related to Controlled Environment Agriculture. Back in early August, the company provided a corporate update.
Corporate Updates And Key Mentions
During the second quarter of 2022, the Trust reported a Core FFO of $0.41 per share. In comparison to a Core FFO per share of $0.51 for the comparable period in 2021.
Core FFO for the period ended June 30, 2022, of $0.41 per share compares to $0.40 per share for the quarter ended March 31, 2022.
On May 1, 2022, PW CO CanRE MF LLC ("CanRE MF"), a wholly-owned subsidiary of the Trust, entered into a new triple-net lease (the "EB Lease") with Elevate & Bloom, LLC.
On June 1, 2022, PW CO CanRE Apotheke LLC amended its lease with Dom F LLC. Which is to provide $364,650 for additional improvements to the property. As well as to restructure the timing of lease payments.
On June 1, 2022, PW CO CanRE Grail LLC amended its lease with The Sandlot, LLC. A venture was done to restructure the timing of the rent payments. But the total straight-line rent over the life of the lease is unchanged. Also, an additional guarantor was added to the lease.
On June 27, 2022, PW MI CanRE Marengo LLC entered into a lease amendment with Marengo Cannabis LLC. This was to push out rent commencement to Q1 2023 to reflect the uncertainty around the timing of cannabis licensing.
[Read More] What Will We See In The Cannabis Industry 2023
AFC Gamma, Inc.
AFC Gamma, Inc. originates, structures, underwrites, and invests in senior secured loans. Plus other types of loans and debt securities for established companies operating in the cannabis industry. Particularly in states that have legalized medicinal and/or adult-use cannabis. On December 15th the company announced its fourth-quarter dividend.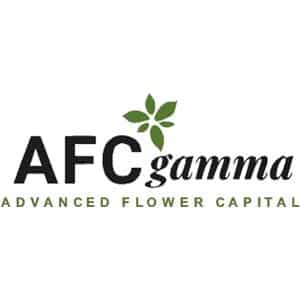 The Board of Directors of AFC Gamma declared a quarterly dividend of $0.56. This is for the quarter ending December 31, 2022, per outstanding share of common stock. Which is payable on January 13, 2023, to the common stockholders of record on December 31, 2022. The December quarterly dividend represents a 12% year-over-year dividend increase.
---
MAPH Enterprises, LLC | (305) 414-0128 | 1501 Venera Ave, Coral Gables, FL 33146 | new@marijuanastocks.com