As the cannabis industry continues to progress into the future, it seems as though investors are only focused on a few of the largest marijuana stocks by market cap. While these companies may be a solid place to start, it seems as though this can deny the potential of the cannabis stocks in the mid to small market cap range. Of course, these companies do come with their own inherent risks such as low liquidity and often times, higher volatility than other marijuana stocks. But, that same higher level of volatility can often mean a greater chance of seeing short term profits.
[Read More]
And while many cannabis investors work in the long term rather than the short term, there are undoubtedly positives to both. For one, the short term is a great time frame for those who utilize swing trading methods. Because the cannabis industry is so volatile, the short term can often be an easier in and out trading method than with longer-term plays. But, investors must remember that the volatile nature of the cannabis industry means that investors can lose a lot very quickly if they're not careful. But, with that in mind, these two marijuana stocks are definitely worth checking out.
Is This An Marijuana Stock An Obvious Choice
Planet 13 Holdings Inc. (PLNHF Stock Report) is one of the most popular small to mid cap marijuana stocks in the industry. The company has made headlines in the Nevada market for being one of the most prominent cannabis retailers in the state. As a vertically integrated cannabis retailer, Planet 13 has been able to secure some of the highest margins in the industry. Its aptly named SuperStore spans over 110,000 feet in prime Las Vegas real estate and holds within it everything from a coffee shop to a state of the art cannabis testing facility. In the year or so that the store has been open, the company has reported widespread success.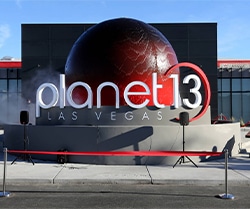 The average amount that a customer pays in the store has risen by around $12 in the past few months alone which shows just how much potential there is here. In addition, Planet 13 has stated that it is working on opening a second version of the store right near Disneyland in California. This could prove quite profitable for the company if it is able to execute it correctly. For these reasons and more, the company remains one of the most interesting cannabis stocks to watch.
A Leading Ancillary Marijuana Stock
KushCo Holdings (KSHB Stock Report) began its life as a producer of packaging to help meet the stringent requirements for how cannabis could be packaged. Soon after seeing great success with this business model, the company began its foray into producing vaporizer products and marketing solutions for cannabis businesses. Although it did take a major hit when the vaping epidemic was at its height, the company has been able to bounce back, showing some solid results in the face of adversity. In addition to this, the company is a large supplier of hydrocarbon gas which is used to make various different distillate products.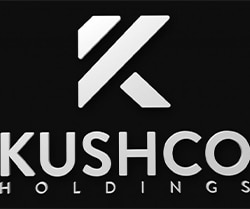 Because these products were only just legalized in Canada on the first of this year, it seems as though there is a great deal of potential here moving forward. The different laws on cannabis from state to state and country to country continue to give KushCo business for its packaging solutions around the world. Because of its vast market coverage, it remains a leading marijuana stock to watch.
---
MAPH Enterprises, LLC | (305) 414-0128 | 1501 Venera Ave, Coral Gables, FL 33146 | new@marijuanastocks.com