Are These Marijuana Stocks The One To Buy In The Stock Market?
Marijuana stocks are starting to see a slight drop in market momentum. For some, they make see this and continue to feel more uncertain about what may happen in the future. This is mainly due to how unpredictable marijuana stocks can trade and just as quickly as they rise as fast as they can fall. Yet others find this to be an opportunity to reload their position or find new marijuana stocks to buy. Whenever there is a decline in trading see it as buying opportunity, especially in a sector that has better odds of seeing a recovery.
Over the last 6-12 months marijuana stocks have had small pops in trading with little to no upward consistency. What this means is when marijuana stocks start to see a recovery the time in which the company stays up is short. Still, there are some companies that some feel will do better in the near future. Especially with 2023 around the corner, a new year brings with it positive speculation. As well as another chance to grow the cannabis industry through better legislation, particularly on a federal level.
The biggest catalyst for marijuana stocks has been any positive progression that deals with federal reform. So if you are looking to invest in marijuana stocks remember to do your homework on the sector and build a trading plan. Furthermore, the marijuana stocks to watch below are several options to consider next month
Marijuana Stocks For Your November Watchlist
Innovative Industrial Properties, Inc. (NYSE:IIPR)
Power REIT (NYSE:PW)
Innovative Industrial Properties, Inc.
Innovative Industrial Properties, Inc. is a self-advised Maryland corporation focused on the acquisition, ownership, and management of specialized properties leased to experienced, state-licensed operators for their regulated medical-use cannabis facilities.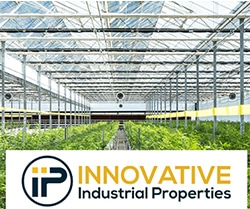 Back on October 19th, the company announced it will be releasing its Q3 earnings on Wednesday, November 2nd. Alan Gold, Executive Chairman, Paul Smithers, President, and Chief Executive Officer, Catherine Hastings, Chief Financial Officer, and Ben Regin, Vice President of Investments, will host an investor conference call.
[Read More] Top Marijuana Penny Stocks For November? 3 To Watch Right Now
Power REIT
Power REIT is a real estate investment trust (REIT) that owns real estate related to infrastructure assets. These assets include properties for Controlled Environment Agriculture, Renewable Energy, and Transportation.

The company is actively seeking to expand its real estate portfolio related to Controlled Environment Agriculture. Back in early August, the company provided a corporate update.
[Read More] Best Ancillary Marijuana Stocks For November 2022
Corporate Updates And Key Mentions
During the second quarter of 2022, the Trust reported a Core FFO of $0.41 per share. In comparison to a Core FFO per share of $0.51 for the comparable period in 2021.
Core FFO for the period ended June 30, 2022, of $0.41 per share compares to $0.40 per share for the quarter ended March 31, 2022.
On May 1, 2022, PW CO CanRE MF LLC ("CanRE MF"), a wholly-owned subsidiary of the Trust, entered into a new triple-net lease (the "EB Lease") with Elevate & Bloom, LLC.
On June 1, 2022, PW CO CanRE Apotheke LLC amended its lease with Dom F LLC. Which is to provide $364,650 for additional improvements to the property. As well as to restructure the timing of lease payments.
On June 1, 2022, PW CO CanRE Grail LLC amended its lease with The Sandlot, LLC. A venture done to restructure the timing of the rent payments. But the total straight-line rent over the life of the lease is unchanged. Also, an additional guarantor was added to the lease.
On June 27, 2022, PW MI CanRE Marengo LLC entered into a lease amendment with Marengo Cannabis LLC. This was to push out rent commencement to Q1 2023 to reflect the uncertainty around the timing of cannabis licensing.
---
MAPH Enterprises, LLC | (305) 414-0128 | 1501 Venera Ave, Coral Gables, FL 33146 | new@marijuanastocks.com