Top Cannabis Companies Show Financial Strength
As marijuana companies continue to deliver record revenue growth for 2020 most have seen declines in value for March. Consequently, after reaching new highs in February most leading cannabis stocks have shed significant value. Generally speaking, a recent negative market sentiment recently played a big part in how cannabis stocks have performed in March. One part of the cannabis market that has been turbulent in 2021 is the Canadian marijuana stocks to buy in 2021.
At the beginning of the year, most top Canadian marijuana stocks shot up significantly some saw triple digit gains in the market. Now after the pullback in the cannabis sector most Canadian pot stocks are trading close to half the value they achieved in early February. In general, the Canadian cannabis market saw substantial growth in 2020. With the introduction of cannabis 2.0 into the market, derivatives increased revenue growth for the year.
Recent numbers show a decline in sales for January of 6% compared to December 2020. Another event that has been happening in the Canadian cannabis sector is large mergers. The most notable merger happening between top Canadian companies Aphria Inc. (NASDAQ: APHA), and Tilray, Inc. (NASDAQ: TLRY). The two combined could produce the highest revenue sales globally. In addition, they are one of the leading Canadian cannabis companies at the moment.
Will Canadian Marijuana Stocks Begin To Rebound
Now the question is, can these Canadian marijuana stocks start to rebound in April? In general, most Canadian cannabis companies have established themselves as a global entity in the cannabis market. Actually, most leading Canadian marijuana companies have partnerships and relationships with medical cannabis operators in Europe and other foreign markets. At the present time, these Canadian companies are waiting for the U.S. to begin the process of federal cannabis reform and decriminalization.
In March the U.S. introduced the bipartisan SAFE Banking Act which could help normalize commerce in the cannabis industry. This could be a major step in the direction of letting cannabis businesses in the U.S. operate normally with major financial institutions. The SAFE Banking Act would enable financial institutions to do business with cannabis companies without facing federal penalties. Currently, U.S. cannabis companies are forced to operate with cash leaving them susceptible to robberies and money laundering.
This is the first step to a new path for cannabis reform in America. At the present time, many Canadian cannabis companies have been strategically planning entry into the U.S. cannabis market when it's federally legal. For the purpose of researching some of the top Canadian marijuana stocks to watch we can take a closer look at some possible investments.
Read More
Marijuana Stocks To Watch:
Aurora Cannabis Inc. (NYSE: ACB)
HEXO Corp. (NYSE: HEXO)
Aurora Cannabis Inc.
Aurora Cannabis Inc. produces and distributes medical cannabis products worldwide. The company is diversified across many segments of the cannabis industry. Many analysts believe Aurora's management has mishandled shareholders by ballooning the outstanding share count by 13,500% from 2014 to 2020. Recently there have been large mergers and acquisitions taking place in the Canadian sector. Some speculate that around the time Aphria and Tilray began their merger Aurora was in talks for a merger as well. Although the company has been cutting costs by shutting down facilities it has yet to reach profitability.
In February Aurora announced its fiscal 2021 Q2 results. In detail, total cannabis net revenue was $70.3 million up 11% compared to Q2 2020. At the present time revenue seems to be driven by high margin international medical sales that are up 562% from the prior year. As of February, the company had $565 million of cash on hand.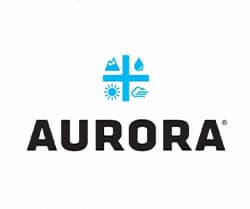 ACB stock is up 11.61% year to date with a high of $19.68 in February.  Closing trading on March 25th at $9.27 the stock was up 3.46% for the day. According to analysts at CNN Business, ACB stock has a 12-month median price target of $9.62 per share. This is 3.67% up from its current levels. While ACB stock may hold some short-term value, the company needs some improvement on its balance sheet to be considered a long-term hold.
[Read More] Will These Marijuana Stocks See Better Trading In April As The Sector Continues To Recover?
HEXO Corp
HEXO Corp is a consumer-packaged goods cannabis company that produces and distributes cannabis products to the global market. At the present time, the company services the Canadian adult-use markets under HEXO Cannabis, Up Cannabis, and Original Stash brands, and the medical market under HEXO medical cannabis. Also, in February Namaste Technologies Inc. (OTC: NXTTF) subsidiary CannMart signed a national supply agreement with Hexo. In detail, CannMArt.com expects new products from Hexo in March of 2021 on an ongoing basis going forward.
Another acquisition by Hexo in February of 2021 was for Zenabis Global Inc. for $235 million all in stocks. It seems Hexo has been making strategic acquisitions in the Canadian cannabis market. On March 18th Hexo announced its Q2 fiscal 2021 financial results. The company achieved positive adjusted EBITDA along with its seventh consecutive quarter of adjusted EBITDA improvements. In addition, total net revenue increased to $32.8 million up 94% compared to Q2 2020. Hexo seems to have seen substantial growth from the derivatives market.

At the present time, HEXO stock is up 82.74% year to date with a high of $11.04 in February. Yesterday, the stock closed at $6.73 up 2.59% on March 25th. According to analysts at Tip Ranks HEXO stock has a 12-month average price target of $7.98 per share. In essence, this would be an 18.57% gain from current levels. With this in mind, HEXO stock could be a Canadian cannabis stock to add to your watchlist for April.
[Read More] Are These The Top Marijuana Stocks To Watch And Invest In? 2 With Strong Financials
---
MAPH Enterprises, LLC | (305) 414-0128 | 1501 Venera Ave, Coral Gables, FL 33146 | new@marijuanastocks.com