Will Marijuana ETFs Survive In 2020?
One of the most volatile sectors in the stock market today is undoubtedly cannabis. It's no wonder why many investors that like stable positions tend to stay away from top marijuana stocks. As October began, the market was in an upward trend until Covid-19 numbers started rising. That with the American government deciding to delay the stimulus package until after the election has brought the entire market much lower.
[Read More]
Although 2020 has been groundbreaking for the cannabis industry in the U.S with 33 states now having some form of legal marijuana. It seems the future of cannabis could be much bigger than in the past. While many analysts predict the cannabis industry could become a 30-$40 billion global industry by 2023, some pot stocks are getting in a position to profit. Top marijuana stocks to watch like Green Thumb Industries Inc. (GTBIF Stock Report) currently has opened 49 dispensary locations across 12 U.S markets. Granted there are many attractive marijuana stocks to buy and could make the choice difficult for investors. So, this brings up the question many investors ask themselves. What are the best pot stocks to watch right now?
What Are the Different Kinds Of Marijuana Stocks?
For the purpose of simplifying the marijuana stock market let's take a look at different categories in the cannabis industry. First, you have your pure-play pot stocks which are companies that deal directly with marijuana cultivation, processing, and distribution. In many instances, these are usually vertically integrated companies and generally are more volatile pot stocks. These are typically companies like Canopy Growth Corporation (CGC Stock Report) which is the largest Canadian marijuana stock by market cap at $6.83 billion.
Second, you have your medicinal and extraction-based marijuana companies.  These are companies that produce medical marijuana products and derivatives for cannabis consumers. While these companies have less volatility, they have not had the same percentage gains as the pure-play sector in 2020. Third, you have your ancillary marijuana stocks like Innovative Industrial Properties, Inc. (IIPR Stock Report) a U.S. cannabis REIT that has long-term leases with many top-performing marijuana companies. These companies provide a service to the industry and have positioned themselves to grow alongside the marijuana sector.
In view of having different marijuana stocks to buy, some investors decide to invest in more than one pot stock. In order to do that you could buy pieces of individual cannabis stocks or go the direction of trading marijuana stock ETFs. For those that don't know ETFs are a type of investment fund, that are traded on stock exchanges. Similar to mutual funds, ETFs are only different because they are bought and sold throughout the day on the market. With this in mind let's take a look at two leading marijuana stock ETFs and the cannabis companies in each of them.
Top Marijuana ETFs: ETFMG Alternative Harvest ETF
ETFMG Alternative Harvest ETF (MJ ETF Report) is the world's largest ETF to target the Cannabis industry. Since its inception in 2015, the fund has grown to have 10 leading marijuana stocks in its assets. In fact, most companies are Canadian marijuana stocks and a few others like GW Pharmaceuticals plc (GWPH Stock Report), and Turning Point Brands, Inc. (TPB Stock Report). Since the beginning of Q4 2020, the fund is up 10% and also gives a dividend to shareholders of 5.67% annualized yield. The fund has about $500 million in assets and could have growth potential with better sentiment towards Canadian pot stocks.
Many leading Canadian cannabis companies have struggled with the overproduction of marijuana and less demand in Canada than expected. The growing derivatives market there could be a boost for Canadian pot stocks. But if you rather put your money directly into the U.S marijuana industry let's look at another option in ETFs.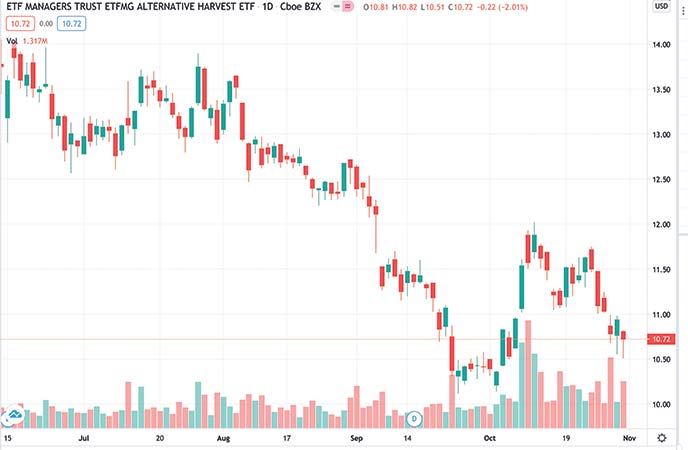 Top Marijuana ETFs: AdvisorShares Pure US Cannabis ETF
AdvisorShares Pure US Cannabis ETF (MSOS ETF Report) is a fund that seeks long-term capital appreciation in the U.S. cannabis industry. The fund's objective is to invest in companies that derive most of their revenue from marijuana or the hemp business. Unlike Harvest ETF this fund is purely involved with top U.S. marijuana stocks. Currently new to the game with its inception in September 2020, the fund has just over $11 million in assets. This is the second fund its managing firm Advisor Shares has made with a cannabis investment strategy.
As an investor looking, for a manageable way to get some exposure to the cannabis industry, ETFs are an option. It's important to realize the risk of investing in marijuana stocks. But with the industry growing, this could be a wealth-building opportunity. Whether you choose to buy pot stocks individually or decide to invest in cannabis ETFs, do some good research, and find the best marijuana stocks to buy.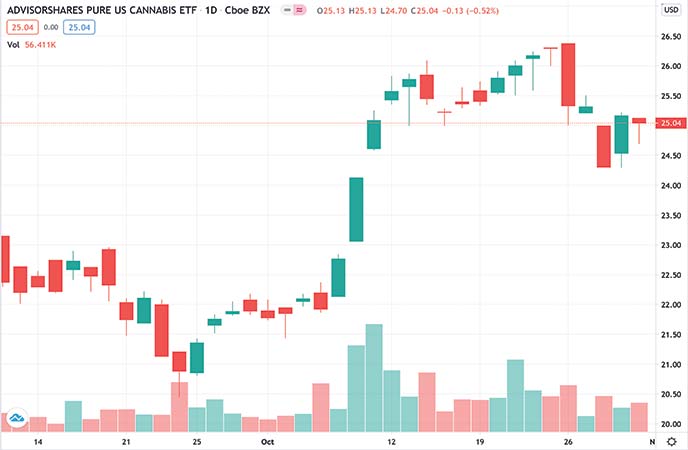 ---
MAPH Enterprises, LLC | (305) 414-0128 | 1501 Venera Ave, Coral Gables, FL 33146 | new@marijuanastocks.com