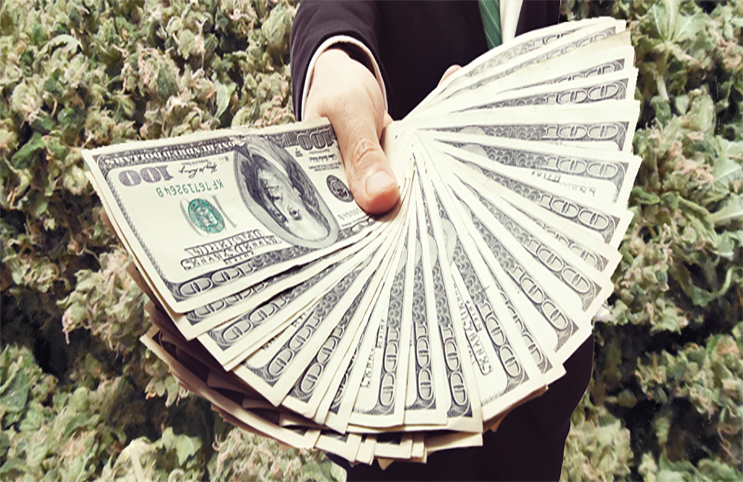 Three marijuana stocks have sizzled this summer. Share prices of Aphria (NASDAQOTH: APHQF), Aurora Cannabis (NASDAQOTH: ACBFF), and Canopy Growth Corporation (NASDAQOTH: TWMJF) have gone up by at least 20% since June 20, the beginning of summer. These hot marijuana stocks could get even hotter.The three of these stocks have at least two things in common. First, they all have licenses as providers in Canada. Second, they all reported healthy financial results.
Aphria's revenue increased to $20.4 million in its fiscal year ending May 31, 2017, more than twice the prior-year period total. The company's EBITDA in its most recent quarter increased 181% year over year to $2.8 million. Aurora announced third-quarter revenue in May of $5.2 million, a 2,500% increase over the same period in 2016 and a 33% increase from the second quarter of this year. Canopy Growth recently announced the fiscal year 2017 profit of $39.9 million, more than three times the level from the previous year. Although the company posted a net loss for the year, investments in the expansion were the main cause.
The continued trend appears to be likely for all three companies. The medical marijuana market in Canada is expected to grow to more than $1.1 billion by 2020. The market was estimated at only $126 million in 2016 which was another major growth driver for the three Canadian marijuana companies in the international market. Germany legalized medical marijuana earlier this year, but the country will import marijuana until it can establish its own marijuana cultivation program.
Aurora Cannabis acquired Pedanios GmbH, a leading German wholesale importer, exporter, and distributor of medical marijuana in May. Canopy Growth acquired Germany-based MedCann last November and now runs in Germany as Spektrum Cannabis Germany. The company is already reporting fast growing sales in the German Market.
Aphria also keeps an eye on the German market but has been more aggressive in the U.S market. The company has a stake in Arizona medical marijuana provider Copperstate Farms and recently acquired Florida medical marijuana grower Chestnut Hill Tree Farm. However, the real prize for Aphria, Aurora, and Canopy Growth is back at home. Prime Minister Justin Trudeau is trying to fulfill his campaign promise to legalize recreational use of marijuana in Canada. He tries to make recreational marijuana available in the country by July 2018.
Professional services firm Deloitte predicts that the annual retail marijuana market in Canada could be at least $4.9 billion and perhaps as high as $8.7 billion. Suppose that Aphria, Aurora, and Canopy Growth are three of the largest current suppliers of medical cannabis in the country, however, their combined annual revenue is less than $100 million right now.  There are some problems in the way of Trudeau's plan. Some provinces are worried that there isn't enough time to handle some of the challenges of legalization by next July. However, the Canadian government appears sticking with its original time table.
My prediction is that all three of these marijuana stocks will grow fast in the coming months. However, the ride might be a bumpy one. Any hiccup in the process for legalizing recreational marijuana in Canada or in the companies' international expansion efforts could cause share prices to drop, even if only temporarily. Aphria trades at more than 40 times sales. Aurora Cannabis trades at over 67 times sales. Canopy Growth is the "cheap" stock, with its share price at 34 times sales. These are all multiples that would be typically viewed as extremely high valuations if they applied to earnings, not sales.
Huge expectations for growth are already put into the valuations of each of these stocks. It's possible that the companies will fulfill the necessary growth, in the long run, to make investors satisfied with the opportunities in Canada and elsewhere. It's also possible that they won't. In the short run, though, I think the growth will continue for Aphria, Aurora, and Canopy Growth.