Canada is slated to go live with fully legal recreational marijuana later this year which puts the pressure on marijuana stock investors to find the right companies to watch, ahead of this motion.  In our opinion, there's no question of "if" but "when" this will become an even larger catalyst than it has been already.
So where should pot stock investors look? Is it the next big grow in Canada to compete with the likes of Aphria or Canopy Growth? Is it the newest cannabis biotech company? Or is it something that could offer a far wider reach that capitalizes on a diverse mix of investment options?
Captor Capital Corp (NWURF) is doing exactly that. The company focuses on strategic investments into potentially profitable ventures and it just so happens that they've targeted the cannabis industry to get involved in numerous ventures. It also helps that two members of their advisory team are deeply rooted in the Canadian marijuana industry.

It was only last October that the company announced that they would be trading on the CSE (Canadian Securities Exchange) and completed an initial private placement to raise operating & investment capital.
Captor Capital has kicked things off with an investment in I-5 Holdings, which could ultimately


result in a full on acquisition of the company who owns dispensaries located in the Los Angeles area operating under the MedMen brand.
Now stick with me here because you need this back story in order to understand the scope of that's happening with the company right now – read on.
It doesn't necessarily have to do specifically with the fact that I-5 owns dispensaries as much as it does with the fact that they were MedMen branded dispensaries.  Recreational cannabis was legalized by the State of California on January 1st, but the city of Los Angeles has yet to grant permits for any dispensaries within its borders.
I-5's Corner On The Market:
As a result of this, the MedMen dispensaries in West Hollywood and Santa Ana – which were previously licensed to sell medicinal marijuana – are the closest options to buy legal recreational cannabis for the approximately 4 million residents of Los Angeles.
NWURF has undertaken another raise that began at $20million and is now increased to $50million.  Originally, NWURF planned to use half of the original $20 million as a loan to I-5 to further build out operations but it looks like there is far more opportunity for NWURF.
Ownership Stake In Top US Cannabis Company- MedMen
NWURF is planning to acquire 3% of MedMen on a fully diluted basis…this could be a huge opportunity for not only Captor Capital but for its shareholders as well. The simple fact that MedMen is readying to go public during the early part of the second quarter this year could be a catalyst all on its own for pre-IPO participants.  If you are not familiar with MedMen, the company has attracted significant mainstream investors such as Ruth Epstein, a former investment banker for Goldman Sachs, and Chris Leavy, the former CIO for Blackrock.
It would come as no surprise that MedMen's IPO has attracted so much attention.  Just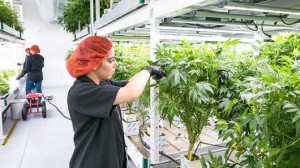 NWURF's investment puts a value of about $1 billion on MedMen right now who has raised roughly $150 million thus far…NWURF has entered into a non-binding letter of intent to take its own piece ahead of the public offering!
Considering that NWURF is already working with I-5 who's two dispensaries (flying the MedMen flag), which are growing by nearly 500% compared to the same period during the previous year, what could that mean for the MedMen brand as a whole?
"The financial information provided to us by I-5 we believe is indicative of the incredible growth potential of the cannabis industry," said John Zorbas, President, Captor Capital in a February press release.
"They are also testimony to the excellent job being done by our partners at MedMen and I-5 Holdings."
We also know the advantages that come along with a pre-IPO investment into a company, which NWURF now could have its own piece of. Now tie in the Leadership Team that includes Andrew Modlin and Barry Frischetto of MedMen and the strength of the potential ahead for the NWURF/MedMen investment starts to come into an even brighter light. In our opinion, this warrants further coverage, as we will continue to look deeper into the potential ahead for NWURF.
---
MAPH ENTERPRISES LLC., a Florida Corporation that has been compensated $50,000.00 by a non-affiliate party for a period of 30 days for coverage on Captor Capital Corp. to publicly disseminate information about (NWURF). We own zero shares. Please read our full disclaimer here.