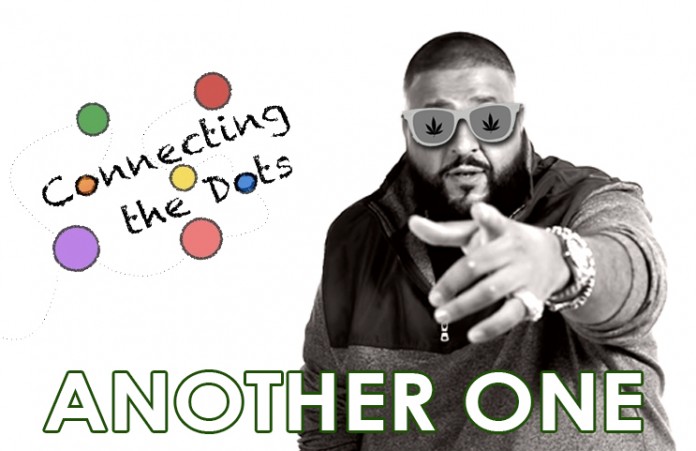 It was only a few weeks ago when we picked coverage back up on a company that we originally introduced during the summer and this time it was debuted as our Connect The Dots feature for the 4th Quarter.
CNRP Mining (CRPGF) has changed up its focus and is working toward getting involved in the cannabis arena through a deal that gives them rights to XSprays, which holds a proprietary CBD infused product line.
We've seen momentum build in the market over the last few weeks and we've also seen, first hand, the continued developments of this company. Earlier this week, (CRPGF) announced that X-SPRAYS™ has launched a test market for two of its products with a group of Denver, Colorado based medical and recreational marijuana dispensaries.
---
---
This even has sparked even more intrigue into this company and as a result of heavier bullish momentum, (CRPGF) hit new 52-week highs on Thursday morning!
Since we first released this as our new Connect the Dots feature, (CRPGF) has managed to run 417%! But the best may still be yet to come as many saw this afternoon: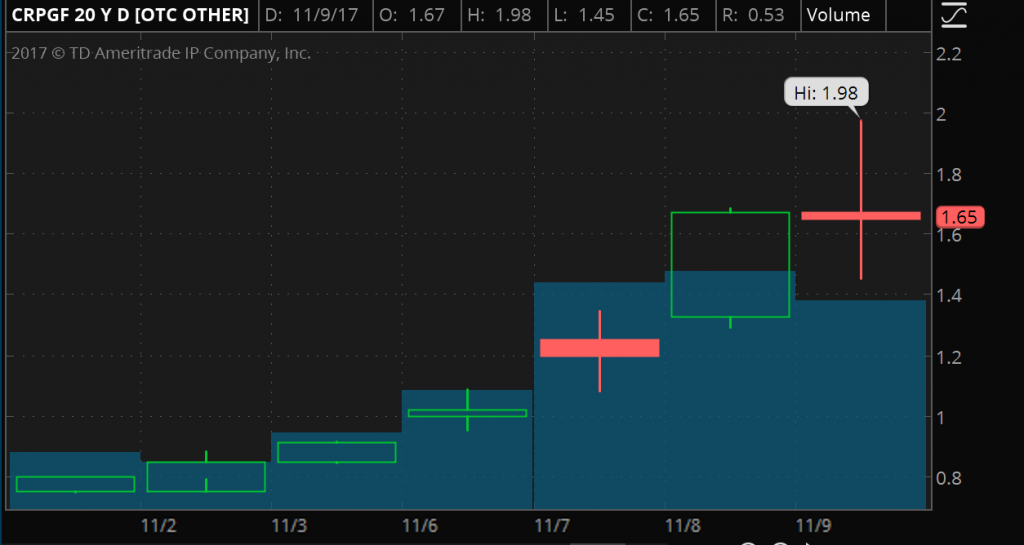 At first glance, it may appear that (CRPGF) could be presenting a potential consolidation trend by looking at Thursday's candle. However, taking a look at the intra-day chart may show that a reversal could already be starting to take shape as well: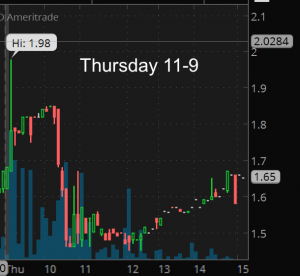 Thursday's intra-day chart shows the hot and heavy morning session where (CRPGF) booked new 52-week highs.
Keep in mind that this is only one day after doing the same when it hit $1.69.
Now, there was an obvious period of profit taking between about 10AM EST to noon but look at the chart and see that there could already be a reversal trend.
From 12:00PM EST on, (CRPGF) reversed its trend and rallied from $1.45 to a close of $1.60; a 10% turn around after morning consolidation.
We've followed (CRPGF) closely for the better part of the last 3 weeks and these last few days have seen some of the most excitement in the market. Could this trend continue? Access our full connect the dots report below if you have yet to take a look at (CRPGF)
---
MarijuanaStocks.com is owned by MAPH Enterprises LLC., a Florida Corporation that has been compensated $100,000 by a non-affiliate 3rd party for a 1 year period beginning August 1, 2017 and ending August 1, 2018 to publicly disseminate information about CNRP Mining, Inc. (CND.CN) (CRPGF). We own zero shares.