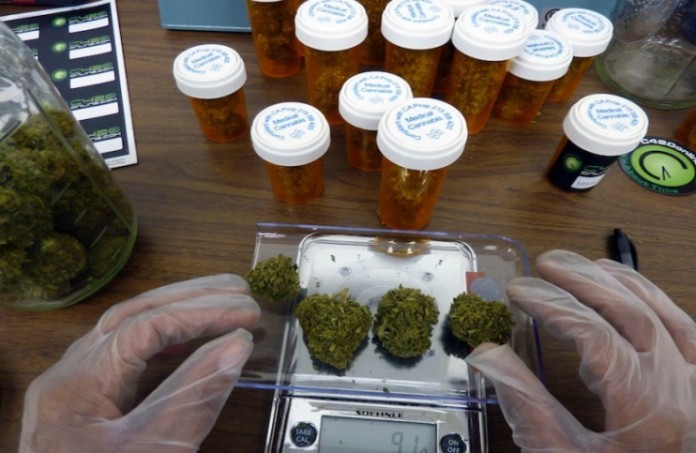 California has started selling recreational marijuana on New Year's Day in what is being called a milestone in the mainstreaming of cannabis, and many are lined up to make there first fully legal purchase.
Lines that were made outside stores were licensed to sell marijuana long before the doors to the full rec dispensaries were open and store owners said they had stocked up in expectation of huge demand.
"It is probably our busiest day in our seven-year history," said Matt Lucero, the owner of Buddy's, a dispenser of medical-use marijuana in San Jose that holds the first license issued by California to also sell recreational marijuana. "We have folks outside; every chair in the building is filled right now."
At Harborside dispensary in Oakland, hundreds lined up to be the first to buy the legal weed,
CNN's own, Lucerno stated he anticipates a 30% hike in sales overnight, but "it looks, in looking around this room, more like 50 to 60%."
California is the sixth state to green light sales of recreational marijuana, and as the nation's most populous state, it's broadly viewed as a tremendous boost to mainstreaming marijuana.
"Cannabis is now legal in the most populous state in the country," New Frontier Data, which tracks the cannabis industry, wrote in its 2017 annual report, "dramatically increasing the total potential size of the industry while establishing legal adult use markets across the entire US Pacific Coast given the legalized states of Washington and Oregon."
Marijuana is still illegal under the laws of the federal government, and it is illegal to transport marijuana across state lines, bring it on a plane or mail it.
The California industry is projected to hit $7 billion in just a few years, which is more than the $6.6 billion of the entire legal marijuana market in the United States in 2016, according to New Frontier Data.
Legalizing it will mean a lot of people may try it who had shied away until now, Lucero said.
"By having the state come in with a regulatory program really helps legitimatize it," he said. "And I think we're going to be seeing a lot of folks who otherwise are a little hesitant to shop at dispensaries. "
California adults 21 and older can possess as much as an ounce and grow up to six plants at home as of Monday.
January 1st was a muted rollout, though, because the licensing procedure is not in place in many cities. No recreational marijuana can be purchased legally in Los Angeles or San Francisco, the state's biggest cities.
Buddy's had "stocked up tons because we've seen other states, once they go recreational, how most of the dispensaries sell out on the first or second day," Lucero said.
State and local taxes add a substantial chunk to the price and depending where it's purchased, taxes can add as much as 45% to the cost.
Customers at Buddy's could pick up half an ounce of Homemade Cherry Pie for about $260. Blue Dream is about half that price. Many customers pick up an eighth of an ounce for anywhere between $25 to $60.
Massachusetts will begin selling retail marijuana on July 1. Maine has approved it, but there is no set date to begin sales.
Other states that allow the sale of recreational marijuana are Colorado, Washington, Oregon, Alaska, and Nevada.
More retail dispensaries are planing to open soon in California. The Bureau of Cannabis Control, which issues licenses from the state, had handed out about 200 by the end of last week, spokesman Alex Traverso said in an email.
As far as he's concerned, the first day has been a success, since he hasn't been besieged with calls and emails.
"That's huge because I'm certain we'd be getting tons of calls if things weren't working," he wrote. "So far so good!"