Top Marijuana Stocks To Watch For Long Term In 2023
Are you looking for the best marijuana stocks to buy long-term? Most cannabis stocks have lost value in general, making them an interesting investment in 2023. One prospective sector for long-term cannabis investing is ancillary marijuana stocks. As the cannabis industry continues to develop and profit, investors are seeking appealing opportunities to profit from its growing market. Cannabis Real Estate Investment Trusts (REITs) is one such potential possibility. These customized investment entities provide individuals with a distinctive chance to enter the cannabis sector. However, they are not involved in the complexities of marijuana production, distribution, or retail operations.
Cannabis REITs provide a unique financial strategy focusing on owning and leasing facilities to licensed cannabis operators. Individuals who invest in a Cannabis REIT may profit from the consistent rental revenue supplied by these operators and the possible value of the underlying assets. Furthermore, because REITs often own a portfolio of properties across several countries, this investment strategy provides the extra benefit of diversification. Cannabis REITs have emerged as a credible option for investors looking to profit from the cannabis sector's promise while limiting the risks associated with legal uncertainty and operational difficulties.
[Read More] 2 Top Marijuana Stocks To Watch In June 2023
 Top Cannabis REITs For List In June
Innovative Industrial Properties, Inc. (NYSE: IIPR)
Power REIT (NYSE: PW)
Innovative Industrial Properties, Inc.
Innovative Industrial Properties, Inc. is an American cannabis-focused real estate investment company. The firm already has 8.7 million square feet of rentable space, with another 2.5 million square feet on the way. Furthermore, the majority of these structures are 100% leased, with an average lease term of 16.4 years. The company now has 111 locations spread throughout 19 states. IIP had already spent $2.4 billion on property renovations in April, on top of the scheduled rent payments of $227.1 million. The company anticipates its portfolio will grow significantly in 2022 due to continuing real estate investments in Pennsylvania and Massachusetts.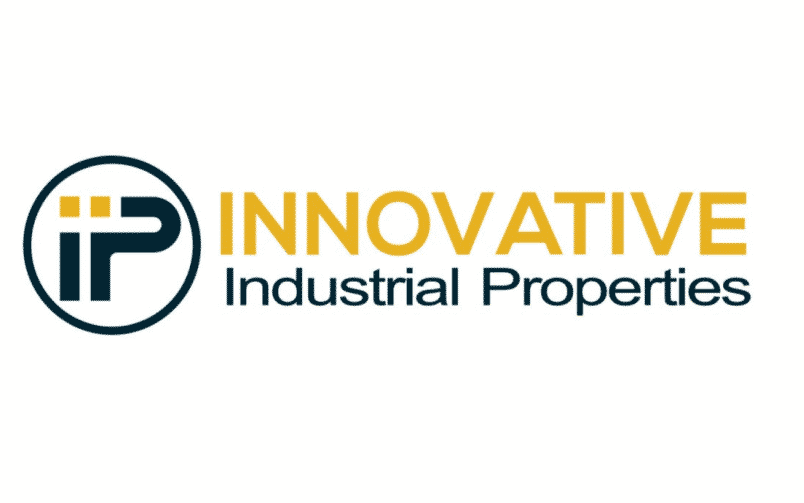 IIP achieved total revenues of approximately $76.1 million in the first quarter of 2023, representing an 18% increase over the same time the previous year. Furthermore, the company recorded net income attributable to common stockholders of approximately $40.8 million for the quarter or $1.43 per diluted share. Furthermore, IIP paid a quarterly dividend of $1.80 per common share to stockholders of record on March 31, 2023 (an AFFO payout ratio of 80%) on April 14, 2023, for an annualized dividend of $7.20 per share. The $7.15 per common share dividend declared for the fiscal year ended March 31, 2023, represents a $1.00, or 16%, increase over the dividends declared for the fiscal year ended March 31, 2022.
As of Q1 2023, the company's overall property portfolio included 108 properties spread across 19 states, totaling approximately 8.9 million rentable square feet (including approximately 1.6 million rentable square feet under development/redevelopment).
IIPR Stock Performance
On June 6th, IIPR stock closed at $70.62, up 2.18% in the last five days of trading. The stock is currently trading in a 52-week price range of $63.36-$137.33, down 33.36% year to date. In this case, IIPR stock has a 12-month median price target of $100 per share, according to CNN Business analysts. In this forecast, this would be a 41.60% increase over the last trade price of $70.62.
[Read More] The Top 3 Marijuana Stocks To Watch In The Stock Market
Power REIT (PW)
Power REIT's major goal is to be a real estate investment trust prioritizing long-term investments with superior risk-adjusted returns. The company's portfolio of CEA properties is gradually expanding to include new processing facilities and greenhouses. Tenants who have been awarded permission to cultivate medical marijuana on the land have taken over the leases for the buildings. Power REIT will use the funds to complete the necessary improvements to the assets prepared for development. Greenhouse facilities owned by Power REIT.

PW reported a core FFO of $0.41 per share in the second quarter of 2022, a decline from $0.51 at the same time in 2021. Furthermore, core FFO was $0.41 per share for the June 30, 2022 quarter, compared to $0.40 per share for the March 31, 2022 quarter. PW now administers about 2.2 million square feet of controlled environment agriculture (CEA) space through 22 greenhouses.  PW owns 601 acres of REIT Power Series and has seven ground leases totaling 112 kilometers of railroad land for solar projects. The Trust paid approximately $163,000 in annual dividends on redeemable perpetual preferred stock ($0.484375 per share).
PW Stock Performance
PW stock closed on June 6th at $1.89, down 28% for the last month of trading. In this case, the stock has a 52-week price range of $1.75-$24.45 and is down 54.43% year to date.
[Read More] Top Cannabis Penny Stocks For June 2023
Investing In The Cannabis Industry In 2023
It is critical to understand that investing in the cannabis business, particularly Cannabis REITs, carries its own risks and considerations. Changes in regulations, government prohibitions, and market volatility can all impact the success of these investments. As a result, due investigation and careful research are essential while considering such investments.
Top cannabis REITs offer an exciting possibility for investors seeking exposure to this rapidly rising industry. By combining the stability of real estate with the high-growth potential of cannabis, these specialized investment vehicles bring up a new world of possibilities for seasoned investors and newcomers.
---
MAPH Enterprises, LLC | (305) 414-0128 | 1501 Venera Ave, Coral Gables, FL 33146 | new@marijuanastocks.com