3 Marijuana Stocks To Buy Before October?
Marijuana stock investors are keeping focused on the future of the cannabis industry. Right now even with an increase in volatile trading, the industry is still progressing. There are more states and global regions that are working to establish legal cannabis markets. It seems that the toughest hurdle to get passed is cannabis reform whether it's the state level or federal. Although federal reform is what some are calling the last true obstacle of the sector. Now for the US cannabis industry, this holds more truth than not.
So if we can federally legalize or reschedule cannabis it would allow for many ventures to take place. For example, if cannabis was not federally illegal legal companies would be able to conduct business in other places around the US. Currently, this still can happen but it takes a lot of work and there is a lot of red tape. But if cannabis was federally legal it would make things easier for all if not most legal cannabis businesses. Not to mention it would restore investors' confidence creating a means to trade marijuana stocks with less fear.
That is why many are looking for the best marijuana stocks to buy to prepare for the future. Currently, there is a chance we see the SAFE Banking Act become law before the end of 2023. Even though this is not a certainty there is supreme confidence that cannabis will be federally legal one day. Below are several marijuana stocks to watch as better legislation pushes the industry further ahead.
Marijuana Stocks For Better Investing And Trading
SNDL Inc. (NASDAQ:SNDL)
Cronos Group Inc. (NASDAQ:CRON)
Organigram Holdings Inc. (NASDAQ:OGI)
SNDL Inc.
SNDL Inc. engages in the production, distribution, and sale of cannabis products in Canada. The company operates through four segments: Liquor Retail, Cannabis Retail, Cannabis Operations, and Investments. In recent news, the company announced its upcoming conference participation.
Conference Time And Dates
ATB Capital Markets 2023 Life Sciences Fall Conference
Wednesday, September 20, 2023.
Mr. George and Ms. Kiziak will attend the ATB Capital Markets 2023 Life Sciences Fall Conference in New York.
Benzinga Cannabis Capital Conference
Wednesday, September 27, 2023.
Mr. George will speak at the Benzinga Cannabis Capital Conference in Chicago
A.G.P. Virtual Cannabis Conference
Wednesday, October 4, 2023.
Mr. George will join the A.G.P. Virtual Cannabis Conference
Cronos Group Inc.
Cronos Group Inc. operates as a cannabinoid company. It manufactures, markets, and distributes hemp-derived supplements and cosmetic products through e-commerce, retail, and hospitality partner channels under the Lord Jones brand in the United States. On September 18th the company launched a leading medical brand PEACE NATURALS® in Germany.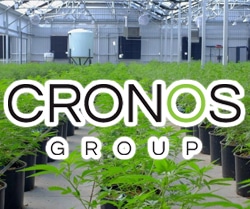 In July, Cronos signed a distribution agreement with Cansativa Group ("Cansativa"), one of the leading distributors of medical cannabis in Germany. Cansativa is a market leader in the medical cannabis market and is a driving force in the German cannabis industry. Cansativa has a network of approximately 2,000 pharmacies domestically; they currently supply around 300,000 patients in Germany's medical market.
[Read More] 3 Really Good Marijuana Stocks For Your Trading Portfolio
Organigram Holdings Inc.
Organigram Holdings Inc. through its subsidiaries, engages in the production and sale of cannabis and cannabis-derived products in Canada. On September 1st the company announced the resignation of a board member. Ms. Caroline Ferland has resigned from the Board of Directors ("the Board") effective immediately. Ms. Ferland was a board member nominee appointed by BAT.
[Read More] 3 Marijuana Stocks To Buy Off The Dips 2023?
Words From The Company
"In her short time on the Board, Ms. Ferland made considerable contributions to Organigram," said Peter Amirault, Chair of Organigram's Board of Directors. "In addition to providing meaningful involvement on the strategic planning and corporate governance fronts, Ms. Ferland used her extensive international experience in legal and regulatory matters to support the Company, providing solid strategic guidance on several matters."
---
MAPH Enterprises, LLC | (305) 414-0128 | 1501 Venera Ave, Coral Gables, FL 33146 | new@marijuanastocks.com