Cannabis Stocks In February 2021
With so many things working for the cannabis industry in the U.S. and around the world marijuana stocks have produced new highs in February. As it stands many new acquisitions have taken place in the cannabis industry that led to rapid expansion for marijuana companies. At the present time, analysts are predicting cannabis sales in the U.S will continue growing in 2021. This is partly due to increased legalization and on the state level in the U.S., and emerging global cannabis markets like Mexico. With more acceptance for cannabis across the world the industry could enter a period where it can flourish greatly. In essence, this could provide cannabis companies with strong financials going forward.
Currently, with most of the top marijuana stocks to buy reaching recent highs in the market, it could be time to find value in other areas. Although this part of the cannabis sector is known for market volatility it has seen substantial gains for 2021. In reality, marijuana penny stocks have become a favorite amongst short-term investors because of their price fluctuation. In general day traders and swing traders use the volatility in the market to secure gains from short-term positions.
Another thing about marijuana penny stocks is the ability to get large exposure to a cannabis stock without as much capital in the market. In essence, investors could see much higher returns when a pot stock makes a move by purchasing a larger position in the marijuana stock. On the other hand, shareholders could also lose quickly if the trade does not go as planned.
Understanding The Cannabis Market and Trading Strategies
One way to help investors minimize losses is by setting stop losses at the same percentage rate across trades. For example, if you only allow a maximum of 25% downside on all your trades you can contain the bad trades. While with good trades you can see much more upward percentage gains helping you become a profitable trader. On e thing investors should do before investing in cannabis companies is do their research and due diligence.
As many marijuana companies continue seeing revenue growth and market expansion marijuana stocks represent an opportunity to see substantial gains in the market. Although investing in cannabis stocks has its risk it could prove lucrative for your portfolio.  With this in mind, let's take a look at 2 cannabis stocks to possibly invest in that trade under $1.
Read More
Marijuana Stocks To Watch:
Cansortium Inc. (OTC: CNTMF)
MediPharm Labs Corp. (OTC: MEDIF)
Cansortium Inc
Cansortium Inc is a cannabis company focused on being the highest quality marijuana provider in the state of Florida. Headquartered in Miami, Florida the company has also secured licenses and established operations in Texas, Michigan, and Pennsylvania. On February 12th Cansortium announced revenue in Florida of $13.4 million for Q4 of 2020. In fact, this would bring Consortium to approximately $46.9 million for the full 2020 year. Also, the company has successfully completed harvesting its 2020 Michigan crop-producing over 4000 pounds of sellable cannabis.
Not to mention Cansortium announced it hired a new Chief Financial Officer Patricia Fonseca. Mrs. Fonseca was a service provider to the hospitality, gaming, and facility service industries. At the present time, Cansortium has 24 operational dispensaries in Florida. Its brand the Fluent has a wide variety of premium dried flowers, edibles, and full-spectrum concentrates, cartridges, and creams. As the company begins to expand to other key markets it could see growth in the future.

CNTMF stock has traded flat to start 2021 with a stock price of $0.77 on February 12th going into the close. At the present time, one analyst at TipRanks has given CNTMF stock a 12-month average target price of $1.20. In essence, this would a 47.46% gain from current levels. While the company sees growth in Florida and new key markets CNTMF stock is a marijuana penny stock to watch trading under $1.
[Read More] 
MediPharm Labs Corp.
MediPharm Labs Corp. is a company that specializes in the production of purified pharmaceutical quality cannabis oil and concentrates. In addition, the company produces advanced derivative products in its GMP certified facility. Currently, MediPharms has a research-driven team, state-of-the-art technology, and make revenue through its wholesale and white label platforms.
On January 29th MediPharms announced it hired a new CFO Greg Hunter. Mr. Hunter comes on with 20 years of experience as a business executive holding senior positions in finance and leadership roles across multiple industries. Additionally, Greg Hunter also brings expertise in capital management, audit, compliance, tax, manufacturing, and price strategy. With new leadership, the company could possibly grow for 2021.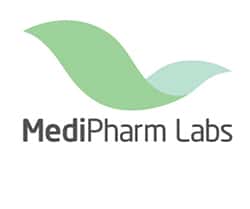 MEDIF stock is up 30.67% since the start of 2021 with a high of $0.785 on February 10th. Currently, MEDIF stock is trading at $0.57 a share and lost almost 5% of its value on February 12th. At the present time, MEDIF stock has analysts at Stock Invest giving it a 37.23% rise in the next months. For this reason, MEDIF stock is a cannabis stock to watch under $1.
[Read More] Marijuana Stocks To Buy Now? 2 Cannabis Stocks Watch This Week
---
MAPH Enterprises, LLC | (305) 414-0128 | 1501 Venera Ave, Coral Gables, FL 33146 | new@marijuanastocks.com