Ancillary Cannabis Stocks For April 2023
In 2023, are you planning to invest in marijuana stocks? In 2022, the cannabis industry's ancillary stock market saw significant losses. Cannabis ancillary businesses help the cannabis industry but don't deal directly with the actual plant. Several businesses frequently provide support to the cannabis industry. Equipment providers for lighting and growing are also helpful to the cannabis sector.
One probable trend impacting the ancillary cannabis industry in 2023 is the ongoing expansion of legal cannabis marketplaces. As more states and countries legalize cannabis for medical or recreational purposes, demand for related goods and services is expected to increase. This can create opportunities for new market entrants and spur existing businesses to expand their product offerings. Day traders and swing traders typically make the greatest money when trading in a market like this. In addition to their large long-term investments in the cannabis industry, some long-term investors also adopt short-term trading strategies.
Some of these marijuana stocks are currently available to investors at substantial discounts. Many of these stocks may be the ideal long-term entry positions for potential cannabis investors or offer a chance to profit from recent market volatility. The top 3 marijuana stocks to watch in April 2023 are listed below.
Top Ancillary Cannabis Stocks To Watch April 2023
GrowGeneration Corp. (NASDAQ: GRWG)
Hydrofarm Holdings Group, Inc. (NASDAQ: HYFM)
Agrify Corporation (NASDAQ: AGFY)
GrowGeneration Corp.
GrowGeneration Inc. is well-known in the US for running and providing hydroponic and organic growing facilities. The company provides cannabis producers with various hydroponic, organic, and lighting options. Currently, GrowGen owns and runs 60 organic gardening businesses throughout the US. Our top concern has always been maintaining GrowGeneration.com's internet presence. With over 10,000 products ranging from nutrition to lighting technology, the website has developed into a one-stop e-commerce destination. The business intends to grow nationwide by opening more than 100 stores over the next five years. The business will build the most extensive hydroponic garden facility in Los Angeles County during the third quarter of 2021.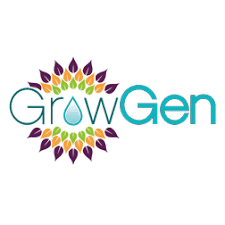 On March 15, the company released its 2022 fourth quarter and year results. Notably, Q4 same-store sales decreased by 51.9%, and net revenues, which were $54.5 million, decreased by more than 40%. Moreover, the gross profit decreased from $23.1 million, or 25.5% of net revenues, to $9.6 million, or 17.6% of net revenues. GrowGen saw a net loss of $15.0 million, or $(0.25) per diluted share, in Q4 2022 as opposed to a net loss of $4.1 million, or $(0.07) per diluted share. The company's previously stated target range for net revenue was $278.2 million, but actual net revenue for 2022 decreased by around 34.2%.
For its 2023 projection, GrowGen projected net revenues in the $250 million to $270 million range. Moreover, 2023's full-year Adjusted EBITDA turned a $1 million profit from a $4 million loss. For the first quarter of 2023, net revenues will be in the $55 million to $57 million range, with an adjusted EBITDA loss of $2 million to $4 million.
GRWG Stock Performance
On March 30th, the shares of GRWG finished at $3.24, down 23.49% in the last month of trading. GRWG stock is down 17.35% year to date, with a 52-week price range of $2.92-$9.87. According to CNN Business analysts, GRWG stock has a 12-month median price target of $4.25 per share. This would forecast a 31.38 percent increase over the last transaction price of $3.24.
[Read More] Top Marijuana Stocks To Watch Right Now In 2023
Hydrofarm Holdings Group, Inc.
Hydrofarm Holdings Group, Inc. is a well-known agricultural equipment manufacturer and supplies for hydroponic and controlled environments. The company regularly offers a large selection of marijuana-growing products. The company manufactures various goods, including growth promoters, high-intensity grow lights, and temperature control systems. On November 1st, the company announced that it has acquired New Growers Equipment, Inc., a company with a number of cutting-edge products and a well-known name. The business teamed with AXEON Water Technologies in January to provide cutting-edge reverse osmosis water filtration technology and solutions.

The corporation reported its results for the fourth quarter and the entire year 2022, with Q4 net sales falling to $61.5 million from Q4 2021's $110.4 million. In contrast to its $18.7 million in gross profit, Hydrofarm saw a gross loss of $(0.5) million. Moreover, compared to $23.3 million, the adjusted gross profit was $9.0 million. Net revenues for the company's fiscal year 2022 fell to $344.5 million from $479.4 million in Q4 2021. Moreover, the gross profit fell from $101.5 million to $29.3 million. In comparison to a net profit of $13.4 million in Q4 2022, the company reported a net loss of $(285.4) million for the fiscal year 2022.
HYFM Stock Performance
HYFM Stock closed on March 30th  at $1.80, down 6.25% in the past month of trading. The stock has a 52-week price range of $1.18-$15.98 and is up 16.13% year to date. According to analysts at CNN Business, HYFM stock has a 12-month average price target of $2.13 per share. In this case, this would increase by 18.06% from its last trading level of $1.80.
[Read More] 2 Ancillary Cannabis Stocks Under $2 For April 2022
Agrify Corporation
The US-based company Agrify Corporation offers dependable machinery and software to the indoor farming sector. The company offers vertical farming systems, integrated grow racks, and LED grow lights. Agrify's state-of-the-art software and technology solutions enable businesses to operate at the highest dependability, effectiveness, and quality levels while incurring minimal costs. The company's services include consulting, engineering, and construction. Precision Extraction Solutions and Cascade Sciences, two well-known providers of tools and services for examining, processing, and extracting hemp and cannabis, were recently acquired by the business. The company acquired Lab Society in February, a pioneer in cannabis extraction, distillation, and solvent separation solutions, with a $10 million yearly revenue.

Agrify's revenue declined from $15.8 million at the same time in 2021 to $7.0 million in the third quarter of 2022. Revenue climbed by 51.4%, from $34.6 million in the same period last year to $52.4 million this year. The third quarter's gross loss was $(4.1) million, or (58.6%) of revenue, compared to the same period last year when it was $(380) thousand, or (2.4%). The most recent quarter's gross profit (loss) was $1.7 million, or 3.2% of revenue, as opposed to the prior year-to-date quarter's gross profit (loss), which was $393 thousand, or (1.1%)% of revenue. For the forthcoming fiscal year 2022, Agrify forecasts adjusted sales of between $65 million and $70 million.
AGFY Stock Performance
AGFY stock closed on March 30th at $0.1601, down 58.98% in the past month of trading. Currently, the stock has a range of $0.149-$47.79 and is down 51.92% year to date. According to analysts at CNN Business, AGFY stock has a median price target of $1.68 per share. In this case, this would represent an upside of 946.22% from its last trading price of $0.16.
Ancillary Marijuana Stocks In April 2023
Day trading and swing trading techniques are a way to take advantage of today's market environment. It's crucial to have a clear plan outlining your trading objectives, risk management techniques, and entry and exit levels for each transaction before you start your trading day.
You may identify the top cannabis companies on the market by examining their financial statements and press releases. To profit from the current market volatility, several seasoned traders are actively putting short-term transactions on well-known cannabis companies. Use technical indicators and chart patterns to assist you in finding the best market chances before opening a position. If you look for trading possibilities to profit from, your chances of success will increase. These might be some of the top marijuana stocks to watch next month due to the volatility of the top marijuana companies.
---
MAPH Enterprises, LLC | (305) 414-0128 | 1501 Venera Ave, Coral Gables, FL 33146 | new@marijuanastocks.com