Top Canadian Marijuana Stock That Could Soon See Better Trading
Marijuana stock investors are caught between caution and optimism. In the last serval weeks, many marijuana stocks have continued to trade in the red. There have been short windows on better trading but it has all been short-lived. Investors want to see more consistency when it comes to any upward swings that may occur. With a lack of upward trading and more pullbacks, it creates fear and caution. Investors want to take the path of least resistance toward seeing a return.
So when this does not happen and there is a more downside it only fuels the issue. Now on the flip side even with the sector down, there is much optimism. Specifically on what the future of the cannabis industry and marijuana stocks will do. Which as the industry continues to thrive fundamental trading will play a part in seeing the sector recover. Especially with a good amount of cannabis companies releasing earnings and showing record results. Yet this did very little in creating any positive momentum for marijuana stocks.
At the moment many feel that with the current fight to end cannabis prohibition there may be some volatile upswings on this journey. This is what some traders have been using as a means to capitalize on the current state of the sector. It's more of a buy the rumor sell the news kind of strategy. Some have been lucky to see gains others are holding and waiting. Right now the sector is trading at a lower level than this time last year. However, there is better overall action there's just needs to be a sizable recovery to give investors stronger confidence
Marijuana Stocks Could Your Investment Opportunity
Nevertheless, there is much opportunity to be had with legal cannabis. More states are soon to vote on legalizing cannabis in some form. Hopefully with the overall industry growing and expanding it will resonate well for marijuana stocks. Just make sure to do your homework before you start looking for marijuana stocks to buy. Learn which cannabis stocks have more volatility and which companies stand the best odds of making a profit. The cannabis companies below are some options to consider when looking for marijuana stocks to watch in 2022
Top Marijuana Stocks To Keep On Your Radar
Tilray Brands, Inc. (NASDAQ:TLRY)
OrganiGram Holdings Inc. (NASDAQ:OGI)
Aurora Cannabis Inc. (NASDAQ:ACB)
Tilray Brands, Inc.
Tilray Brands, Inc. engages in the research, cultivation, production, marketing, and distribution of medical cannabis products. It operates through five segments. Cannabis Business, Distribution Business, Beverage Alcohol Business, Wellness Business, and Business Under Development. Close to 2 weeks ago the company announced news regarding a signed definitive agreement for a commercial and financial partnership with HEXO Corp.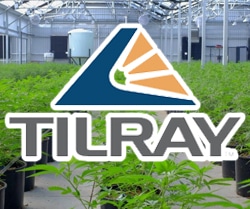 As initially announced on March 3, 2022, the partnership will bring together Canada's top two cannabis market leaders, strengthening their respective operations and setting the stage for production efficiencies, which are expected to yield increased productivity and other efficiencies amid intensely-competitive market dynamics.
Words From The CEO
Irwin D. Simon, Tilray Brands' Chairman and CEO, said, "We know that winning in Canada means a relentless focus on product innovation and operational excellence. The agreement with HEXO delivers on both fronts as it facilitates collaboration, the sharing of best-practices, and yields quantifiable operating efficiencies between two companies with unparalleled global cannabis expertise.
[Read More] Best Marijuana Stock To Buy Long Term? 3 Cannabis REITs For Your List Right Now
OrganiGram Holdings Inc.
OrganiGram Holdings Inc. through its subsidiaries produces and sells cannabis and cannabis-derived products in Canada. On April 12th the company released its second-quarter Fiscal 2022 results. Highlights from this are achieving a gross revenue of $43.9 million, up 128% from the same prior-year period. This is consistent with Q1 Fiscal 2022, despite the impact of seasonality.
The next results show continued record growth in net revenue, reaching $31.8 million, the highest in the history of the Company. Which is an increase of 117% from $14.6 million in the same prior-year period and 5% from $30.4 million in Q1 Fiscal 2022.
As well the OrganiGram reached an 8.2% market share1 in February 2022. That put OrganiGram at the #3 position among Canadian licensed producers for the second month in a row1. In addition to maintaining the #1 position in dried flower. The largest category, which happens to represent approximately half of the Canadian cannabis market.
Aurora Cannabis Inc.
Aurora Cannabis Inc. produces, distributes, and sells cannabis and cannabis derivative products in Canada and internationally. It also engages in facility engineering and design, and cannabis breeding. Plus research, production, derivatives, product development, wholesale, and retail distribution activities.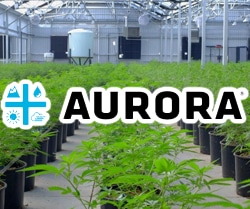 This past month the company announced it has advanced its premiumization strategy. This was done by acquiring Thrive Cannabis. Along with its award-winning Greybeard Brand, In margin accretive transaction.
This transaction is expected to close in Aurora's Q4 fiscal 2022 and contribute immediate positive EBITDA. As well as support Aurora's goal to reach EBITDA profitability in the first half of fiscal 2023.
[Read More] Top US Marijuana Penny Stocks For May 2022
Words From The Company
"As consolidation among licensed producers accelerates, it's vital that any transactions we make, now or in the future, be strategic, accretive, and centered around adding exceptional talent and brands that align with our path to profitability," said Miguel Martin, Chief Executive Officer of Aurora.
---
MAPH Enterprises, LLC | (305) 414-0128 | 1501 Venera Ave, Coral Gables, FL 33146 | new@marijuanastocks.com