Top Marijuana Stocks For Your February Watchlist
At the close of January, marijuana stocks were building some much-needed momentum. This allowed most of the sector to see a green day of trading before the start of February. In the first 2 weeks of 2022 marijuana stocks were showing better signs of life. Much of this past year of trading was met with a big decline in trading. However, although 2022 had mirrored some of that same pattern from 2021 this new year holds great promise.
So for starters congress has now announced it will be working ok adding a cannabis banking amendment to a new bill. To which this news could have played a hand in this recent uptick in trading. This has left some wondering if marijuana stocks are in a better position. Meaning as more momentum enters into the sector will cannabis stocks be able to sustain this rise. Or at the very least be able to see better recoveries as the year progresses.
The fear is if federal reform fails to pass again that marijuana stocks will see more red days than green. Furthermore, there has also been an increase in cannabis sales in certain legal states. What this shows is that progress is being made among multi sate operators and some pure-play cannabis companies. Some ventures that were initiated in 2021 are just now coming to the surface.
Top Marijuana Stocks To Watch In 2022
So with this, there is so much in the pipeline that there are many catalysts that can possibly be a means to see better overall trading in 2022. Now with February here investors are keeping a close on the sector and all the top marijuana stocks to watch in 2022. As well during this new month of trading February could be a time when the sector sees a turnaround. The cannabis stocks below are just some options to look at that may make your watchlist. Just make sure to do your research before pulling the trigger on any investment. Plus always be sure that the risk is worth the reward.
Marijuana Stocks To Watch Right Now
Innovative Industrial Properties, Inc. (NYSE:IIPR)
Power REIT (NYSE:PW)
Innovative Industrial Properties, Inc.
Innovative Industrial Properties, Inc. is a self-advised Maryland corporation focused on the acquisition, ownership and management of specialized properties. Which are then leased to experienced, state-licensed operators for their regulated medical-use cannabis facilities. Adding to some current progressive expectations of the company before the start of 2022 was able to position themselves well. During the 2nd week of December, the company announced it has acquired 100% of leased portfolios of 27 properties.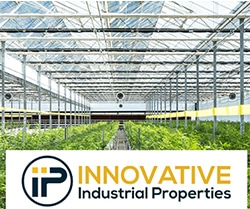 Which are spread out across different states. There are 24 properties located in Colorado, two properties located in North Dakota, and one property located in Pennsylvania. 16 properties are leased to a subsidiary of Columbia Care Inc.; four properties are leased to subsidiaries of Medicine Man Technologies, Inc. Plus three properties are leased to subsidiaries of Curaleaf Holdings, Inc.
As well as three properties are leased to subsidiaries of LivWell Holdings, Inc. And one property is leased to a subsidiary of Southwest Alternative Care, LLC. As the pioneering real estate investment trust for the regulated cannabis industry, IIP partners with experienced, regulated cannabis operators. Which serves as a source of capital by acquiring and leasing back their real estate assets. In addition to offering other creative real estate-based capital solutions.
[Read More] Top Canadian Marijuana Stocks To Watch In February 2022
Power REIT
Power REIT is a real estate investment trust (REIT) that owns real estate related to infrastructure assets including properties for Controlled Environment Agriculture, Renewable Energy, and Transportation. Also, Power REIT is actively seeking to expand its real estate portfolio related to Controlled Environment Agriculture. Back in December, the company entered into a debt financing facility with a commercial federally regulated bank.

Along with an initial amount of $20 million. The company expects to use the Debt Facility proceeds as a growth vehicle to acquire additional greenhouse cultivation properties. As well as fund value-add improvements at its existing greenhouse properties. In other news, the company also announced its 2021 dividend tax treatment.
[Read More] A New Cannabis Banking Measure Is Being Worked On By Congress
Words From The Company 11/23/21
"We are excited to enter into this financing arrangement," said David H. Lesser, CEO of Power REIT. "This Debt Facility culminates months of effort and reflects the close working relationship and trust that we have developed with the Bank. This transaction allows us to continue our growth trajectory by deploying non-dilutive capital at a significant investment yield spread to the borrowing cost. We also believe this Debt Facility can be expanded as we add additional unencumbered assets to the borrowing base used to calculate the amount of funding the Bank is prepared to advance."
---
MAPH Enterprises, LLC | (305) 414-0128 | 1501 Venera Ave, Coral Gables, FL 33146 | new@marijuanastocks.com