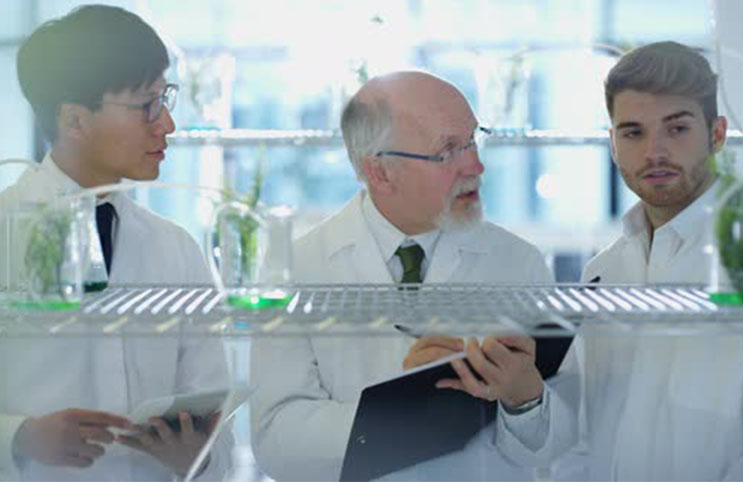 As you may or may not know I love Biotech companies as investment opportunities! The reason being is the fact they trade unlike any other companies out there and there are tangible milestones they can hit which when positive send the market into a buying frenzy. In the last year I've written about GWPH, ZYNE and CARA which are all Big Board (Nasdaq) companies in Forbes quite successfully and ahead of the market. Today I am writing about INMED, a Canadian based biotech company with board members from Eli Lilly, MIT and a Chief Medical officer formerly of GW Pharmaceuticals who will be the focus of this interview.
InMed has already distinguish themselves as a leading Cannabinoid Pharmaceutical Company. As one of very first biotech companies that entered the Cannabinoid research space, they are uniquely positioned capitalize on the anticipated growth of the cannabis-derived pharmaceutical market by creating not just therapies, but efficient scientific procedures to create those drugs and more importantly patent new methods in the process that are bankable & universal for other companies.
Today I am pleased to bring to the subscribers of Marijuanastocks.com an exclusive interview InMed's Chief Medical Officer; Dr. Ado Muhammed, MD, DPM, MFPM.
He knows a few things about with cannabinoid based drugs as he is the former Assoc. Medical Director for GW Pharmaceuticals. GW Pharma and was part of the development team that developed Sativex, a cannabinoid based drug for MS that has been approved in over 15 countries worldwide.
Dr. Muhammed is a proven leader in the development of cannabinoid therapies, having played a strategic role in the clinical development, R&D, and commercialization of these specialty drugs.
I asked him to explain what InMed is doing and what separates them from Pack.
Q: What initially attracted you to join InMed an earlier stage biotech company involved in cannabis based Pharmaceuticals…an area you have a unique perspective on?
A: Initially it was InMed's approach to drug discovery using their Bioinformatic program. This precision in the discovery process was a far more advanced approach than I had seen before in my career. The ability to discover compounds intelligently and efficiently to treat disease creates a significant industry advantage for InMed. Also, their drug delivery approach- avoiding systemic exposure through topical/local delivery I believe has a therapeutic advantage over oral delivery in terms of safety and efficacy.
Q: What differentiates InMed from other leading cannabinoid Biotech companies that you have seen?
In addition to the bioinformatics I see two other areas where InMed has an industry advantage. Firstly, using plant equivalent compounds versus others developing synthetic compounds is a clear advantage in my opinion. This will improve the safety profile of InMed's therapies while providing the efficacious results expected in the treatments. Secondly, the ability to produce cannabinoids in the biosynthesis process
On the other spectrum InMed's natural compound approach using specifically identified cannabinoids is also unique. This approach vs others using whole plant extracts and oils, is a more efficient method in terms of clinical development. Efficiency in time and cost
A: I understand you were at UBC yesterday getting an update from the team on the biosynthesis program. What essentially is this program and why is it so important for InMed and its shareholders?
Q: Essentially biosynthesis is a process that can manufacture cannabinoids out of a biologic system. This is a well-known system, as evidenced in the manufacturing of insulin, which is used by millions of diabetics daily. Again, I will point to efficiency and precision. Manufacturing cannabinoids in a controlled laboratory environment and eliminating the significant costs and variables associated with the current methods. This will have a major impact on both drug quality & costs. Also, the ability to produce all of the 90+ cannabinoids at a uniform cost open up InMed's therapeutic potential and will secure our position as a world leader in cannabinoid prescription drug development.
Q: Fast forward 3 years…what are your top 3 indications
A: Of course, Epidermolysis Bullosa our lead therapy. We would expect to be in Phase 3 trials within 3 years and moving quickly to registration. Glaucoma we are targeting to have advanced to a stage where it can be partnered within the next 12 months. I also predict our advancement of other indications within the dermatology/orphan drug space, including the treatment of acute and chronic pain using a topical approach.
4.) Final Thoughts on InMed for our subscribers?
a. InMed has created a tremendous amount of value in a short period as evidenced by the assets in this company. InMed has the opportunity to become a world leader in cannabinoid based medicines and we are well on our way. The team we have assembled has both experience and capabilities to execute on this ambitious goal.
CONCLUSION:
The Cannabis Biotech/Pharma Market Could Surpass $20 Billion by 2020, and while we see the MJ licensed growers offering "medical" marijuana" The big winners in the Cannabis financial space will clearly be the Biotech's like GWPH, ZYNE, CARA and Vancouver Biotech IMLFF. If you are not familiar with how the US cannabis industry is being tilted towards pharma companies I suggest you read this.
InMed (IMLFF) is a company I have known for a while, actually since I got involved in this space. When I first heard about them and met them two years ago I thought to myself "I wonder how far along they will be in two years?" Well 2 years later and they are positioning themselves in MY OPINION for Buyout or Biotech Glory. They are the frontrunner for Cannabis based Biotech in Canada, but more importantly…….
INMED is completely insulated by Federal, Country or State Law as it relates to Cannabis because at the end of the day they are science based nerds that happen to be mapping the Genome of pot!