By Jason Spatafora @WolfofWeedSt
"I fear the Greeks, even those bearing gifts."- Virgil
The DEA's recent cannabis research expansion is a Harry Houdini inspired smoke show of misdirection all to set up the next trick; there I said it. While some view it as a positive first step, I tend to think it served a very deliberate function. Optically it played directly into expected vitriolic fallout from advocates, activists and media touts, all of which lined up to ignite their "DEA should reschedule cannabis" torches. In a "perfect world" scenario these people aren't wrong, cannabis isn't Heroin's equal & 1+1=2, but just as fire cannot exist in a vacuum, neither can a rational cannabis debate. And while everyone on the side of reason is shouting in unison about rescheduling they failed to see that they might have just had their pockets picked. DEA's policy statement that everyone seemed to ignore there are 33 words that have the potential to create the legal framework for the monopolization of Cannabis by means of an exclusionary application process.
Prologue – August 10th, 2016
Russ Baer, a staff coordinator for the Drug Enforcement Administration (DEA) media affairs wing gave a response to Steven Nelson of USNEWS.com via email. Nelson later shared a screen grab of the email via tweet. The statement made to him from this Drug Enforcement Administration staff coordinator read:
"Tomorrow morning (August 11th, 2016) the Drug Enforcement Administration will be making some important announcement regarding Marijuana related topics that will be published in the Federal Register. Because of your interest and/or prior engagement with the DEA on this subject, the DEA office of National Media Affairs is reaching out to you regarding these anticipated announcements."
Over the next 24 hours social media was a blaze, with many people within the industry uncovering the fact that Rescheduling wouldn't happen and that the DEA response would have to do with research. As expected, the incendiary scheduling of cannabis debate raged on into the following day.
August 11th, 2016
As expected, the Drug Enforcement Administration disappointed the advocates and activists of medical marijuana by not removing or rescheduling marijuana from its class 1 controlled substance status. Yet the DEA, in all of its benevolence, offered a consolation prize of sorts, by "deciding" to expand the study of Medical Marijuana for researchers, Universities & drug companies outside of the confines of a single federally legal facility. The facility, to refresh your memory is located at the University of Mississippi, (ranked 164th in Bio Sciences) and had up to this point been the sole research monopoly on legally grown marijuana, courtesy of the NIDA (National Institute on Drug Abuse).
DEA's Misdirection Strategy
Over the next few days it seemed that every headline following the DEA's deliberation was about the archaic rescheduling system & how cannabis is safer statistically than opiates that are schedule 2. Some media outlets went as far as to paint a "glass half full" picture. The LA Times for example did a piece titled "DEA ends its monopoly on marijuana growing for medical research." The social reaction from cannabis enthusiasts, advocates and potrepreneurs from Main Street to Wall Street was as expected with everyone chiming in on social media to wag their fingers at the DEA. Representative Barbara Lee, a congresswoman from Oakland California stating via tweet "Politicians aren't doctors or scientists. Marijuana research prohibitions are outdated, unscientific, & dangerous for those who need #MMJ." As expected the rhetoric from the cannabis side was "The DEA is bad, the War on Drugs is a complete failure, Big Pharma is to blame," so on and so forth.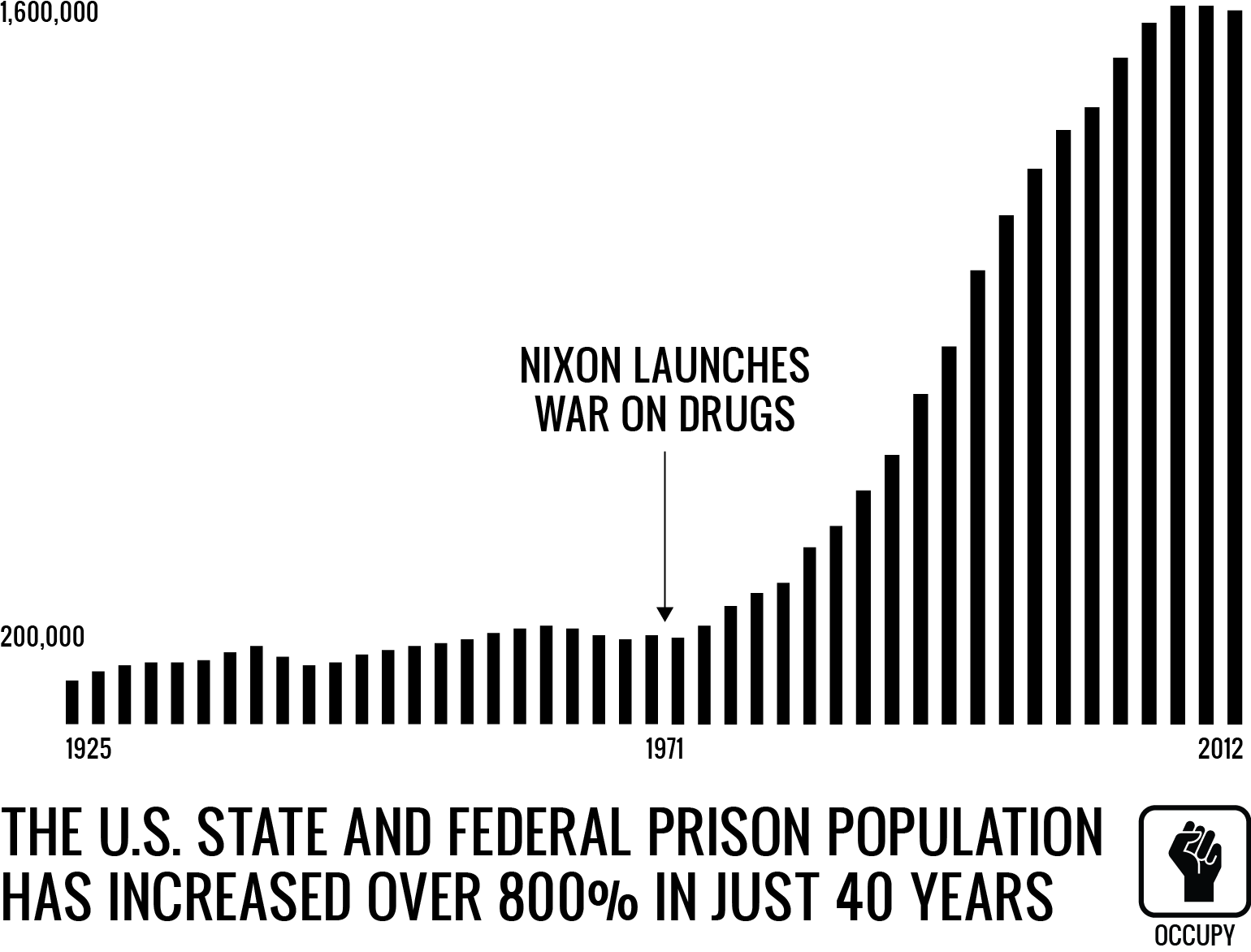 The people aren't wrong on many of these points. The War in Drugs is a failure when considering addiction has been plateauing since its 1970 inception and US drug control spending is up 2000%, which to date stands at $1.5 trillion dollars. We can go on and on as to where that money went, what industries it created (prison industrial complex), the people it disproportionately targeted (minorities), but that's a whole other article or book for that matter. Big Pharma however does have its trillion dollars hands in this story, but more on that later as I've digressed.
Not to go back and pick on the LA Times click-bate headline of "DEA ends its monopoly on marijuana growing for medical research," but did it really end the monopoly? Let's evaluate the idea. Yes, a monopoly is defined as "the exclusive possession or control of the supply or trade in a commodity or service." The University of Mississippi was in fact in exclusive possession of the NIDA edict to legally grow marijuana and study it. On the surface the Monopoly has ended, but the reality is that we are just switching out the term Monopoly for an Oligarchy. Is an oligarchy any different than a monopoly in the sense that it's just a smaller group carving out the biggest slices for themselves, eliminating competition by means of out maneuvering or outspending their opponent in an effort to influence policy such as this? Consider that the biggest lobby against the cannabis Industry is the pharmaceutical industry, yet they're simultaneously studying cannabis for the purpose of synthesizing its many chemical compounds to create their high margin drugs.
Currently, their high margin bread and butter are the opioids for pain management such as OxyContin, Percocet and their generic versions of each. The drug companies are experts at isolating molecules from nature to create drugs that cost pennies to manufactures. In a zero sum game, cannabis is a direct threat to pharma companies, by snatching billions in profit and simultaneously causing billions in losses. Anti-cannabis lobbies would also be at risk as the pharmaceutical giants that feed them down on K Street would lose out on easy paydays. These anti-Marijuana lobbyists provide a micro look at the systemic problems within American politics illustrating how/why elected officials in Congress consistently vote against the interests of their collective constituency and bring forth carefully crafted bills or amendments like this one.
On the DEA's policy statement and legal considerations section, under, legal applicable considerations it states.
"Second, as with any application submitted pursuant to section 823(a), in determining whether the proposed registrationwould be consistent with the public interest, among the factorsto be considered are whether the applicant has previous experience handling controlled substances in a lawful manner and whether the applicant has engaged in illegal activity involving controlled substances. In this context, illegal activity includes any activity in violation of the CSA (regardless of whether such activity is permissible under State law) as well as activity in violation of State or local law. While past illegal conduct involving controlled substances does not automatically disqualify an applicant, it may weigh heavily against granting the registration."
Translation, grow marijuana even in a state where it's legal and you are going to have a hard time becoming a manufacturer or researcher for the DEA's new policy, thus excluding tier one cultivators in practice and likely creating a perpetual home for cannabis on the scheduling list. Prohibition's end could very well be right around the corner, but the fear is in the form of legal medical marijuana at a Walgreens near you. I asked the DEA's Russ Baer directly if the inserted language above in bold would be a non-starter for current cultivators wanting to become manufacturers as they are in clear Violation of CSA? In a written statement to Marijuana Stocks the DEA's official response was:
"DEA is serious about facilitating marijuana research and that there is a lawful pathway for doing so. This DEA decision will facilitate increased research involving marijuana, within the framework of the law and U.S. treaty obligations, to enhance the drug's supply available to researchers. The goal of this historic and monumental policy shift is to increase the amount and variety of marijuana available to researchers and make it easier for researchers to obtain marijuana as compared to current system under which marijuana must be obtained from NIDA. Growers must become registered with DEA, following the submission of an application, which DEA will evaluate in accordance with the CSA. Registered growers will need to comply with all CSA regulatory requirements, such as quotas, record keeping, order forms, and maintenance of control against diversion. Marijuana produced under this proposal may only be supplied to DEA-registered manufacturers and researchers, and only for purposes authorized by the CSA.
All potential new drugs, including drug products made from marijuana, are subject to the rigors of the drug approval process mandated by the Federal Food, Drug and Cosmetic Act (FDCA). This drug approval process requires that before a new drug is allowed to enter the U.S. market, it must be demonstrated through sound clinical trials to be both safe and effective for its intended uses," stated Russ Baer of the Drug Enforcement Agency.
When asked if the inserted language also creates an unfair advantage for Pharma companies the response from the Drug Enforcement Administration circled back to the CSA (Controlled Substance Act) stating that the "DEA has adopted a new policy, consistent with the CSA and U.S. treaty obligations, under which additional entities may become registered with DEA to grow and distribute marijuana for research purposes. DEA will evaluate each application it receives to determine whether adding such applicant to the list of registered growers is necessary to provide an adequate and uninterrupted supply of marijuana to researchers in the U.S. In addition, applicants must demonstrate their ability to safely secure the drugs to prevent diversion, while abiding by the approved research protocol."
The Controlled Substance Act
Everything points back to the Controlled Substance Act, a bill that was introduced into the Congress by Harley Staggers and took less than 6 weeks to get passed by the Senate and signed into law by President Richard M. Nixon. The signing of this document not only created the "War on Drugs," but put an enforcement agency (DEA) in charge of Cannabis scheduling, circumventing the FDA in a move that creates an inter-agency firewall of sorts. The DEA's position on why the FDA, who already regulates pharmaceutical drugs, isn't in charge of marijuana rescheduling was point blank, "The Controlled Substances Act provides a mechanism for substances to be controlled (added to or transferred between schedules) or decontrolled (removed from control). The CSA provides roles for DEA and the FDA. Proceedings to add, delete, or change the schedule of a drug or other substance may be initiated by DEA, HHS, or by petition from any interested party. Once initiated, the process involves a deliberate and collaborative interagency exchange."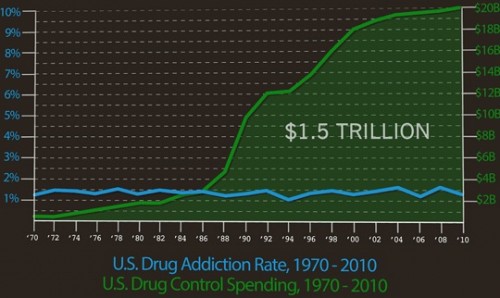 In Laymen's terms CSA effectively says "DEA you're in charge of this, FDA you're in charge of that." Unfortunately, Marijuana will never be completely removed from the scheduling list unless there is a major political overhaul in every branch of government, if and only if elected officials stop letting lobbies pour honey in their ears and money into campaigns. The reality from my perspective is that the DEA is a scapegoat, the perfect Boogey Man, simply because their job is to follow orders. They are soldiers in a sense, adhering to the guidelines of the Controlled Substance Act (CSA), a legal document crafted by a congress, molded in the image of benefactors, used to fuel a fake war and create cottage industries.
The DEA knows marijuana is safer than Oxy and that's not speculation that's a direct quote. They don't want to go after the mother transporting medication to her sick child because they're suffering from seizures. They want the dangerous individuals like El Chapo or the pill mills slinging Oxy off the streets. They have no interest in going after all cultivators following state law to the letter. Are there exceptions, of course! Does it make these comments directly from them any less true? No.
DEA's direct position on which drug is more dangerous from a consumption standpoint as it relates to Cannabis vs OxyContin? "There were more than 47,000 drug overdose deaths in 2014, or approximately 129 per day, more than half (61 percent) of which involved either a prescription opioid or heroin. Marijuana meets the statuary criteria of a Scheduled I controlled substance, and has been determined to have a high abuse potential with no currently accepted medical use. Schedule I includes some substances that are exceptionally dangerous (including heroin and LSD) and some that are less dangerous (including marijuana, which is less dangerous than some substances in other schedules)." When asked point blank, what's more dangerous Oxy or Marijuana DEA says "Oxy."
Robert Capecchi, Director of Federal Lobbying at the Marijuana Policy views medical marijuana legalization as a means to an opioid end as well as fiscal no brainer with far reaching benefits.
"Ending marijuana prohibition will allow licensed businesses to cultivate, distribute, and sell marijuana to adults. Unlike the criminal market, a legal and regulated market means products are pure, tested and labeled, sales are taxed, and business disputes are resolved in the courts, not with violence. Additionally, there is promising evidence to suggest that legal access to medical marijuana reduces the rates of opioid overdoses and the reliance on prescription pain killers."
Foregone Conclusion?
Prohibition's end could very well be right around the corner, but would we want it in the form of legal medical marijuana at a Walgreens near you? August 11th's ruling was either one of many dominos in the quest for the monopolization of cannabis or just a pessimistic idea based off of history repeating itself. Regardless of which reality we are presently in, it doesn't hurt to try and connect the dots, but if I can leave you with one last thing it's the number 6630507. In case you're wondering that's the United States patent # they filed for cannabis in 2003 citing "multiple therapeutic uses." I can only postulate why they did that….
Regards,
Jason Spatafora