Asking for donations during the holidays is rough, so many worthy organizations are seeking help and people's ability to give is stretched thinner than normal. Still, the Weed for Warriors Project stands out as an organization deserving of recognition, especially for the cannabis community.
Veterans are tied to our community in so many ways; as our patients, employees, colleagues, and clients. Yet many veterans are unable to get access to cannabis due to archaic, and misaligned, Department of Veteran Affairs policies. Despite the recent optimism surrounding the Military Construction and Veterans Affairs Appropriations Bill, which includes language to allow VA physicians to recommend medical cannabis to their patients in cannabis legal states, nothing is being done to address veterans seeking access in non-legal states or states where their ailment may not be covered. Nothing is being done to address the real issue: veteran suicide rates.
It has been reported that 22 Veterans take their lives each day. The fact that 22 Veterans commit suicide daily should embarrass the Department of Veteran Affairs, anyone in Congress, and American citizens.
I'm embarrassed, but that's not why I'm raising awareness. I'm raising awareness so that future generations won't wonder why we blocked access to proven medication for so many years. I'm raising awareness because I have friends and family who have served. Most of all, I'm raising awareness because it's the right thing to do.
No one is born a Vet, it's a choice that each individual makes. Veterans chose to serve their country, and it's on us to choose how we show them appreciation for their service. Donate a dollar for every Veteran you know. Or maybe a dollar for every Veteran you employ. Or, donate $22 – a dollar for each Vet who took their life today.
Our country has been mistreating Veterans since the civil war, and now the federal government is preventing them from getting the treatment and care they deserve. Are we going to let Big Pharma continue to use Vets as Guinea pigs for testing prescription cocktails? Are we comfortable knowing the same group recently lobbies against further cannabis research?
I doubt it, so let's do something about it.
Please visit the Weed for Warriors Project donation page to help raise funds and awareness on social media by using #forwarriors and #wfwp.
Authored by: Greg Welch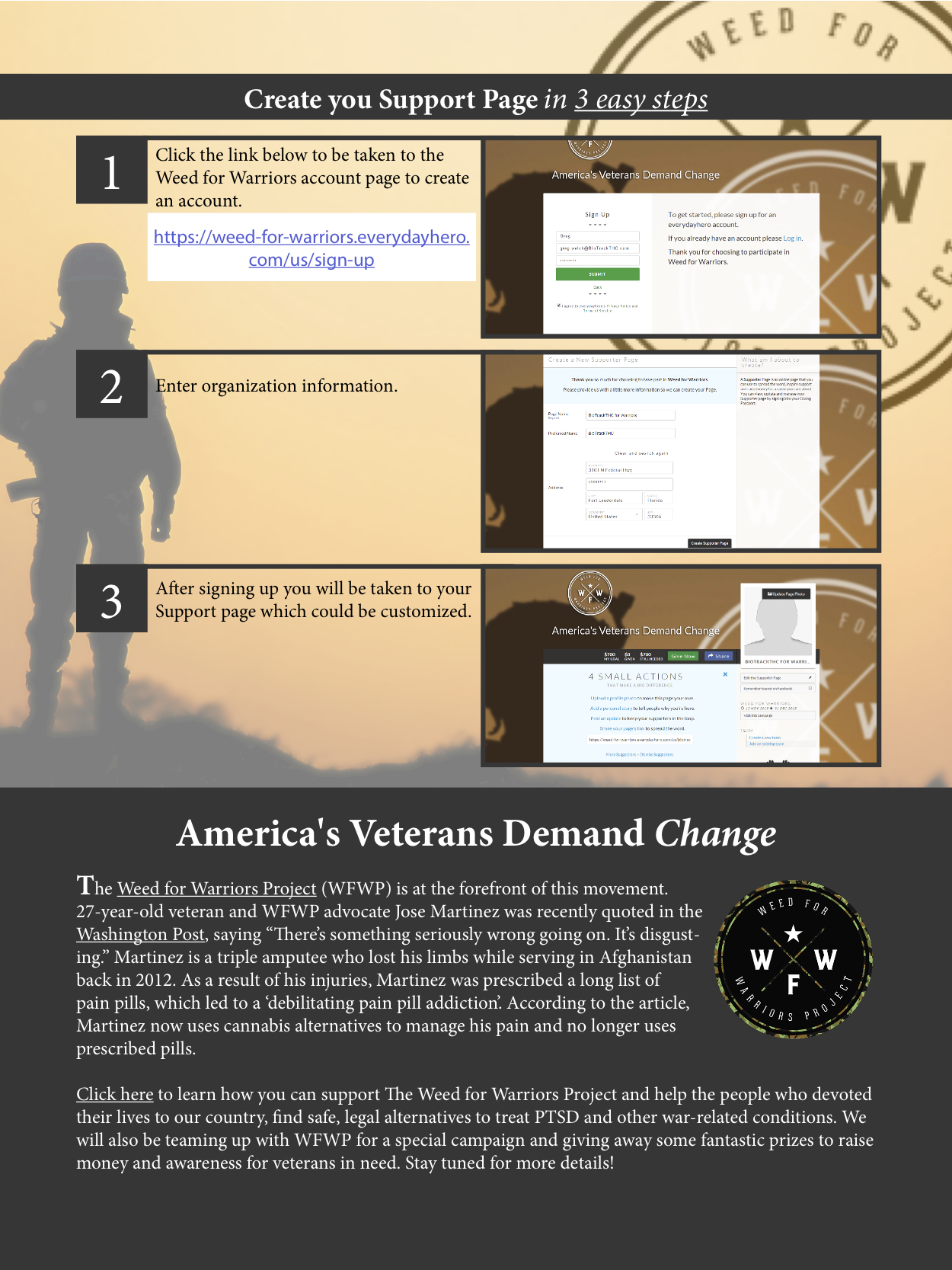 ---
MAPH Enterprises, LLC | (305) 414-0128 | 1501 Venera Ave, Coral Gables, FL 33146 | new@marijuanastocks.com