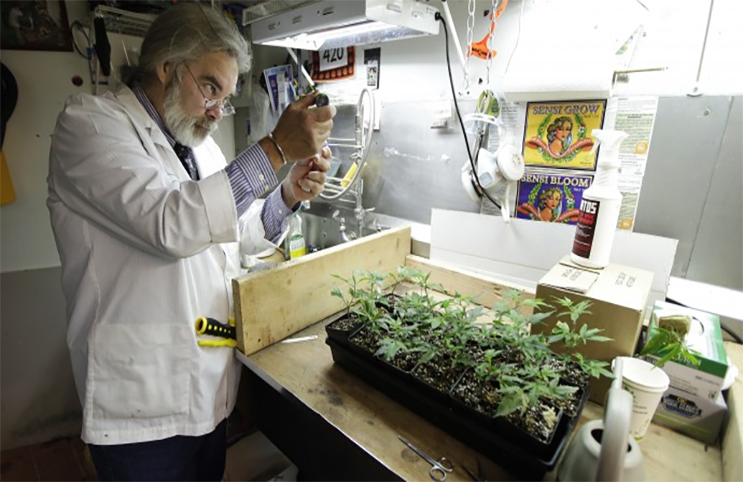 The quality of the cannabis the United States government provides to scientists may be impacting the results of their studies, experts say. The issue made national headlines after Dr. Sue Sisley, a researcher with the Multidisciplinary Association for Psychedelic Studies (MAPS), shared photos of the marijuana provided by the only facility licensed by the Drug Enforcement Administration to produce cannabis for clinical research. The facility is located at the University of Mississippi and is run by the National Institute on Drug Abuse (NIDA).
Doctor Sisley is studying marijuana as a treatment for post-traumatic stress disorder (PTSD) in United States veterans. Sisley stated, "It didn't resemble cannabis. It didn't smell like cannabis." We asked Jake Browne, who is a cannabis critic for the Denver Post's marijuana news site, the Cannabist, and co-founder of The Grow-Off, a statewide cannabis growing competition, what he thought about the cannabis seen in the photos. Browne said, "It's unlike any weed I've ever seen, and that includes really low grade stuff I'd get as a kid in Iowa. It looks like it's mostly stems and leaves, and that stuff is better for giving you headaches than getting you high."
Brown stated, "It should be covered in trichomes, or frosty-looking resin glands, and have much higher density than what Dr. Sisley is working with. As a rule of thumb, you want your buds intact and no smaller than a piece of popcorn, with a green or purple hue to them." Additionally, PBS reported that some of the samples provided by NIDA were contaminated with mold and others didn't match the chemical potency Sisley had requested for the study. She stated, "One sample, billed as having a 13% level of THC, the main psychoactive compound in marijuana, had just 8% when tested at the independent facility in Colorado."
According to the Washington Post, recreational cannabis available in Colorado ranges from an average of about 19% THC to 30% or more. Sisley stated, "There's no telling how many subjects in past studies were exposed. Honestly, it seems like [the National Institute on Drug Abuse] is playing a joke on Dr. Sisley," Browne stated. "High potency cannabis can cause anxiety and paranoia, so when you're talking about a study on PTSD, that seems very relevant to me. With pot in our state regularly testing at three times the potency of what they supplied to her, it's not acceptable." The only facility approved by the DEA to grow marijuana for clinical studies is at the University of Mississippi and is run by the National Institute on Drug Abuse (NIDA).