Marijuana stocks have been our sole focus since inception and 2018 has been a year full of big industry moves. Likewise, it has also been a big year of "firsts". We saw the first G7 country to go fully legal when Canada announced one of the biggest events in legal cannabis history.
We saw massive cannabis industry deals as well. According to data from Viridian Capital Advisors, a financial and strategic advisory firm for the cannabis industry, Cannabis-related companies raised nearly $13.8 billion so far this year, compared to just $3.5 billion in 2017.
The days of wondering if this industry could ever become "mainstream" are over and we're seeing a serious change in tide. Global governments are beginning to support this marketplace in a major way; something we could have only dreamed of at the beginning of this wild ride when it began just a few years ago.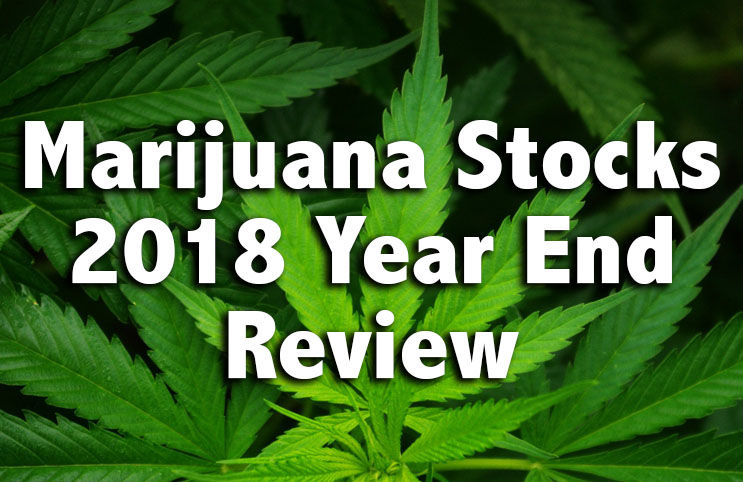 The uptrend in cash flowing into cannabis businesses in the last year has been helped by both legislative changes not only in Canada but also in the US. First & foremost, at the state level in U.S., states like Michigan, Oklahoma and Utah are now online as of the recent midterm elections. Furthermore, the recent passage of the Farm Bill could become a big win for hemp and CBD companies.
"Once one company raises $100 million and starts to deploy that into the space, to be competitive in the acquisition bidding process, other operators have to raise similar amounts of capital to be competitive," says Harrison Phillips, vice president at Viridian. "That creates a sort of positive feedback loop where these companies raise more and more capital."
Marijuana Stocks & The Art Of The Deal
And another grouping of firsts: We saw blue-chip companies investing BIG MONEY into the industry. Sure the Constellation investment last year was a nice primer to what was to come but 2018 marked some HUGE deals in cannabis; this may be the primer for what's to come once again.
Some of the most notable cannabis deals came with a rush of big alcohol and big tobacco companies taking positions in the market. Let's just take a quick look at some of the biggest deals from major industry leaders:
Corona-maker Constellation Brands' investment of an additional $4 billion stake in Canopy Growth
Denver brewer Molson Coors doing a joint venture with The Hydropothecary Corporation
Marlboro maker Altria investing $1.8 billion in Toronto-based Cronos Group
Tilray entered deals with Big Pharma company, Novartis and Budweiser maker AbInbev.
As public sentiment for legalization grows additional shifts have given investors more confidence about backing companies in the space. This has helped bring in big players not only from an industry perspective but from a market perspective as well.
ETFs & Hedge Funds Are Digging In Deeper
Next year could have more industry maturity in store. We're seeing that many marijuana stock trading trends are becoming more like the broader markets in that the ETF's are beginning to have an impact. Both the ETFMG Alternative Harvest ETF (MJ) and the Horizons Marijuana Life Sciences Index ETF (HMMJ) had left their marks on the cannabis market especially during times of rebalancing. Unlike in the past when there were no ETF's for marijuana stocks, today the market is not solely based on retail traders alone.
Rebalancing in these ETF's has had its impact and as we've made sure to cover, this had resulted in more than just a small "shuffle" in a few stocks:
Why is each quarterly rebalance important?
The main reason we look at these ETF's is to see where they have their money from a company standpoint as multimillion-dollar investments are not something they take lightly, i.e. they are not investing in companies that simply say they are a cannabis-based company in the sector. This helps cut down on much of the noise we see in the markets. They also adhere to market cap minimums starting at $150m.
While this is helpful when making your decision, my favorite function of the ETF rebalance is knowing which companies will have to be trimmed down to the designated percentages of either 7% or 10%. This is a huge advantage for investors looking to trim profit, especially after massive runs we have seen throughout the year.
Knowing which companies will experience selling pressure during the rebalance period will provide investors and traders buying opportunities whilst preserving profit.
Simultaneously, while these ETF's are taking profit in one company they are looking to reallocate that money into other securities under that threshold. It should be noted that just because a company is under the 7% or 10% level does not mean companies on the balance sheet are safe.
Non-performers or companies that face negative headwinds also get trimmed down during the process, but each day or following day the ETF's give an account of what they are holding. This allows the market to see when they are scaling in as well as scaling out of positions.
The scaling in and out process does not happen on one day, it is both gradual and methodical. ETF's are not in the business of cutting off their nose to spite their face so don't expect them to sell off a massive $50m chunk in one day. Obviously, the security's volume plays a big role in the scaling process as well.
Which Funds Are Adding Marijuana Stocks To Their Holdings?
This is a pretty cut and dry topic as it only takes a moment to look into public filings to see where asset allocations are but we'll lay out a few of the big names that we found investing in marijuana stocks recently:
Vanguard Total Intl Stock Index
Vanguard Developed Markets Index
Lord Abbett Bond-Debenture A
RBC Private Canadian Mid-Cap Eqty Pool
iShares Core MSCI Total Intl Stk ETF
Schwab International Small-Cap Eq ETF™
SPDR® S&P International Small Cap ETF
iShares Russell 2000 Value ETF
Schwab Small Cap Index
American Funds SMALLCAP World
American Funds IS® Global Small Cap
T. Rowe Price Health Sciences
iShares Nasdaq Biotechnology ETF
Wells Fargo Discovery Admin
And these are just a handful of highly rated funds directing their cash into legal cannabis right now. It's not just companies like Constellation or Altria. Real, Wall Street Funds – the same ones investing in companies like Nestle SA, HSBC, Alibaba Group & more – are shelling out big bucks to get a piece of the new industry boom.
Marijuana Stock IPO Market Soars
It hasn't been limited to companies already public. As far as marijuana stock IPO's have gone, this year has been one of the biggest, especially in Canada. Quite possibly one of the most notable marijuana stock IPOs of the year has been Tilray (TLRY). It wasn't all that long ago where the stock opened for trade as the newest entrant onto a major US exchange. The price was roughly $23 a share and soon after, share prices soared as high as $300. This hit headlines across the globe and essentially set a new tone for the potential that marijuana stocks can have.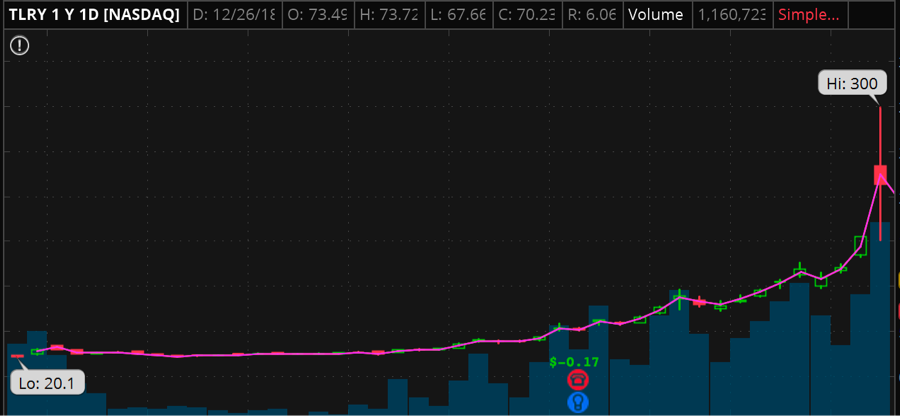 But this wasn't the only cannabis stock IPO to hit the ground running. We also saw a number of pot stocks not listing on a major exchange, take off in a big way. The Green Organic Dutchman (TGODF) (TGOD) stock price rallied from right around $3 to highs of $7.89. This was after it had initially pulled back from highs of $7.57 on its first post IPO run.
We also so other companies that traded mostly in Canada, list in the US. Canopy Growth (CGC) (WEED), Aurora Cannabis (ACB) Cronos Group (CRON), and Aphria (APHA) all listed their shares in the US this year. It opened up even bigger exposure to North American capital.
MedMen (MMNFF) (MMEN) also had a strong showing after it IPO'd in May. Shares of the company in the United States started out around $3.50 and over the course of the following months, saw its shares rise to highs of $7.57.
Following in the footsteps of MedMen, Acreage Holdings (ACRGF) listed on the Canadian exchange earlier this year. It also took a popular cue that many US based pot stocks saw this year: Listing in Canada first. Former House Speaker John Boehner and former Massachusetts Gov. Bill Weld joined Acreage in support of the company. We saw a number of companies use this same strategy. Canntrust (CNTTF), Trulieve (TCNNF), Charlotte's Web (CWBHF) and others chose to list in Canada for, in my opinion, access to better capital.
The simple fact that marijuana is still illegal in the US at a federal level makes it difficult for big banks to get behind these companies (again in the US). But because Canada is fully legal for both recreational marijuana and medical marijuana, the barriers for access to capital are far lower. Could this be the trend moving into 2019? The jury is still out on this because the possibility of further progress after the Farm Bill was passed could be a very real catalyst next year.
One thing is likely, which is that this isn't the last round of marijuana companies that will IPO especially considering the climate.
Marijuana Stocks & Connecting The Dots
Over the last 4 years, we have selected less than 10 companies to be featured in a "Connect the Dots" segment. As the marijuana industry continues to evolve into the most excellent investment opportunity since the Internet Boom, so does the Marijuana Stocks subscriber base and loyal following.
We take great pride in providing you with the most up to date industry and financial information available today. To say the least, our Connect The Dots featured companies have been explosive and this year it was no different.
Read more here: Marijuana Stocks Connecting The Dots
This year we've debuted 2 Connect The Dots features, both of which had some of the biggest breakouts in the history of trading publicly. Our first was Integrated Cannabis Company (ICNAF) (ICAN). As we first covered in our update, "Prepare For A Boom In Pot Stocks," the entire cannabis sector looked like it could be on the verge of a bigger move. This was indicated by two of the industry's ETFs signaling bullish chart patterns.
MarijuanaStocks.com has always made it a point to stay far ahead of the curve. When we see a hint of opportunity, we make sure to look into it and then focus on all angles of potential that could come with it. About a year ago we began to talk about a company whose name didn't give it justice but since there was an LOI on the table, it couldn't be overlooked.
That company was Integrated Cannabis Company(ICNAF) (ICAN). In the midst of the cannabis boom, we released this as our 3rd quarter Connect the Dots Featured company and watched as it went on one of its biggest bull runs.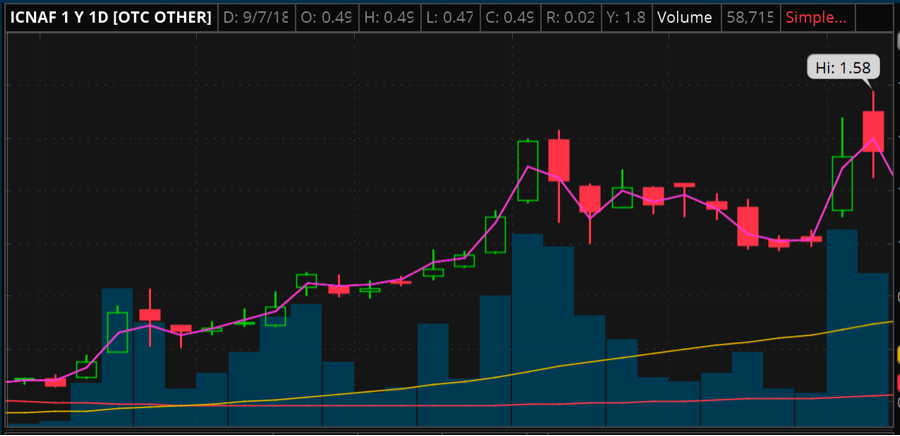 Despite the short-term ebb and flow of the market, the overall trend was clear. Even on days where there were bigger pulls back with Integrated Cannabis, the trend pushed to new 52-week highs at the end of the day.
The company's timing with the latest interest CBD has received could bring more potential ahead. We've seen a number of marijuana stocks dealing with CBD gain more ground even during the broader market's downtrend especially after the passage of the 2018 Farm Bill. Needless to say, the chart above shows the tale of the tape and as with the general cannabis market trend, 2019 could have even more in store.
New Connect The Dots Release
We've released our second and latest Connect The Dots feature this month. Premier Health Group (PHGRF) (PHGI) is a cross between healthcare and cannabis bringing two big industries together via its breakthrough technology. Though it is early on in our coverage, Premier Health has managed to rally to new highs this month.
The exciting part about this company, besides its core technology, is the number of potential deals that could be in the pipeline for the year ahead. To date, the company has several, key letters of intent in place that not only could bring a very wide and potentially market-leading patient base to the company but it could also expand the company's operating footprint.
Premier is developing innovative healthcare approaches that combine human skill-based expertise with emerging technologies. Where the cannabis industry could come into play is with the company subsidiary HealthVue and its list of patients over 100,000 strong…that's right…more than one hundred thousand ACTIVE patients; more than Canopy & more than Aurora.
Read our Full Report On Premier Health Here
When we pick up on a Connect The Dots feature, we stick with it for quite a while. Just as we've done in the past, our latest featured company will be in our sights heading into 2019 especially with everything that it has been doing leading up to the beginning of the year.
Marijuana Stocks: What To Look For In 2019
The long and short of it is that there is a new year ahead and with it, new opportunities. Aside from our latest connect the dots featured company, Premier Health Group (PHGRF) (PHGI), we'll be looking for new trends and expansion of existing ones.
This year we saw a good amount of mergers and acquisitions, joint ventures, and ultimately the early signs of a potential industry roll-up. Though we are most likely far from a total consolidation of the industry, we are starting to see more diversification. Unlike industries of scale like beverages where there are small companies dominated by huge behemoths like Pepsi and Coca-Cola, the cannabis industry may be more in tune with "spreading the love".
Companies like Molson Coors and ABInbev have already shown that they are looking to get involved in the cannabis industry not by taking over a company but by partnering with the likes of Tilray and Hexo to create something together. Furthermore, with the Farm Bill going through, there could be even more favorable legislation to look forward to in 2019.
With states like New York looking to legalize recreational marijuana, the veil has been lifted off of the idea on a larger scale; we're talking federal levels. Rep. Hakeem Jeffries (D-NY), who was elected to new party leadership position this year, has been a big supporter of cannabis decriminalization. His aggressive stance on marijuana reform in 2019 could help hit the idea home for federal legalization.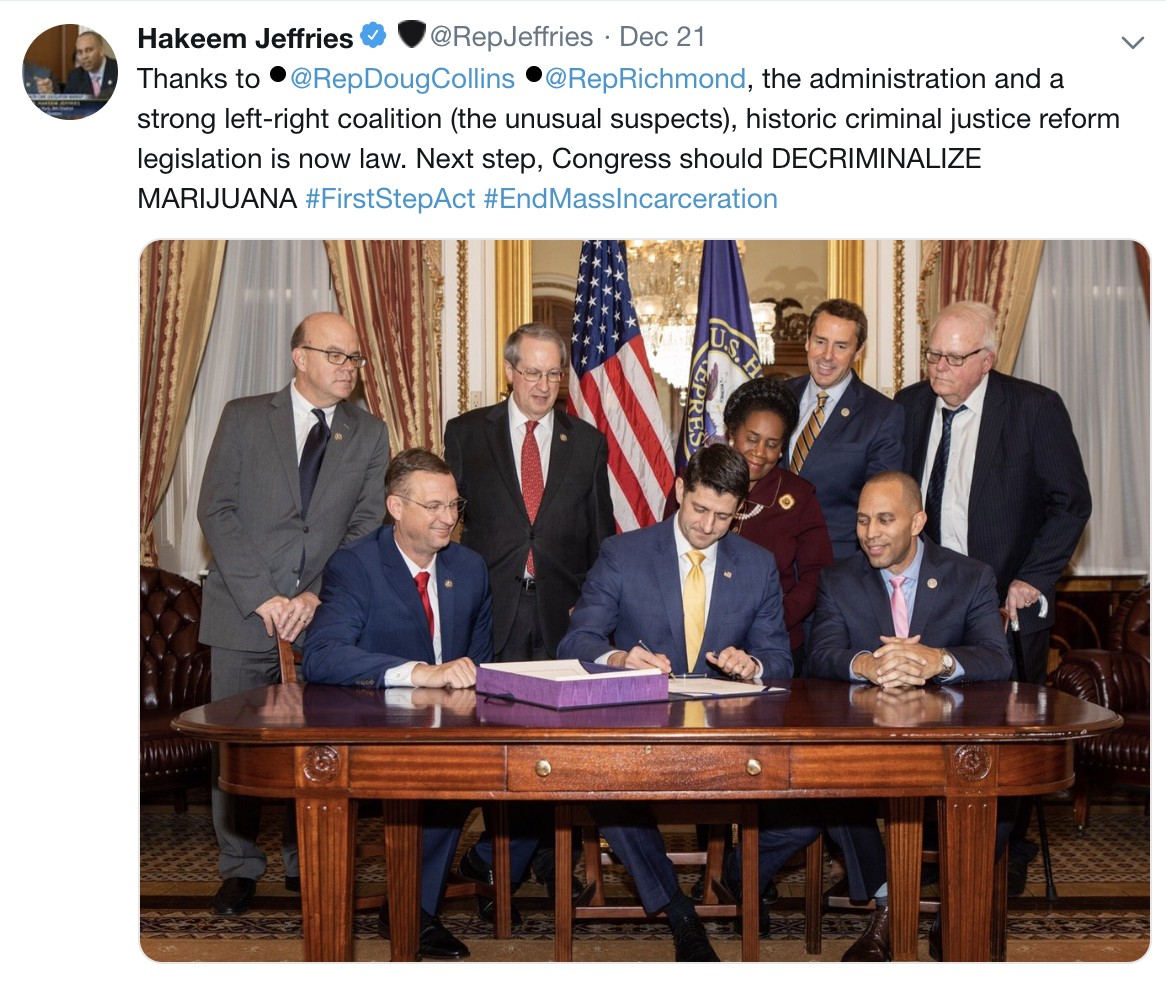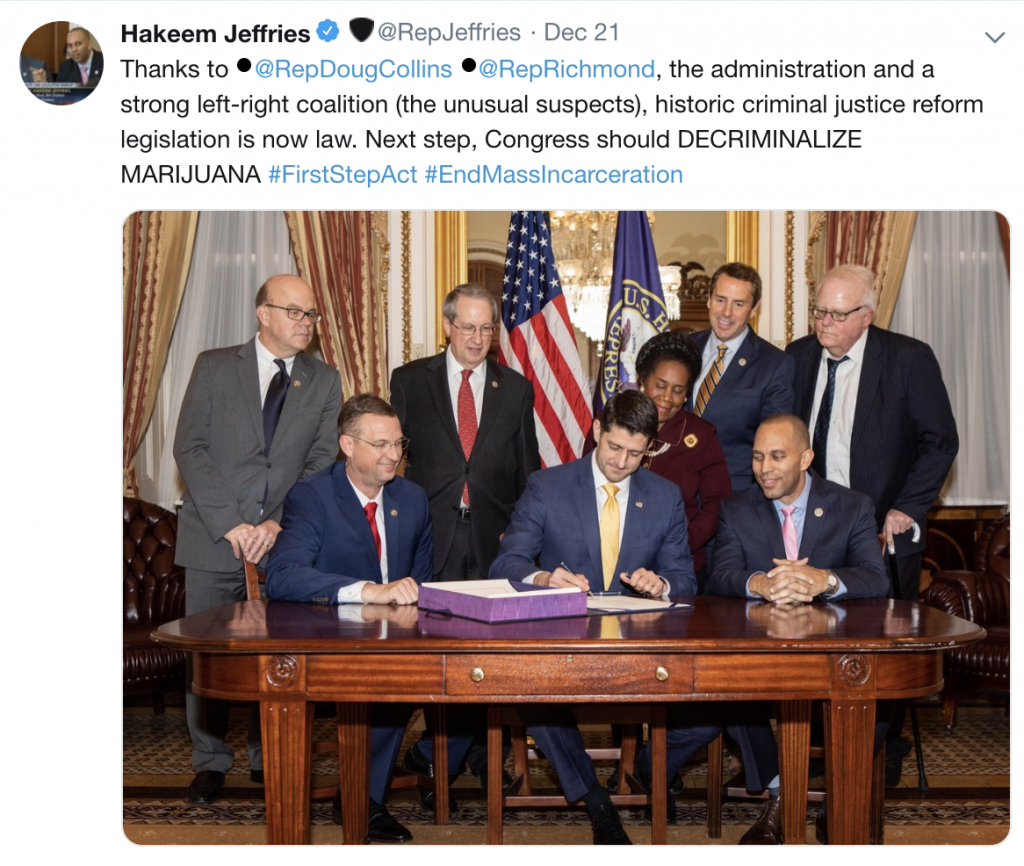 And he isn't the only one in support of federal legalization in the US. Rep. Earl Blumenauer (D-OR) put together a full plan earlier this year in a memo to party leaders that he called a "Blueprint to Legalize Marijuana in the 116th Congress."
But it's not just about the US either. Cannabis is going global. First and foremost, Canada has a lot left to offer as we see things. The debacle that was Canada's debut to legal weed left much to be desired simply because they were unprepared. Higher demand and low supply brought that "bad news" from an economic stance.
In spite of this, sales data indicates that sales of cannabis in Canada in the two weeks after legalization had totaled $43 million. The year ahead could see higher production rates, the need for more real estate, and in turn, a new climate for trade.
Prior to legislation, Statistics Canada estimated that 4.9 million Canadians used cannabis in 2017, spending $5.7 billion Canadian dollars on cannabis products, 90% of that on the illegal market. This could point at a legal market becoming massive once the economics of supply and demand are adjusted.
Then we have the international markets beyond North America. Much of Europe is taking on new legislation for the legalization of cannabis. Still, there continue to be other countries coming on board each quarter. Just recently Thailand was the latest to legalize medical marijuana. What this does is open the distribution opportunities for global trade. Australia has been a popular locale as well so there could be even more to be seen from the global cannabis arena as far as market growth for marijuana companies.
Regardless of what the future may or may not hold, 2018 solidified cannabis as a true industry of scale in our opinion. Furthermore, we're entering that time of year where numerous marijuana stocks will likely pullback before January. But for those of us who've been in this market for a while now, the months of January through the early part of March tend to "rev up the engines" once again for sector securities.
As the next few months go by, we'll see the ebb and flow of the market bring new opportunities and with it, new ways to profit from the cannabis boom. We look forward to what's to come and can't wait to bring our members the best marijuana stocks, breaking cannabis news, and deliver the most active pot stocks to you along the way.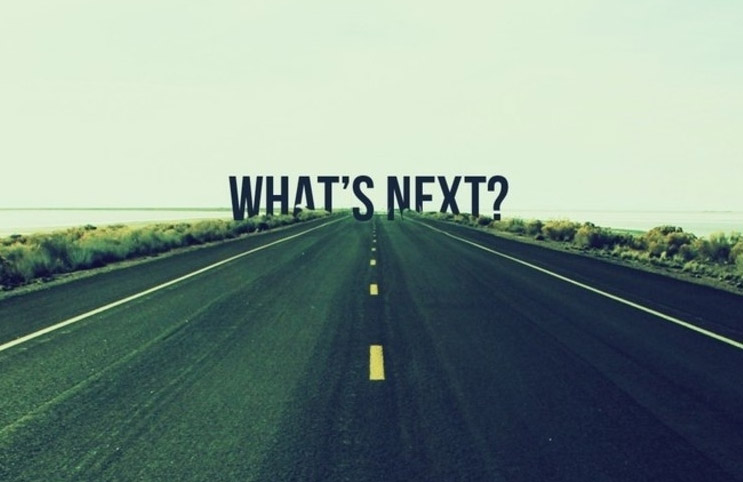 Pursuant to an agreement between an affiliate of MAPH Enterprises, LLC (owners of MarijuanaStocks.com), MIDAM VENTURES, LLC and Premier Health Group Inc. Midam was hired for a period from 10/1/2018 – 4/1/2019 to publicly disseminate information about Premier Health Group Inc. including on the Website and other media including Facebook and Twitter. We were paid $300,000 (CASH) for & were paid "500,000" shares of restricted common shares (as of 1/2/2019). We own zero shares of Premier Health Group Inc., which we purchased in the open market. Once the (6) Six-month restriction is complete on 4/1/2019 we plan to sell the "500,000" shares of Premier Health Group Inc. that we hold currently in restricted form during the time the Website and/or Facebook and Twitter Information recommends that investors or visitors to the website purchase without further notice to you. We may buy or sell additional shares of Premier Health Group Inc. in the open market at any time, including before, during or after the Website and Information, provide public dissemination of favorable Information.  Pursuant to an agreement between an affiliate of MAPH Enterprises, LLC (owners of MarijuanaStocks.com), Midam Ventures LLC and Integrated Cannabis Company, Midam is being paid $25,000 per month for a period of 2 months beginning September 4, 2018, and ending March 9, 2019. This payment has been increased to $75,000 per month for the period of November 4 2018 and ending March 9, 2019. We own ZERO shares of Integrated Cannabis Company. We may buy or sell additional shares of (ICNAF)/(ICAN) in the open market at any time, including before, during or after the Website and Information, to provide public dissemination of favorable Information about Integrated Cannabis Company. MarijuanaStocks.com, which is owned by MAPH Enterprises LLC., a Florida Corporation has been previously compensated $100,000 by a non-affiliate 3rd party for a 1 year period beginning August 1, 2017 and ending August 1, 2018 to publicly disseminate information about CNRP Mining, Inc. (CND.CN) (CRPGF) that is now Integrated Cannabis Company. We own zero shares.As of December 31, 2018 a member of MAPH owns 25,000 shares of Trulieve Cannabis Corp., which were purchased in the open market and may be sold at any time. Our disclaimers will update at such time.Pursuant to an agreement between an affiliate of MAPH Enterprises, LLC (owners of MarijuanaStocks.com), Midam Ventures LLC and The Green Organic Dutchman, Midam is being paid $20,000 per month for a period beginning July 30, 2018, and ending July 30, 2019. We may buy or sell additional shares of (TGODF/TGOD) in the open market at any time, including before, during or after the Website and Information, to provide public dissemination of favorable Information about The Green Organic Dutchman. The principles of MAPH participated in the IPO for The Green Organic Dutchman Holdings, Ltd. (TGOD) & own a collective 193,797 free trading shares & 9,725 warrants. The principals of MAPH intend to sell their positions in (TGOD) for profit. MAPH nor any of its principals have been compensated for any material related to (TGOD). As of November 13, 2018 a member of MAPH Enterprises LLC holds freely trading 231,300 shares and 150,000 warrants of The Green Organic Dutchman (TGODF) purchased in the open market. These may be sold at any point. This disclaimer will be updated at such time. PLEASE READ OUR FULL PRIVACY POLICY & TERMS OF USE & DISCLAIMER
---
MAPH Enterprises, LLC | (305) 414-0128 | 1501 Venera Ave, Coral Gables, FL 33146 | new@marijuanastocks.com