Written By: Michael Berger
Over the course of 2014, we have seen the cannabis industry expand at rate that has not been seen since the days of the Tech Boom. Over one hundred companies have gone public through reverse mergers and entered the rapidly developing cannabis industry during 2014.
Currently, twenty-three states allow the use of medical marijuana and two allow the use of recreational marijuana. With three states (Oregon, Alaska and the District of Columbia) voting on legalizing recreational marijuana, and Florida voting on medical marijuana, the market is poised to continue to grow at a rapid rate during 2015. The legal cannabis industry (medical and recreational) is expected to generate over $3 billion in revenue during 2014 and Technica420 expects these numbers to more than double during 2015.
To start let's focus on the states that have legalized marijuana for recreational use
Colorado
For the first time in July 2014, recreational sales surpassed medical.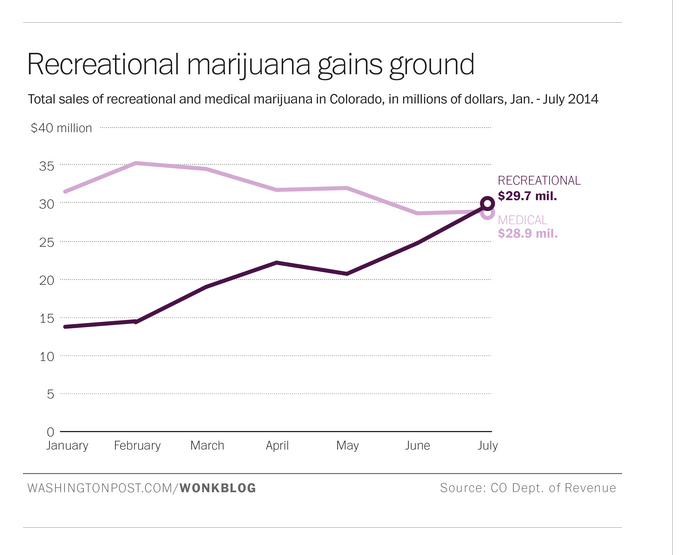 Fiscal Year 2014-2015 is estimated to generate over $47M in tax revenue for Colorado.
Colorado's monthly marijuana tax has doubled since January 2014
As of July 2014, over 200 marijuana dispensaries were licensed according to the Colorado Department of Revenue
Beginning in July 2014, having Colorado residency qualifies you to apply for a retail marijuana business license. (Small business boom hasn't even begun!)
Washington
Recreational sales doubled month over month. July generated $3.2M compared to $7M in August. (100% Growth; not even operating at maximum production/distribution)
Washington collected $2.5M in excise taxes from the first 2 months ($10M) or 25% of sales.
The numbers in Washington are set to grow significantly as the supply chain becomes more structured in a way that matches growing demand. Also more retail dispensaries opening will contribute to that growth and supply chain structure
This industry has not even entered the first inning of what will be a multi decade growth cycle. The upcoming November elections, coupled with government deregulation leads to the possibility that the market will continue to grow exponentially (like we saw during the beginning of 2014).
As marijuana stocks continue their STEEP sell off, some are down more 90% from March 2014 highs, the sector could be forming a bottom and setting up for a major explosion entering 2015!
Historical data illustrates some reassuring signs for marijuana investors. Marijuana stocks tend to reverse their momentum from bearish to bullish in the fall, especially during an election year, and this usually lasts until February/March. Many of these stocks are trading at price levels lower than they were last year before they took off.
Technical420 is no way affiliated with "The Benzinga Marijuana Index", however we understand that marijuana investors use it as a benchmark for the sector. Please be aware that the index is a composite of the stock tickers in the marijuana sector and it DOES NOT illustrate whether an individual stock is over/under valued. As you can see from the image below, the index is trading near the same level it was before Colorado's legalized marijuana market took effect.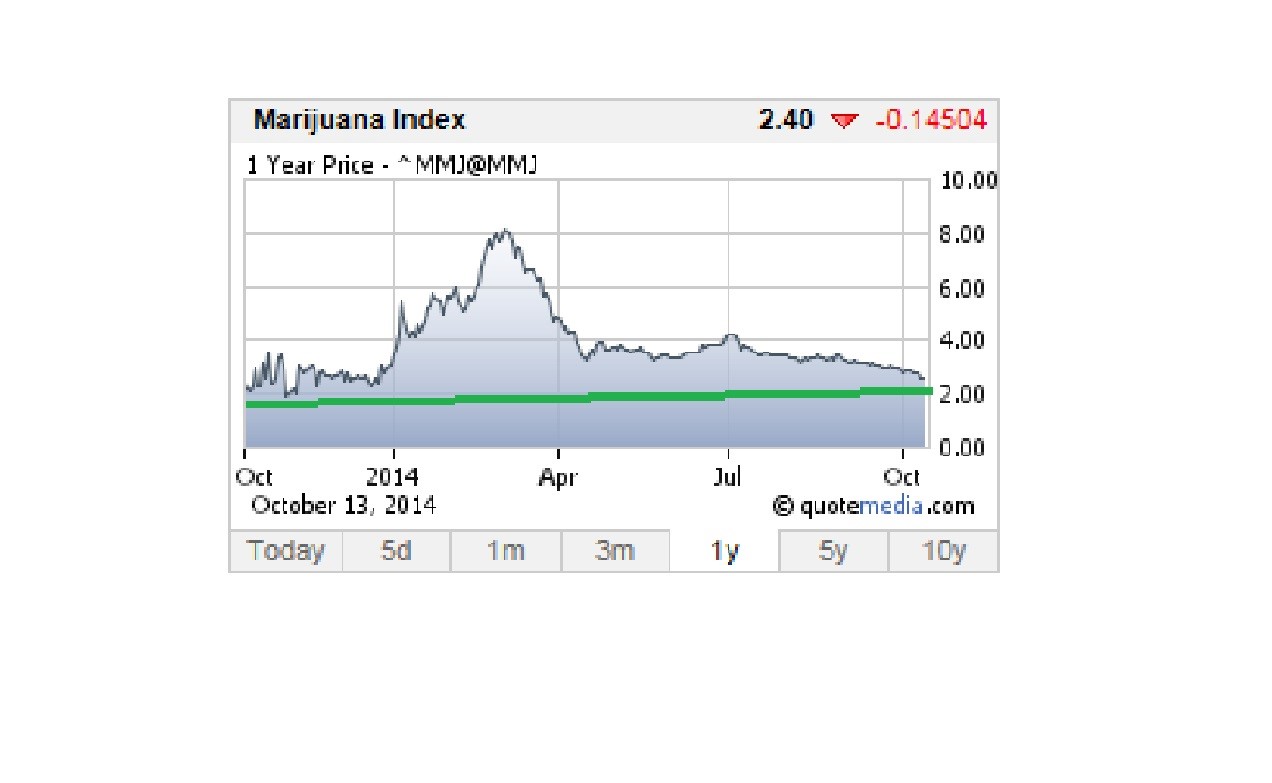 On November 4th, several major states are voting on marijuana initiatives. Voters have expressed more support for legalized marijuana than ever before. We have seen companies expand, and move their operations to states that have marijuana on their ballot during November. These companies are poised to benefit off of deregulation and we would keep an eye on these stocks as we wait for a bottom to form.
---
MAPH Enterprises, LLC | (305) 414-0128 | 1501 Venera Ave, Coral Gables, FL 33146 | new@marijuanastocks.com