In the last two years discussion about marijuana legalization, decriminalization, and potential medical applications, has exploded across the United States.
The pro marijuana sentiment has swept the nation, receiving more widespread support than ever before across gender, socioeconomic, ethnic, and age barriers. The current political and social climate for marijuana in the United States is the apogee of a journey that started slowly years ago.
In the 1970s some of the earliest legislation that decriminalized marijuana was passed in a handful of states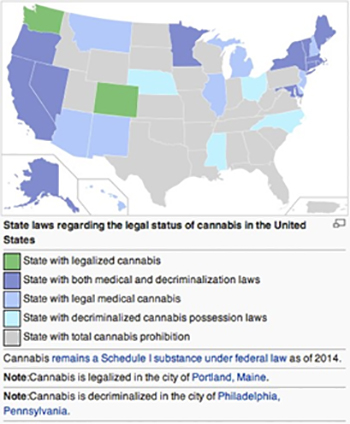 spread across the country. The past two decades brought a gradual and timid shift towards public acceptance of marijuana use, through the legalization of medical marijuana in states like Oregon (1998), Maine (1999), Colorado (2000), Nevada (2000),
Montana (2004), New Mexico (2007), Michigan
(2008), New Jersey (2010), and Massachusetts (2012). The real expedited progression came, however, in 2012 when Colorado and Washington became the first two states to legalize recreational marijuana use. In the first four months of legalized sales in Colorado, sales reached $202M creating statewide tax revenue of $11M. Despite the initial fear of a pot-driven crime spike, burglaries were down 5% in those months. The short term positive economic effects of the opening of 340 recreational and medicinal pot shops in Denver, cannot be compared to long term effects, like intoxicated driving highway deaths, because legalized marijuana is still a new development.
In 2011, Gallup reported that a record of 50% of Americans supported marijuana legalization. In 2013 Pew Research Center published survey results concluding that 52% of Americans supported legalization, and Gallup released a second study recording a new high of 58% support. More recently in February of 2014, Pew announced an increase from 52% to 54% of Americans in support of cannabis legalization. It is important to note that the United States Federal government still classifies cannabis as a Schedule 1 substance as of 2014. The trend of state-by-state marijuana legalization will be put to the test in the upcoming election cycle. Stephen Gutwillig of The Huffington Post reported that although it is an off election, it is an important one for drug reform policy. Most prominently, Oregon voters have the chance to pass Measure 91, which could make Oregon the third state to legalize recreational marijuana use for adults. Alaska, one of the earliest states to legalize medical marijuana in 1998, will vote on Measure 2, a proposition for statewide legalization of marijuana, which would make it the first politically red state to legalize recreationally. Florida will vote to legalize medical marijuana. California residents will vote on a softening of penalties for 6 crimes, including bringing simple drug possession from a felony to a misdemeanor. Washington D.C., home to a radical decriminalization law change earlier this year, will vote for or against Initiative 71, a bill legalizing consumption, possession, and cultivation of small amounts of marijuana.
The social acceptance of marijuana use, or perhaps the openness of the positive opinions that people have toward its legalization is at a level that has not been seen before. It is becoming more mainstream and accepted to speak out openly for the legalization of marijuana. Leaders of the movement have risen to widespread popularity on various social media outlets. Sanjay Gupta, CNN's chief medical correspondent, previously spoke out against pot use, but now has recanted those beliefs, apologized for his alleged misjudgments, and stated that he mistakenly believed that the DEA had sound scientific proof when it placed marijuana in the category of the most dangerous drugs. The trend toward general acceptance and state-by-state legalization has made impressive bounds in recent years, but will continuously be tested by election cycles, and critics of marijuana legalization.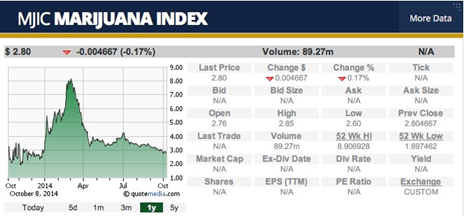 The legalization of marijuana medicinally and recreationally created a rapid, exponential growth in the "Marijuana Sector" (MJIC Marijuana Index marijuanaindex.org) of the stock market. This sector, comprised mainly of companies with little to no revenues and sub penny share prices, has captured the interest of thousands of day traders and investors within the last year. Many of these companies are publicly traded over the OTC Market because of their small market capitalizations. The marijuana sector is comprised of companies that produce anything marijuana related from marijuana plants, to cannabis-based products, to vaporizers, or marijuana farming accessories, and more.
During the spring of 2014, the marijuana index experienced a massive rise in price from around $3 per share to over $8 per share. During this time both traders and investors saw fortunes arise from no name companies that had no tangible merit other than being situated in a sector that was exploding from the national media buzz created by the marijuana legalization hype. Everyday stocks in the sector went up steadily, especially when legalized sales began in Colorado. This was the "Pot-Com" or "DotBong" bubble; smaller scale but comparable to the tech bubble of the late 1990s. Next came the crash, the "bubble burst". The share prices, inarguably overvalued, for many pot stocks fell drastically from highs. The sector as a whole was inflated and grew inorganically through media hype and an unprecedented surge in volume. A combination of profit taking, loss cutting, regression to the norm, and institutional selling created a large drop in volume and price. Most weed stocks now sit nearly 50% down from highs, with hundreds of unwitting investors hoping for a rally in the sector.
What does the future hold for marijuana stocks? There are a few companies that are making real strides to develop meaningful products, pay off toxic debt, reach new markets, increase assets, decrease liabilities, produce revenues and grow organically, and these are the companies that are worth investing in long term regardless of the intraday day trading and recent decline in share price. Other companies will continue to fade away, because of incompetent leadership, poor products, dilution, and insurmountable debt. The current battle faced by the marijuana sector is that it has become too active in day trading and profit taking, which prevents natural quarterly growth that should come from investments in growing speculative companies. The weed sector should see an increase in volume around election time, but states merely decriminalizing and legalizing marijuana either medically or recreationally will not bring the stocks back to the all time highs that they once tested. Real growth will come from revenue created for the companies through legalized sales of their marijuana related products.
Going forward, the sector will have to face competition from large tobacco or pharmaceutical companies once they decide that it will be profitable to enter the marijuana business. It will be a massive obstacle for OTC companies to compete with corporations that have advertising budgets larger than the market caps of most weed stocks in the Marijuana Index. Perhaps the best move for a potential marijuana investor, is to wait for the stock to find a bottom that represents a true valuation, and then take a position in a company that you believe in for future success, whether that comes in the form of natural growth or a buyout from a larger company. Regardless of the long-term future of the marijuana sector, the next few months and years should provide opportunities for high risk high reward growth that are worth examining.
---
MAPH Enterprises, LLC | (305) 414-0128 | 1501 Venera Ave, Coral Gables, FL 33146 | new@marijuanastocks.com