Here Are The Top Marijuana Stocks To Watch Today
Most marijuana stock investors are keeping hopes high for 2024. This past year has not been the best for marijuana stocks even with volatile pops in trading. For some time there has been a lack of upward consistency as some investors are acting even more cautious. There has been an ongoing battle to enact federal reform. This alone has been the biggest factor for investors. For instance, when positive news on the subject is released the market reacts well.
Now when the news on the matter is negative marijuana stocks begin to fall. Even with a volatile pullback being a time to find marijuana stocks to buy people still wonder if is it worth it. The cannabis industry outside of the market is doing well. More states are seeing consistent reviews in the billions and the industry is still young and developing. With most emerging industries there are many hurdles to overcome. In 2024 people are trying to stay optimistic as they do not want another year of letdowns. Even with no federal reform in place, some feel there is good reason to invest in cannabis.
For starters, it's becoming more mainstream as an industry as well as all the success that is happening. Between new products and strategic partnerships showing to hold value and show more progress this alone should be more reason to trade in the sector. When better trading occurs for whatever the reason may be it can motivate others to find out why and take part in the action. Hopefully, this new year will bring continued success and stronger trading for investors. The companies below are marijuana stocks to watch in today's market.
The Best Marijuana Stocks To Watch
SLANG Worldwide Inc. (OTC:SLGWF)
Trulieve Cannabis Corp. (OTC:GTBIF)
The Cannabist Company Holdings Inc. (OTC:CBSTF)
SLANG Worldwide Inc.
SLANG Worldwide Inc. operates as a cannabis consumer packaged goods company in Canada and the United States. The company serves its customers under the O.pen, Alchemy Naturals, Ceres, and Firefly brand names. The company was formerly known as Fire Cannabis Inc. and changed its name to SLANG Worldwide Inc. in November 2018. Back at the end of September, the company announced its issuance of equity incentives. 

With a diversified portfolio of popular brands, has approved the grant of 3,236,640 incentive stock options to the independent directors of the Company (the "Options") to acquire common shares in the capital of SLANG. The Options are non-transferable and exercisable until September 22, 2028, at CAD$0.05 per Option, subject to vesting provisions, with one-third vesting on the date of grant and one-third vesting on each anniversary of the date of grant.
[Read More] Top Marijuana Stocks For Cannabis Investing 2024
Trulieve Cannabis Corp.
Trulieve Cannabis Corp. together with its subsidiaries, operates as a medical cannabis company. The company cultivates and produces products in-house and distributes its products to Trulieve branded stores (dispensaries) in Florida, as well as through home delivery.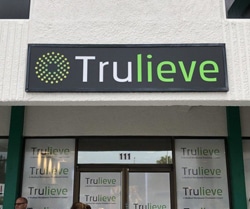 In recent news, the company has announced it has opened yet another dispensary located in Marianna, Florida. On October 28, Trulieve will host a grand opening celebration beginning at 9 a.m. featuring partner giveaways, music, specials, discounts, and opportunities to register for upcoming patient education sessions.
Words From The Company
"We are constantly looking for new ways to engage with customers and expand access to cannabis," said Trulieve's Chief Executive Officer Kim Rivers. "This new location makes it easier for patients in the Marianna community to enjoy our superior customer service and top-quality products."
[Read More] November Harvest: Best US Marijuana Stocks to Invest In
The Cannabist Company Holdings Inc.
The Cannabist Company Holdings Inc. engages in the cultivation, manufacture, and provision of cannabis products and related services in the United States and internationally. Recently the company announced it will report its financial results for the third quarter ended September 30, 2023.
This will take place before U.S. financial markets open on Tuesday, November 14, 2023. Following the release of financial results, Company management will conduct a conference call at 8:00 a.m. EST to discuss financial and operating results for the third quarter of 2023.
---
MAPH Enterprises, LLC | (305) 414-0128 | 1501 Venera Ave, Coral Gables, FL 33146 | new@marijuanastocks.com