Last week one of the subjects we touched on was the perception of oversupply in the cannabis market and the reality that it's a bit more complex than companies overgrowing. One of the most important things to keep track of with regards to the Canadian LP and the Marijuana Stock market is not just the supply of cannabis, but the ability to bring that dried flower and finished product to market. To understand why things are the way they are currently we must first understand what the initial goals for Canadian legalization were and the issues that brought us to this point.
Recreational Cannabis was meant to do two things; Show the progressive nature of Canada & Trudeaus government while simultaneously killing the black market that currently thrives within the country. Health Canada since the beginning has been notoriously slow with the issuance of licenses in Canada to cultivate which in the beginning was a good thing for investors that found early entrants into the sector. As of now, not so much as the biggest issue from the regulators in Canada has been the roll-out of places for these companies to sell their product into the market place. Due to over-regulation, coupled with a slow roll out the provinces that are the most populous are also the ones that do not have enough legal dispensaries open for the LP's positioned in these most populated areas to sell. What this has done is crushed the trajectory of sales and kept those sales flat. Investors have not quite connected the dots in my view. All they see is expenses climbing at an increased rate with revenue not following the pace. To be fair, there have been self-inflicted wounds many of these companies have brought onto themselves because they miscalculated or didn't think that the regulators in Canada could create such an absolute disaster for their bottom lines. One thing investor's in this space have always waited for was the idea that at some point many of these companies would be producing above 80% of their total capacity with a marketplace to sell a product in high demand. What we got instead was a series of negative headlines about lofty valuations, bad actors and fiscal irresponsibility on the part of the companies, but the silver lining for us now is understanding the opportunities long and short based on data.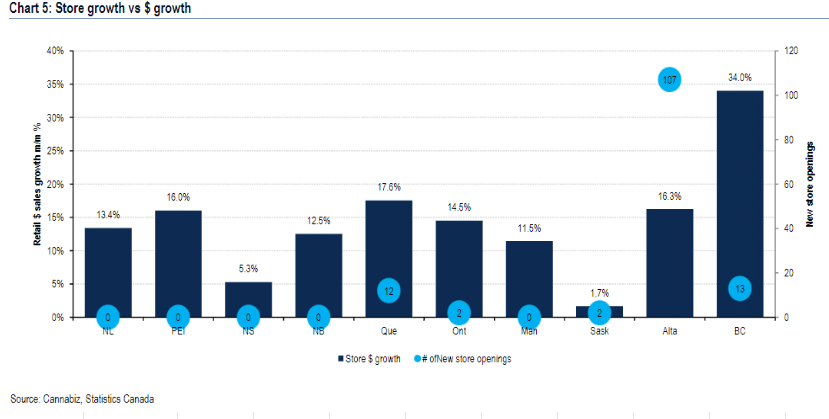 The scoop here is that Canada has a population of 35 million people, which is we use the Colorado method for having dispensaries it's 1 per 10,000 people at a minimum. If you weren't a math major that's 3,500 dispensaries. This means Canada is grossly missing the mark in the country and provinces at large, minus Alberta which is almost at their minimum based on population, probably because oil is dead. Alberta is interesting because with almost 400 dispensaries they have 360 more than Ontario which has the biggest population by province yet do 7.5X less in revenue than Ontario. What is the point of this? Dispensary openings are the tell all of many of these companies that need to outlast their peers long enough that there are meaningful dispensaries open for business in the provinces that matter.
[Read More]
By my count, there are currently 6 companies in Canada that have 6 months or more of operating cash. Cronos Group Inc (NASDAQ: CRON) has 120 months of cash, Aphria Inc (NYSE: APHA) is in 2nd with 22 months followed by Canopy Growth Corp (NYSE: CGC) at 18 months and rounding out that list is Tilray Inc (NASDAQ: TLRY) 10 months, Sundial Growers Inc (NASDAQ: SNDL) 9 months, Supreme Cannabis Company Inc (TSX: FIRE) with 6.

Not on that list Aurora Cannabis Inc (NYSE: ACB) and Hexo Corp (NYSE: HEXO) with 3 months of cash. The cash burn and need to last as long as possible is a huge reason for Canopy laying off 500 w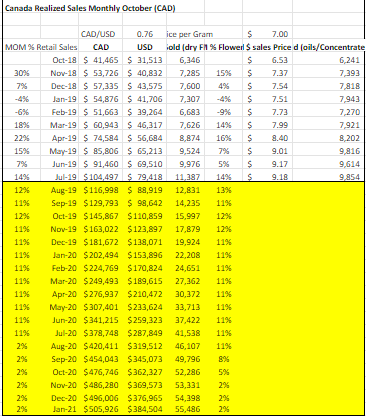 orkers last week as well as other companies doing the same over the past few months.
The moral of this story is long term cash means less risk, the less cash the more risk, but also the greater reward if they can pull a unicorn out of their butts. The overall numbers will see improvement which should revitalize the Canadian market, which should tickle the pickle of bankers at BMO, Canaccord, etc… into opening their collective wallets again.
---
MAPH Enterprises, LLC | (305) 414-0128 | 1501 Venera Ave, Coral Gables, FL 33146 | new@marijuanastocks.com