Good Morning- 7/18/2018!
Since 2014 we have been bringing our members some of the BIGGEST gains in Marijuana Stocks! Double, Triple and Cumulative Quadruple digit gains were and are the norm.
Does this mean we are without our losses? HECK NO! No one, not even MarijuanaStocks.com is without a share of losers as well. Have we had far more wins than losses? HECK YES! Consistency is what matters and within a sector still growing and finding its stable footing, MarijuanaStocks.com has been and will continue to be a consistent rock for all who are interested in the budding cannabis Space.
Right now, all eyes are on GT Biopharma, Inc. (GTBP) & Leafbuyer Technologies Inc. (LBUY).
GT Biopharma, Inc. (GTBP) (previously OXIS International) is a biotech company that has utilized CBD in an attempt to treat various forms of cancer & we have proudly worked with them since 2014. (GTBP) has consistently delivered double and even triple digit gains for our members year after year for the past 4 years! As we said above consistency is key. As you can see from the chart below GT Biopharma, Inc. (GTBP) appears to be setting up for what looks like another break-out run & in our opinion is one you want to keep on your radar.
We encourage all who have an interest in GT Biopharma, Inc. (GTBP) to check out their official Company Overview for July 2018 by clicking here.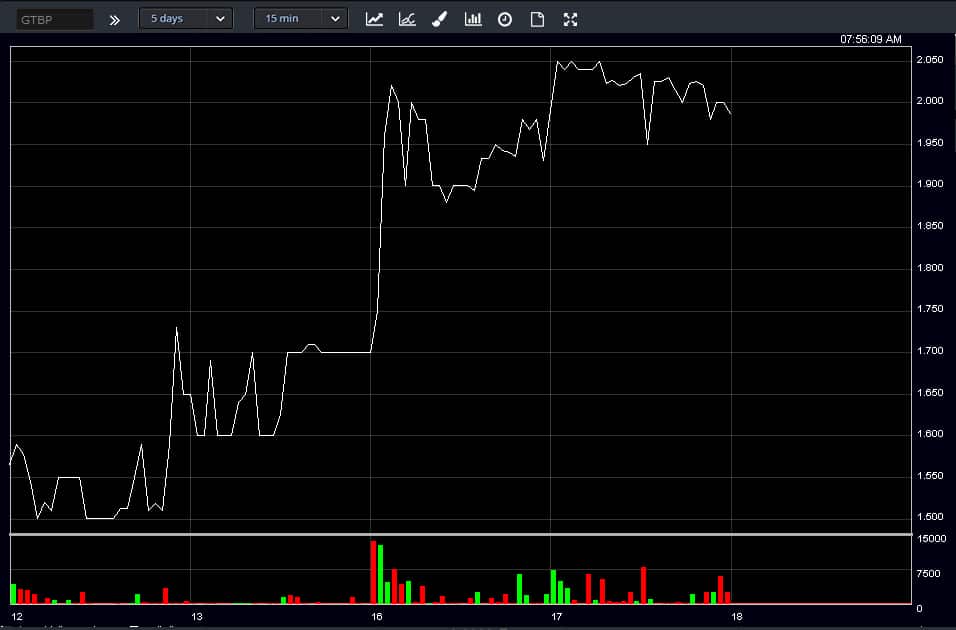 It's important to note that just because past results we're good with a company does not mean future results will be. GT Biopharma, Inc. (GTBP) is a penny stock and all penny stocks can and often are volatile. We encourage EVERYONE to do their own research and make their own decisions & please read our full disclaimer here.
---
Leafbuyer Technologies, Inc. (LBUY) has been called a "game changer" by NBC News & "The Priceline of Pot" by TheStreet.com (owned by Jim Cramer).
In our opinion, Leafbuyer Technologies, Inc. (LBUY) provides a unique opportunity for those interested in the innovation, technology and consumer side of the Cannabis Industry. According to (LBUY) they are the largest cannabis-deals network in the USA with 5 million active users that have saved millions of dollars on all types of Cannabis products using their website LeafBuyer.com.
As the end of Prohibition for the Marijuana / Cannabis Industry continues it is expected that the need for companies like Leafbuyer Technologies, Inc. (LBUY) that give power & savings to the consumer will be more and more in demand and commonplace.
Check out our article titled "Marijuana Prohibition is Ending & Opportunity is Beginning" here we outline in more detail the opportunity we believe is present within the Marijuana industry & Leafbuyer Technologies, Inc. (LBUY) (Click Here)
---
Disclaimer: Pursuant to an agreement between MIDAM VENTURES, LLC an affiliate of MAPH Enterprises, LLC owner of MarijuanaStocks.com and Leafbuyer Technologies, Inc, we were hired for a period from 2/2/2018 – 5/2/2018 NOW EXTENDED TO 10/2/2018 to publicly disseminate information about (LBUY) including on the Website and other media including Facebook and Twitter. We are being paid $100,000 (CASH) for & were paid "77,000" shares of restricted common shares. We own zero shares of (LBUY), which we purchased in the open market. Once the (6) Six month restriction is complete on 8/2/2018 we plan to sell the "77,000" shares of (LBUY) that we hold currently in restricted form during the time the Website and/or Facebook and Twitter Information recommends that investors or visitors to the website purchase without further notice to you. We may buy or sell additional shares of (LBUY) in the open market at any time, including before, during or after the Website and Information, provide public dissemination of favorable Information. Pursuant to an agreement between an affiliate of MAPH Enterprises, LLC, Midam Ventures LLC and GT Biopharma, Midam has been paid $200,000 from the company and ZERO shares of GT Biopharma Inc. for a duration beginning July 16, 2018 and ending August 16, 2018. Midam Ventures has been paid an additional $200k by GT Biopharma and has extended its marketing period through Sept 16, 2018. We may buy or sell additional shares of (GTBP) in the open market at any time, including before, during or after the Website and Information, provide public dissemination of favorable Information.Read Our Full Disclaimer Here