2 Cannabis Stocks Watch That May End Up On Your Watchlist
With marijuana stocks and the cannabis industry a hot topic of discussion, it has left many wondering how to get involved. The legal cannabis industry has yet to tap into its full potential as it is still relatively young. However, over the last few years, amazing progress has been made. For instance, we have seen more states join the cannabis industry by implementing some form of state-level cannabis legislation.
This has led to more companies to go public and add to the list of marijuana stocks to watch. Over the last 5 years, the cannabis industry has been labeled as one of the fastest-growing markets in the world. This growth has brought in a wide range of new opportunities for investors. For example with more states going legal, it develops new markets that have the ability to help make states more money.
In addition to this, it also helps create new companies and work opportunities for those who need jobs. During this pandemic, cannabis was able to truly show how powerful of an industry it is. For instance, cannabis businesses were deemed essential and left open. This was during a time when other businesses were ordered to close.
From all the dispensaries being left open, it created a bigger demand for cannabis. With this demand, it helped many top marijuana stocks to post record-breaking earnings back in 2020. With 2021 underway below are 2 marijuana stocks to watch that present a possibility to invest in the cannabis industry.
Cannabis Stock Watch List This Month
Canopy Growth Corporation (NASDAQ:CGC)
Curaleaf Holdings, Inc. (OTC:CURLF)
Canopy Growth Corporation
Canopy Growth Corporation is one of the most popular marijuana stocks to watch. As well Canopy is also the largest Canadian cannabis company in the world. What some may not know is back in 2014 Canopy was the first cannabis company to publicly traded in North America. This has set a new standard for Canadian cannabis stocks from that point on. Then when 2018 came around Canopy Growth became the first cannabis-producing company to be traded on the New York Stock Exchange.
This was a big accomplishment for the company and set another standard for other cannabis companies to follow. In recent news, the company has announced a partnership with Martha Stewart. This partnership involves the launch of Martha Stewart's CBD for Pets. This will be a new line of scientifically-backed CBD wellness solutions for dogs. This new product line gives hope to future investors that there is more to cannabis than just smoking.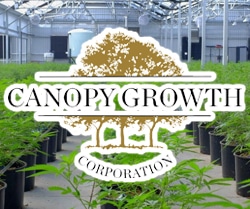 "My dogs are not only my companions, but they are part of my family, and I prioritize their emotional and physical well-being as I do my own," said Martha Stewart. "Just as CBD can support human wellness, it's been shown to improve the quality of life for pets as well. With the help of the scientists and veterinarians at Canopy Animal Health, I've created CBD oil drops and savory soft-baked chews designed to support the health of dogs of all ages, sizes and breeds in delicious gourmet flavors that your canines won't be able to resist."
Curaleaf Holdings, Inc.
Curaleaf Holdings, Inc. is one of the more promising cannabis stocks to watch in 2021. So far the company has been able to keep its momentum going. Much of Curaleaf upward push in the market started back in March with a small downtrend back in September. Yet during this past October CURLF stock was able to push up in the market. From October 2nd to October 19th CURLF stock saw gains of 37%.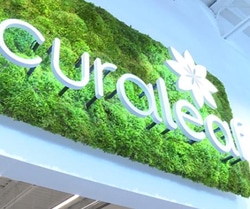 From this point was the initial climb in the market for the company outside of a small dip at the end of October. When November came around fought through market volatility. November 2nd to the 30th CURLF stock saw small gains of 9%. Although some may consider this a small gain it displayed that the company has promising growth potential. In December the company continued to move up in the market with a total 5 percent gain during that time.
Will Curaleaf Holdings, Inc. Continue To Thrive In The Cannabis Industry?
Moving forward the company caught a nice surge in the market in January. On January 14th CRULF stock reached new all-time highs with a share price of $16.97. Although down from this point CURLF stock still made investors a decent return prior to its recent drop. In recent news, the company announced the opening of its new Arizona-based dispensary. This came shortly after Arizona became the 11th state to commence adult-use cannabis sales.
"This announcement marks an important step forward in Arizona, as consumers can now legally purchase adult-use cannabis for their various health and wellness needs," said Joe Bayern, CEO of Curaleaf. "In anticipation of this milestone, Curaleaf has expanded its capacity across the market to meet expected widespread demand. Not only will adult-use cannabis generate important tax revenues that will contribute to Arizona's economic recovery from COVID-19, it will also create local jobs and provide necessary funding for Arizona's community and infrastructure needs."
---
MAPH Enterprises, LLC | (305) 414-0128 | 1501 Venera Ave, Coral Gables, FL 33146 | new@marijuanastocks.com