Submitted by: Joe S.
"New Interest In The Market Promotes Positive Potential For This Pot (Hemp) Player"
To date, Totally Hemp Crazy Inc. (OTCPK:THCZ) has been sparse with its corporate updates and announcements having the single outliers being a shareholder update in October and an August PR discussing plans for launching the company's hemp infused beverage products, while, of course, bringing on a marketing company to help. Unfortunately that announcement came AFTER the stock's run up to highs that scraped nearly 5 and a half cents. Since then the stock has continued to decline…up until this week.
It would appear that there's become a growing interest in the stock following the Company's most recent announcement that it is preparing for the initial product run of its proprietary hemp infused beverage line. So this made me wonder: Why?
Rhino Marketing Worldwide & Red Bull
After doing a little digging (and fortunately enough the information was easily accessible), I found that this marketing company, Rhino Marketing Worldwide, is no stranger to being involved with major international product launches and fast moving consumer retail products. Rhino had a hand in working with the likes of Wolfgang Puck Iced Coffee, Nissan, Stryker Orthopedics, the National Football League, and non other than energy drink king, Red Bull!
So putting two and two together (and obviously this is my own opinion), if THCZ is on the verge of rolling out its first production to pilot markets and then nationwide, it would be in the company's best interest to involve a firm that has a seasoned, well versed firm that knows the landscape and how to successfully navigate it. If Red Bull was part of their track record then I would assume that Rhino will be putting its best foot forward in guiding Totally Hemp Crazy down a similar path.
A Double What?
In fact, since making the announcement, THCZ shares have jumped as high as $0.013 and on top of this "crazy" relationship that the company has with possibly one of RedBull's integral marketing cogs, the technical set-up for THCZ is suggestive of a reversal in my personal opinion.
The tell tale signs of a "bullish reversal" pattern known as a "double bottom" according to stockcharts.com are as follows:
An existing downtrend prior to a reverse
The formation of the first trough
An advance taking place, following the first trough
…A second trough (starting to get the picture?)
A noticeable advance from the second trough
After step five is when the trend confirms and this is what I'm looking for with THCZ as it has just begun to see some re-interest from the market: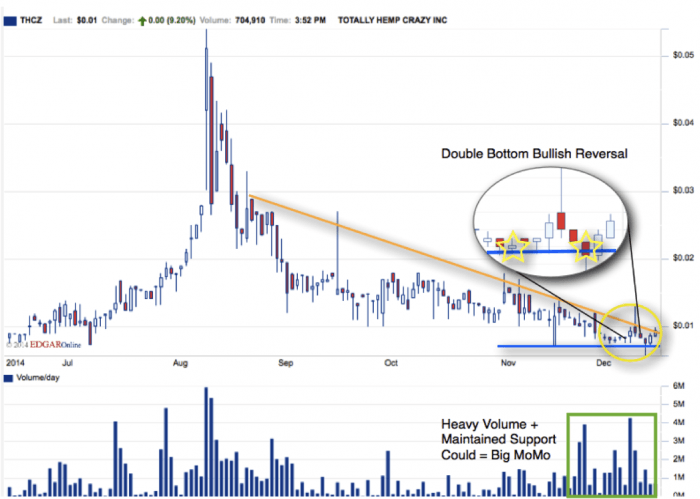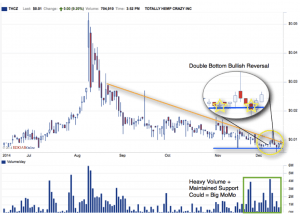 Right here we see a very obvious downtrend, two troughs, the inclusion of some above average volume coming into the market suggesting this should be a strong level of support and now the only thing left is to see if THCZ breaks through its previous resistance to solidify the "double bottom" pattern.
Conclusion
The sectors related to marijuana including hemp, medical marijuana, CBD's, vape pens, and edibles have all gained incredible amounts of attention this year. But more importantly for THCZ is that it is working with a 20 year old veteran in the marketing business who has been a part of some of the biggest names in new product roll-outs. Couple this with the latest attention that the company has begun to receive and throw in that chart for giggles and there could be a very viable argument as to why I feel THCZ could be poised for a new breakout trend before the end of the year.
---
MAPH Enterprises, LLC | (305) 414-0128 | 1501 Venera Ave, Coral Gables, FL 33146 | new@marijuanastocks.com