After +2,316% Gains in Just a Couple Months There's Just 1 Question… What's Next?
As the marijuana industry continues to evolve into the greatest investment opportunity since the Internet Boom, so does the Marijuana Stocks and Wolf of Weed Street subscriber base and loyal following. We take great pride in providing you with the most up to date industry and financial information available today. Our goal is to ensure our readers are fully educated on every aspect of the growing marijuana industry and look beyond the "hype" to identify market opportunity where present. And to date, we have done one heck of a job. Congratulations on what is already a stellar 2015 for our followers as we have brought 3 undiscovered companies to your attention that have gained a combined +2,316% in just a couple months.
And with analysts projecting the marijuana industry to reach a value north of $35Bil by 2020 and experience growth that is expected to outpace the smartphone market, we only expect to uncover these opportunities more and more frequently. The key is to dig beyond the "hype" and connect the dots to understand which niche sectors of this budding industry will see increased value as a result of specific legislation or market events. Then, find the companies standing to benefit most.
Let's take a look at our track record thus far.
CannaGrow Holdings, Inc. (CGRW)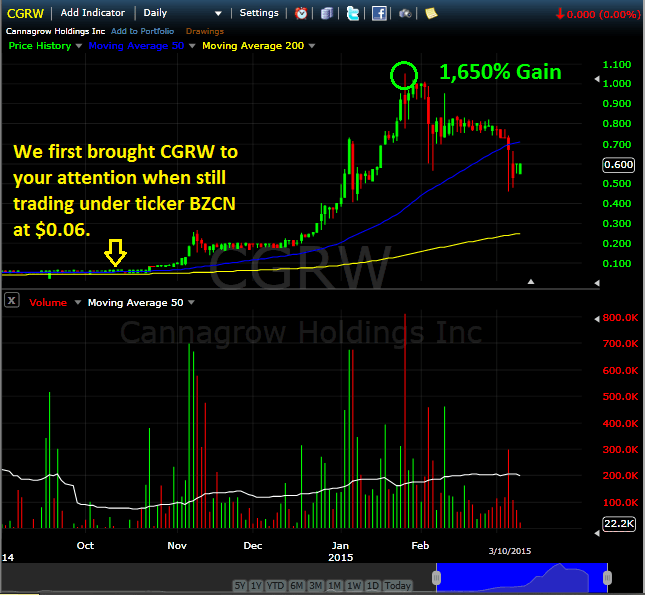 CGRW was the first unknown company that we brought to the attention of our followers in October 2014. In fact, we were so early on this one that when we first started talking about it the company was trading under ticker symbol BZCN and was called BizAuctions. We noticed the strides this company was making before anyone else and notified our community while the stock was trading at just $0.06. Shortly after we were first to the party, the company announced a name change to Cannagrow Holdings and changed their symbol to CGRW. This is when Main Street started taking notice of what we were already well aware of. In just three months, we saw CGRW hit a high of $1.05 for a remarkable 1,650% gain.
Totally Hemp Crazy, Inc. (THCZ)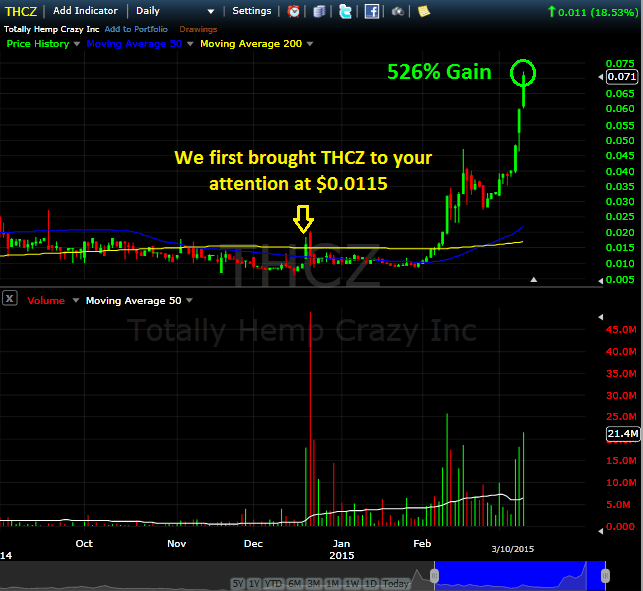 After the huge win with CGRW, our subscribers and readers were anxious to learn about the next undiscovered gem operating in this exciting industry. Well, THCZ was next as we brought this emerging hemp beverage company to light when we discovered that the same marketing firm that worked with Red Bull decided to take Totally Hemp Crazy on as a client. We found THCZ at $0.0115 and saw this stock hit $0.072 yesterday for an incredible 526% gain as the company got closer to their product launch.
Oxis International, Inc. (OXIS)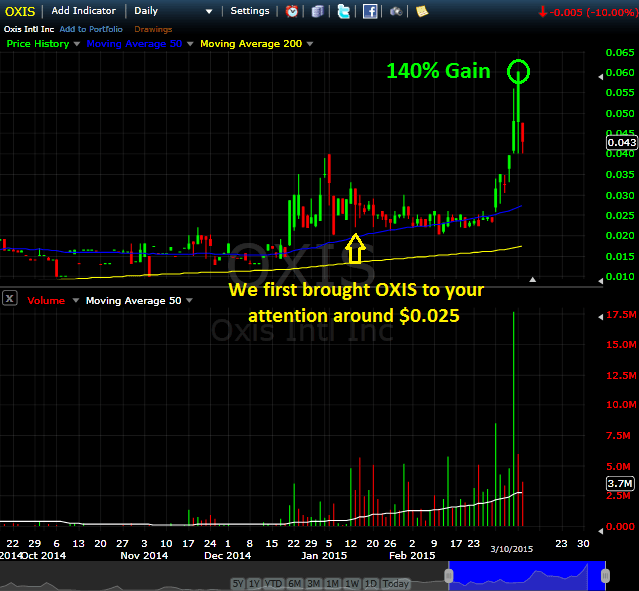 We identified OXIS as a solid opportunity as we began to take a strong interest in cannabis biotech, companies that don't necessarily touch the marijuana plant itself but use cannabinoids to develop different medicines and pharmaceutical drugs. We brought OXIS to our readers' attention around $0.025 when we noticed the new management team that was coming together. The CEO and lead members of the scientific advisory board all have strong history of success in the public biotech space and once again we were first to identify the opportunity. And within just 2 months, we saw OXIS hit a high of $0.06 for a solid 140% gain.
What's Next?
We have received countless emails and social media messages thanking us for discovering such gems so early on. All 3 of the companies we identified went on to post substantial gains over just a couple months' time. We pride ourselves in finding companies that have staying power and longevity, not just a simple one day trade.
2015 has started out red hot and we only expect things to continue heating up. We live, breathe, eat, sleep the marijuana industry so sit back, relax, and let us do the dirty work because we are just getting started.
---
MAPH Enterprises, LLC | (305) 414-0128 | 1501 Venera Ave, Coral Gables, FL 33146 | new@marijuanastocks.com