Last week the Horizons ETF's completed their quarterly rebalancing. If you're new to the concept of an ETF and therefore do not understand what rebalancing is you're not alone. To break it down in simple terms an ETF is a tradable vehicle (security) that instead of representing one company, it represents or holds a bunch of companies and grows based off the success of the group as a whole.
ETF's are niche-specific, there are biotech, Energy, Technology, and in this case Cannabis ETF's. Every quarter or 90 days for the most part, ETF's rebalance, which is a fancy way of saying they are buying (adding) some companies while selling others. They are also proving intrinsic value to investors in the form of due diligence, but we can discuss that a bit later.
HMJR Adds Integrated Cannabis Company (CSE: ICAN) (OTC: ICNAF)
The HMJR is a Horizons ETF that represents emerging companies that have market capitalization anywhere from $50,000,000 to $500,000,000. One of the 12 companies that they added to the portfolio was Intergrated Cannabis Company Inc (ICAN: CSE, ICNAF: OTC), a company we have discussed here on Marijuana Stocks recently.
It is important to note that portfolio managers from these ETF's must be exceptionally prudent with the companies they add to the ETF, meaning they don't just go and add any company because they have cannabis in their name.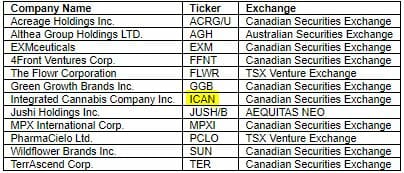 Typically they want to see companies that are generating revenue, have room to grow or fill a vital niche within the sector. Recently ICAN's branded Ganja Gold pre-rolls demonstrated proof of concept with this product that has been a top-selling pre-roll in the state of California as well as pulling in $3.3m in revenue in 2019 (article here).
Kind Of A Big Deal?
Being added to an ETF like this is a big deal for any company given that this is an exclusive club relative to the sheer number of publicly traded companies that are out there in the world of Potstocks which by the last count was over 300. We are happy to see ICAN's addition to the HMJR ETF, especially at a time when we feel the industry is moving past capitulation.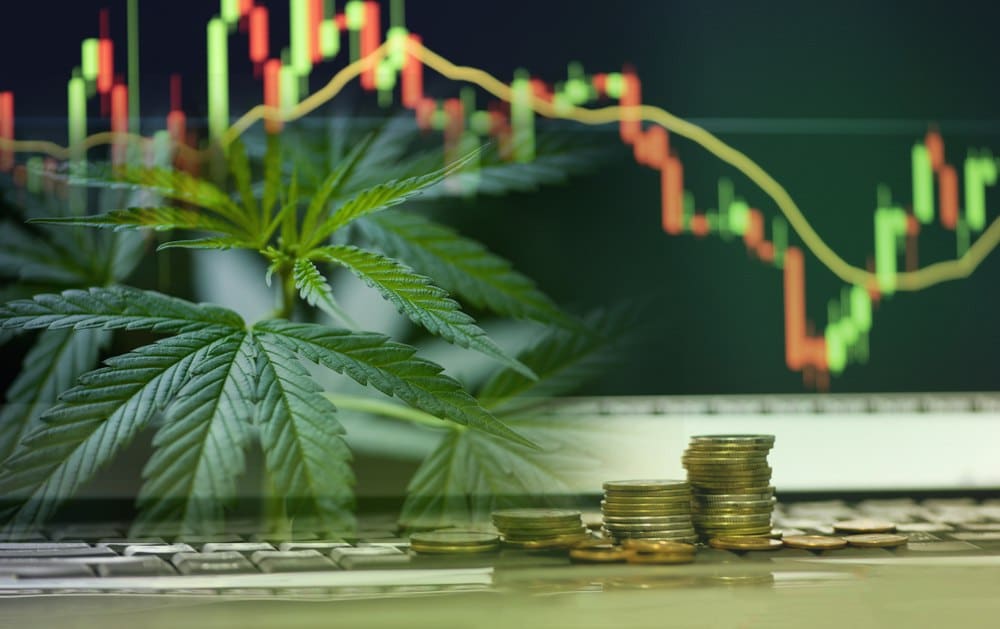 Disclaimer: Pursuant to an agreement between an affiliate of MAPH Enterprises, LLC (owners of MarijuanaStocks.com), Midam Ventures LLC and Integrated Cannabis Company (ICNAF) (ICAN), Midam is being paid $50,000 a month for coverage on Integrated Cannabis Company (ICNAF) (ICAN), for a period from August 19, 2019 to February 19, 2020. Midam Ventures LLC will also receive 150,000 common restricted shares of Integrated Cannabis Company (ICNAF) (ICAN) upfront and another 150,000 common restricted shares in 90 days. We may buy or sell additional shares of Integrated Cannabis Company (ICNAF) (ICAN) in the open market at any time, including before, during or after the Website and Information, to provide public dissemination of favorable Information about Integrated Cannabis Company (ICNAF) (ICAN). PLEASE READ OUR FULL DISCLAIMER HERE
---
MAPH Enterprises, LLC | (305) 414-0128 | 1501 Venera Ave, Coral Gables, FL 33146 | new@marijuanastocks.com