The most recent global report from the United Nations states that by 2030 the global population will reach 8.6 billion [1]. This predicted growth in global population presents many potential problems. Some of these problems are obvious; shelter, food etc…
What about Healthcare? Did you know that currently for every 1,000 healthcare patients there are only 3 doctors available to provide treatment?
---
---
This Featured Profile on Premier Health Group Inc. (OTC: PHGRF) / (CSE: PHGI) is
A MUST SEE… KEEP READING
We have been talking about Canadian based company Premier Health Group Inc. (OTC: PHGRF) / (CSE: PHGI), a lot. We have had people reach out to us saying:
This is not a true Marijuana Stocks.
The volume is "light".
What is the real long-term potential of this company?
We would like to take the opportunity to address the points above and then thoroughly explain why we are making a firm commitment to get behind Premier Health Group Inc. (OTC: PHGRF) / (CSE: PHGI), for the long run.
Premier Health Group Inc. (OTC: PHGRF) / (CSE: PHGI) is Not a True Marijuana Stock.
This is true. Premier Health is not a true marijuana stock, like an Aphria or an Aurora Cannabis. Where Premier Health Group Inc. (OTC: PHGRF) / (CSE: PHGI) lacks in its "official" pot stock status it more than makes up for it with its potential and strong ties to the cannabis industry.
On November 15, 2018, Premier Health Group Inc. (OTC: PHGRF) / (CSE: PHGI) announced plans to expand the scope of its practice by launching a Cannabis Clinic for patients.
Dr. Essam Hamza, Chief Executive Officer of Premier Health said, "The role of Cannabis in treating medical conditions is continuously expanding. Our doctors have had success in treating their patients with various ailments from chronic pain to cancer-related symptoms. Unfortunately, there is a gap between the patient's need for medical marijuana, and the family doctor's comfort and knowledge to prescribe it. We are looking to fill that gap with various forms of clinics and services to help our patients and healthcare workers" (read the full release here)
The Canadian medical cannabis clinic market is estimated to be worth approximately $2.35 billion by 2025. According to Dr. Essam Hamza the Company expects to provide additional updates on Cannabis related acquisitions in Q1-19.
Canada has been at the global forefront of medicinal & recreational marijuana use. Cannabis focused Healthcare companies, both public and private, have been popping up all over Canada for years now. These companies have been adapting to and functioning within the existing Canadian healthcare system, which is BROKEN!
THE PROBLEM: The Health Care System is Dated & Broken.
Rising Costs: Governments and payers facing increasing costs that are simply unsustainable.
Inefficient Use of Resources: 39% of Canadians who visited an ER indicated that they could have avoided the visit if they had better access to primary care.
Doctor Supply: A shortage of primary care doctors and nurses, especially in remote and rural communities, leads to clinician burn out and patients frustrated by long wait times. Newly licensed doctors are avoiding primary care because of these dynamics, which increases the pressure on an already stressed system.
Accessibility: Approximately 15% of Canadians aged 12 and older don't have a primary care physician. Nearly two-thirds (59%) of seniors are unable to get a same-or next-day appointment. Almost 7 in 10 Canadians avoid seeing a doctor when they are sick.
Premier Health Group Inc. (OTC: PHGRF) / (CSE: PHGI) Challenges the Canadian Healthcare System's Definition of "Normal" & Plans for a Profitable Future!
THE PREMIER HEALTH SOLUTION:
On Your Time: Patients can book appointments & be seen by general practitioners & specialists 24/7.
Ease of Access: Patients, Doctors, Nurses & Pharmacists can review your medical chart in real-time, anytime.
No Borders: Doctors can be anywhere in the world and still see their patients. Patients can visit any clinic and have their medical charts follow them.
At Your Convenience: Prescriptions electronically submitted to the pharmacy of their choice or delivered free to them by a preferred pharmacy partner.
NEVER Blindly Trust Any Company's CEO… Unless They Earn It!
We at MarijuanaStocks.com have seen a lot of public companies try and shift business focus to attempt to capitalize on the popularity of Marijuana Stocks and the Cannabis Sector. In reality, these companies have nothing to do with the Marijuana Industry and the decisions to shift focus are a poor attempt and even poorer decision by company management to "sit at the cool kid's table at lunch".
This is not the situation with Premier Health Group Inc. (OTC: PHGRF) / (CSE: PHGI) and its CEO, Dr. Essam Hamza.
Dr. Essam Hamza, Chief Executive Officer of Premier Health is more than just a "professional CEO." He completed his MD and Family Practice degree at the University of Alberta. He founded HealthVue in 2005 and has since grown the business to include four interconnected high-tech clinics serving over 100,000 patients.
CEO, Dr. Essam Hamza is A Man of His Word.
On November 26, 2018, Premier Health Group Inc. (OTC: PHGRF) / (CSE: PHGI) provided an update on its expansion into Cannabis Clinics for Patients. The company announced that it had engaged discussions with Licensed Producers under the Access to Cannabis for Medical Purposes Regulation (ACMPR), other licensed medical cannabis companies and government officials in order to establish a framework for both patient and physician education.
Premier has been in discussions with a "short list" of Canadian Licensed Producers under the Access to Cannabis for Medical Purposes Regulations in order to partner with a, or multiple, Licensed Producers to provide doctor and patient education at the clinic level.
Dr. Essam Hamza, CEO of Premier Health said, "There has been a critical gap between the patient's need for medical cannabis and the doctor's knowledge and comfort level in prescribing it. At Premier we understand the frustration felt from both the patient and the doctor and are integrating what we think is a revolutionary process. This new tool will allow us to provide a much-needed service to the 287 clinics and almost 3 million patients in our ecosystem."
The 11/26/2018 Premier Health Group Inc. (OTC: PHGRF) / (CSE: PHGI) news release went on to announce that the company is actively recruiting additional physicians for its existing clinics and a cannabis-focused physician that is licensed in Canada. (read the full release here)
Hey, MarijuanaStocks.com, Premier Health's Trading Volume Has Been "Light".
First and foremost everyone reading this and/or ANY OTHER article on MarijuanaStocks.com should understand that no one working for and/or on this site is a licensed financial professional and you should take any feedback we provide on the market as strictly our opinion and ALWAYS make sure to do your own research on any company mentioned, as well please review our full disclaimer by clicking here.
Premier Health Group Inc. (OTC: PHGRF) / (CSE: PHGI) Appears to be Under Consolidation… AGAIN!
The last time we at Marijuana Stocks identified that Premier Health Group Inc. (OTC: PHGRF) / (CSE: PHGI) appeared to be under a period of consolidation on February 24, 2019, we saw a +16% gain the following week. And it appears once again that the stock may be in another period of consolidation. It is widely understood by traders that it is often healthy for a stock to consolidate after making a big breakout move like we just saw in Premier Health.
Over the last week, we saw Premier Health Group Inc. (OTC: PHGRF) / (CSE: PHGI) breakout of a descending triangle pattern and gain as much as +16% while trading some of the highest volumes ever. According to TechCharts.net,
"Volume is an important indicator that can be used to confirm certain price movement. It is always positive to see increasing volume when a stock is advancing. An advance on expanding volume is deemed more robust than an advance on contracting volume."
Historically, we have seen that before any stock makes a big move it will often go through a period of consolidation.
According to an article on Investopedia, Consolidation is the term for a stock or security that is neither continuing nor reversing a larger price trend. Consolidated stocks typically trade within limited price ranges and offer relatively few trading opportunities until another pattern emerges.
That same article on Investopedia says you can identify a stock that is under consolidation by watching for three simultaneously occurring properties on a price chart.
The first is that the stock has definable and steady support and resistance levels.
The second characteristic is a narrow trading range.
The last feature to look for is a relatively low level of trading volume that does not exhibit major spikes.
A similar article on Investopedia.com goes on to say…
"The consolidation pattern in price movements is broken upon a major news release that materially affects s security's performance or the triggering of a succession of limit orders."
Within the US Market:
(OTC: PHGRF) has begun to consolidate following a high-volume breakout of a descending triangle pattern. We can also see a previous resistance level in the $0.70-$0.71 area has started acting as a new area of support. This price action appears to be creating a possible consolidation range for (OTC: PHGRF) between $0.70 and $0.77.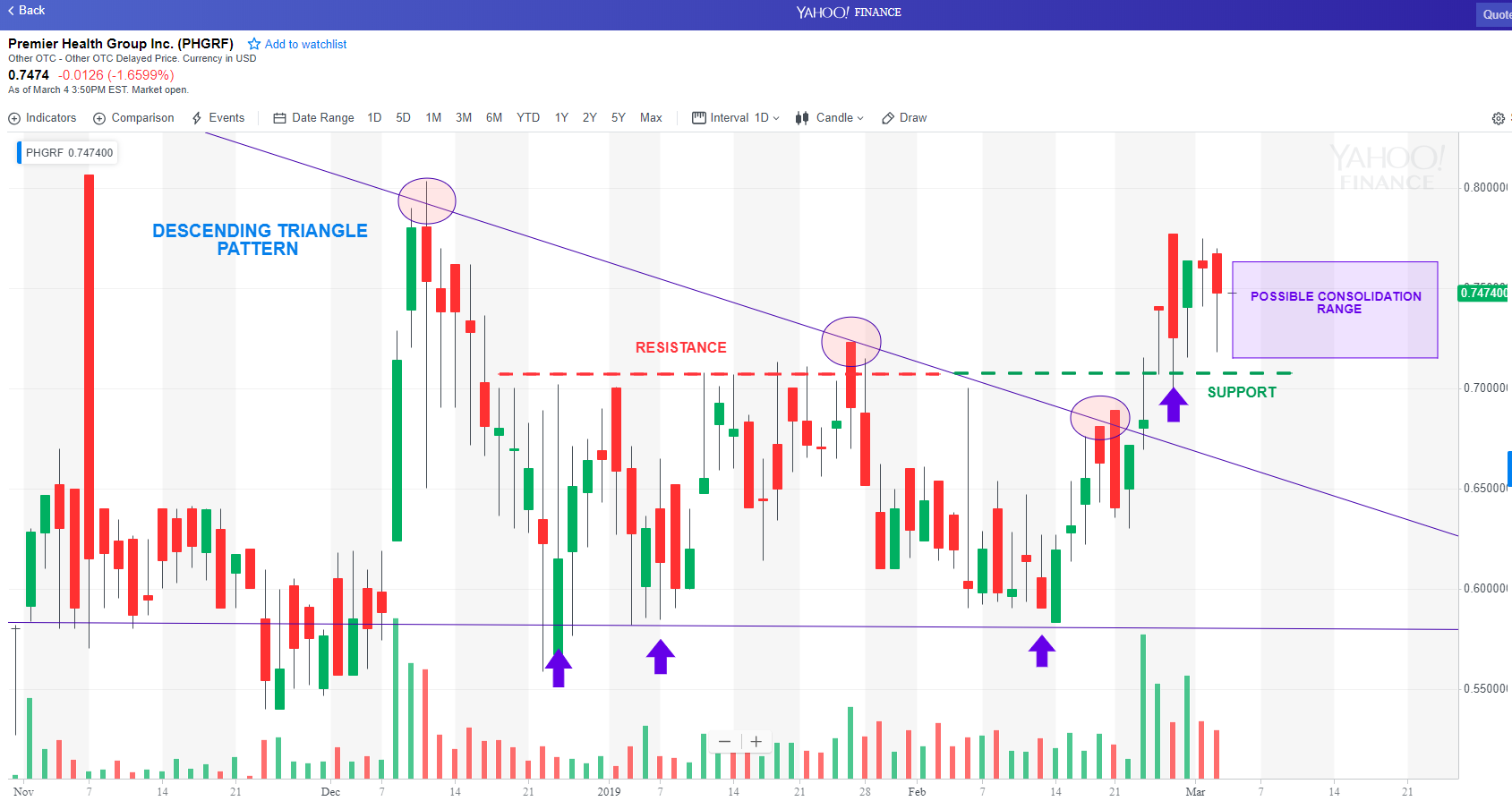 In the Canadian Market
(CSE: PHGI) also broke out of a descending triangle pattern on a huge increase in trading volume. Like what we see in the US market, there, too, seems to be a previous area of resistance now acting as support. This price action gives a possible consolidation range for (CSE: PHGI) of $0.92 and $1.02.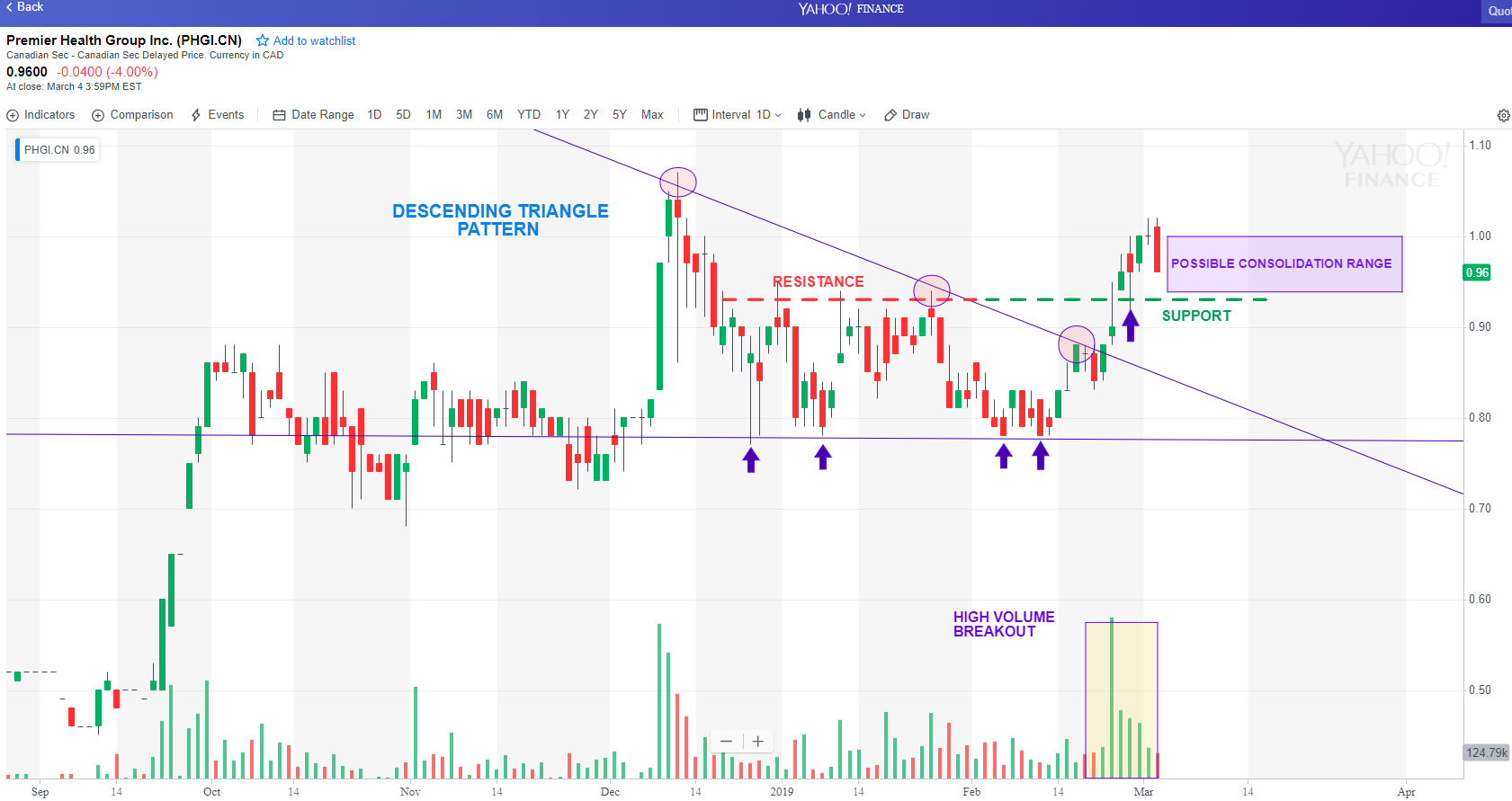 A brief pause in the uptrend of Premier Health Group Inc. (OTC: PHGRF) / (CSE: PHGI) following the high-volume breakout and +16% gain could be a very, very good thing. According to an article by Tradeciety.com about how to trade consolidations, they state…
"All consolidations represent a period in which the markets pause, where indecision about the next price move exist and where traders position themselves for the next move.  Consolidation periods are necessary for accumulation and distribution as well because the "big" players use those to get into their larger positions."
In Conclusion
Therefore, this potential consolidation period for Premier Health Group Inc. (OTC: PHGRF) / (CSE: PHGI) could give investors who missed the recent descending triangle breakout and +16% gain another opportunity to position themselves to capitalize on the next big price move.
MarijuanaStocks.com What is the Long-Term Potential of Premier Health Group Inc. (OTC: PHGRF) / (CSE: PHGI)
Big Money Is Flowing into Virtual Care – Perfect Timing for Premier Health?
Crystal Market Research reported that the global telemedicine market is expected to surpass $3 billion by 2025. It could also stand to reason that this figure may increase by that time considering the money flowing into the virtual care market.
Back in May 2018, Doctor on Demand reported $74 million [1] in a brand-new investment in a round led by Goldman Sachs. For those unfamiliar, the company provides remote physician visits via text, video, and phone calls and it managed to achieve all this with the support of large employers, insurance companies and more.
Another company, 98point6, a Seattle-based start-up, just recently received the backing of nearly $90 million [2] from names like BlackRock's Larry Fink to ex-Goldman Sachs CFO David Viniar. To say the least, though these companies are not public (Doctor on Demand; 98point6), they indeed are a strong litmus for investors who want to be at the leading edge of the next significant healthcare innovation.
Premier Health Group Inc. (OTC: PHGRF) / (CSE: PHGI) Seems Ripe For Merger & Acquisition Activity; Investors Begin to Position for Opportunity
The telehealth segment of healthcare is still in its infancy. This space appears to be ripe for a plug and play company like Premier Health providing digital healthcare solutions.
Medici, an app that connects doctors & patients – securely from their mobile phones, recently acquired telemedicine company Chiron Health. The acquisition of Chiron Health follows that of the recent Medici addition of DocbookMD, a platform facilitating medical professional colleague communication, including members of state medical associations. Teladoc purchased telehealth provider Advance Medical for $352 million to increase its presence in the global marketplace outside the U.S.
Telus Health is jumping into the business of elite medical clinics, having spent nearly $150 million to acquire Medisys-owned corporate and employee health clinics across Canada.
InTouch Health acquired REACH Health, while American Well announced that it was acquiring Avizia. The deals strengthen the portfolios of two upper echelon telehealth providers, giving them new software that would appeal to hospitals and health systems looking to consolidate their virtual care services on one platform. The focus is on gaining new clinics, growing the patient pools and tapping into health systems on a global scale.
"The telehealth industry is fragmented, and health systems demand a single telehealth platform that can overcome interoperability challenges, ensure data management continuity, and scale from a single physician office to a multi-hospital enterprise," said Joseph M. DeVivo, InTouch Health's CEO, in a release.
Premier's Global Approach to Care
Premier Health Group Inc. (OTC: PHGRF) / (CSE: PHGI) is taking aim at a global strategy.  On January 17, 2019 Premier Health announced a strategic partnership with China's 360 Health. This is a massive corporate in China that Premier now has access to. The parent company, 360 Security Technology, is a leading online service company in China with a market capitalization of over $20 billion USD as of January 16, 2019.
360 Health has been approved for an Internet Hospital license in China and provides a platform for Chinese doctors and patients enabling online consultations (chat/video), online prescriptions and online purchase of medicine.
Premier will be providing second opinion services by connecting 360 Health's patients in China with doctors in Canada both remotely and in person. Premier will also assist with General Practitioner training virtually and onsite through medical seminars.
These key developments, acquisitions, potential acquisitions and recent strategic partnerships show that this is a company in a true growth phase.  What could that mean for investors who are looking at this company right now?
Let's Recap the Premier Health Group Inc. (OTC: PHGRF) / (CSE: PHGI)
Premier Health seems ready to disrupt & repair the "broken" healthcare industry, 1st within Canada and then Globally.
Premier Health Group Inc. (OTC: PHGRF) / (CSE: PHGI) is building strong ties within the Cannabis Sector.
CEO of Premier Health Group, Inc, Dr. Essam Hamza has proven thus far to be a man of his word and therefore continues to earn investor confidence.
Premier Health appears to be consolidating while showing what looks like 2 bullish chart patterns: the descending triangle & double bottom patterns. This combination appears to have Premier Health Group Inc. (OTC: PHGRF) / (CSE: PHGI) setting up for a HUGE breakout!
The long-term potential for Premier Health is, in our opinion, very strong. Premier seems on its way to being ripe for merger & acquisition activity as well as targeting a global approach to healthcare and, in our opinion, smart investors can begin to position for an opportunity.
Endnotes:
[1] Senior access to care: https://www.cihi.ca/en/seniors-think-canadas-health-care-systems-have-room-to-improve-survey-finds
[2] Primary Care Access And Emergency Department Utilization: http://www.canadiancentreforhealtheconomics.ca/wp-content/uploads/2017/06/Mehta-et-al.pdf
UPDATED 3/27/2019: DISCLAIMER: Pursuant to an agreement between an affiliate of MAPH Enterprises, LLC (owners of MarijuanaStocks.com), MIDAM VENTURES, LLC and Premier Health Group Inc. Midam was hired for a period from 10/1/2018 – 4/1/2019 to publicly disseminate information about Premier Health Group Inc. including on the Website and other media including Facebook and Twitter. We were paid $300,000 (CASH) for & were paid "500,000" shares of restricted common shares (as of 1/2/2019). Midam has been compensated an additional $100,000 by Premier Health Group to extend the period of coverage to June 1, 2019. As of 3/26/2019 Midam has been compensated an additional $100,000 by Premier Health Group for additional coverage without further extended coverage duration. We own zero shares of Premier Health Group Inc., which we purchased in the open market. Once the (6) Six-month restriction is complete on 4/1/2019 we plan to sell the "500,000" shares of Premier Health Group Inc. that we hold currently in restricted form during the time the Website and/or Facebook and Twitter Information recommends that investors or visitors to the website purchase without further notice to you. We may buy or sell additional shares of Premier Health Group Inc. in the open market at any time, including before, during or after the Website and Information, provide public dissemination of favorable Information. FULL DISCLAIMER HERE
---
MAPH Enterprises, LLC | (305) 414-0128 | 1501 Venera Ave, Coral Gables, FL 33146 | new@marijuanastocks.com