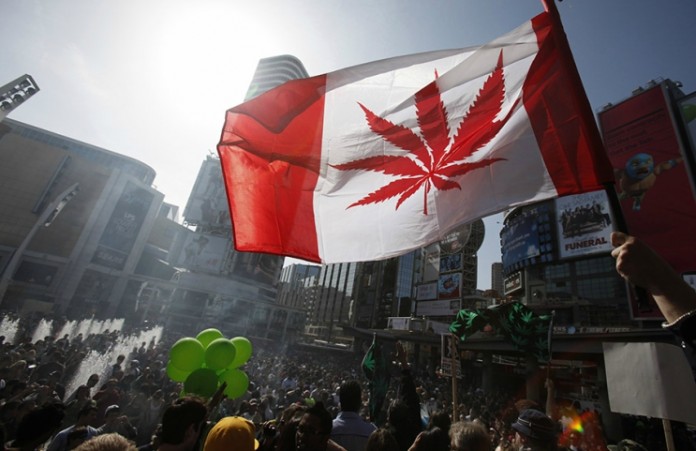 The countdown until Canada legalizes recreational marijuana is now approaching the four-month mark. With the recreational market forecast to generate billions in new revenue for our neighbor to the north, marijuana stocks are skyrocketing. What is even better is that Canada's public safety minister, Ralph Goodale, recently confirmed that Canada remains "on track and on time" for legalization for July.
One Prime Minister Justin Trudeau's campaign promises was to legalize adult-use recreational marijuana, and he is doing just that. After all, a substantial amount tax revenue is at risk. Canada's Parliamentary Budget Officer (PBO) has estimated that the legal recreational market in Canada could generate anywhere from $4.2 billion to $6.2 billion from the beginning. Other analysts have forecast the market to surpass those estimates. But regardless of the source, all analysts foresee substantial revenue to be generated from the Canada's legal recreational market and for marijuana stocks as well.
This has been one of the top catalysts sending marijuana stock valuations sky high. Marijuana businesses are looking forward to legalization probably more than anyone, even Trudeau. With Canada remaining on track, here are two marijuana stocks that are gearing up to claim a nice share of the recreational market.
Canopy Growth (TWMJF) is the king pin of Canadian marijuana growers. This marijuana stock has more than 2.4 million feet of greenhouse space under development in efforts to expand its grow capacity. Canopy also boasts an additional 1.3 million square feet of greenhouse growing capacity in British Columbia, with the option to develop another 1.7 million square feet. When all is said and done, it should be able to cultivate around 200,000 kg of dried marijuana annually. The company by far has the highest capacity of the Canadian marijuana growers and should prime to be able to gain an advantage in the recreational market.
Aurora Cannabis (ACBFF) has an 800,000 square-foot facility under construction, the project is known as Aurora Sky, which is expected to be completed right around the time of legalization and is projected to yield over 100,000 kg of dried marijuana annually. In addition, Aurora's acquisition of CanniMed Therapeutics (CMMDF) should give this marijuana stock possibly an additional 20,000 kilograms of marijuana to get out into the recreational market.
If any marijuana stock can secure 20 percent of the estimated $6 billion recreational market, that would generate an additional $1.2 billion in sales. Even a 10 percent market share would ring in an additional $600,000 in sales. It's no wonder why these companies are trying to expand at such a rapid rate. It's one giant race to see who can claim the largest share of the market.