Our newest "Connect The Dots" feature, Integrated Cannabis Company (ICNAF) (ICAN) continues to turn heads. Earlier this summer the company announced that it had completed the acquisition of all of the issued and outstanding shares of a revolutionary company called X-SPRAYS ™, which holds, through a wholly-owned subsidiary, a worldwide, exclusive license for X-SPRAYS™. This is a brand of state-of-the-art life-enhancement products administered via an oral spray delivery system.
During the better part of the last 6 weeks, Integrated Cannabis Company (ICNAF) (ICAN) has been at the center of a big spotlight that's focused on the huge potential ahead for Canadian cannabis stocks.  With volume continuing at above average levels and knowing that within the next few trading days we'll witness one of the most significant industry events in the history of publicly traded marijuana companies (Canada goes entirely legal October 17), there could be a huge catalyst ahead!
Why We Connect The Dots
It was only a few weeks ago that Marijuana Stocks re-introduced everyone to what our "Connect The Dots" features are all about (Article Here). Over the last four years, we have selected less than ten companies as a "Connect the Dots" feature and we take great pride in providing you with the most up to date industry and financial information available today.
Since initiating coverage on Integrated Cannabis Company (ICNAF) (ICAN), we've seen several key developments and technical patterns trigger strong momentum in the market. One of the most exciting things about the latest market moves Integrated Cannabis Company (ICNAF) (ICAN) has been making is that it has seen many technical breakouts form on the chart as well as announcing many key milestones to potentially boost the fundamental momentum that the market has built: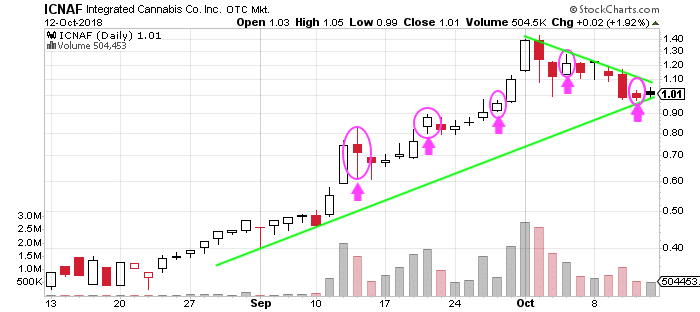 As you can see in the chart above, trading volume during this current Bull Run is much higher than it was earlier this year. Furthermore, we've seen Integrated Cannabis Company (ICNAF) (ICAN) see a number of clearly bullish catalysts along the way.  Noted in the chart, we've highlighted the days that  Integrated Cannabis Company (ICNAF) (ICAN) has made milestone announcements and the most recent came as Integrated Cannabis Company (ICNAF) (ICAN) may be in the midst of a flagging pattern on the chart. 
You can see that the overall trend has been an uptrend and though Integrated Cannabis Company (ICNAF) (ICAN) pulled back from previous highs, it has still maintained the major trend line that formed in late August. This could be a strong sign for a potential continuation pattern on the chart and there are also two, very critical industry events that could also boost interest within companies like Integrated Cannabis Company (ICNAF) (ICAN).
1. Canada is set to open the doors to recreational legalization this week.
2. Major progress could be on the near term horizon in the US as mid-term elections are right around the corner:
Donald Trump Stands In Support For Federal Marijuana Reform
That's right! We broke this story late last week. President Trump has the intentions to work towards legalizing medical marijuana on a federal level following next month's midterm races, Rep. Dana Rohrabacher, California Republican, stated this past Thursday.
The Trump administration has made a "solid commitment" to change marijuana regulations, and the president has expressed his views in support of federally legalizing the cannabis for medical use, Mr. Rohrabacher told Fox Business Channel.
"I have been talking to people inside the White House who know and inside the president's entourage," Mr. Rohrabacher stated, Fox Business reported. "I have talked to them at length. I have been reassured that the president intends on keeping his campaign promise. I would expect after the election we will sit down and we'll start hammering out something that is specific and real."
Not only could the Canadian legalization "up the ante" for Canadian marijuana stocks but this reaffirmed interest from the leader of the free world could open the floodgates for the entire North American continent!
Are You Ready For The Next Big Boom In The Cannabis Industry?
Considering that the "Big Dogs" have already come and gone, many are searching for the next marijuana moonshot. Knowing this, just look at what's happening right now with Integrated Cannabis Company (ICNAF) (ICAN) and X-SPRAYS™. Since publishing the Connect the Dots feature, the Company has announced major developments that could be fueling this next move for the company well into 2019.
Integrated Cannabis Company, Inc. (ICNAF) Announces Fall 2018 Collaboration to Launch CBD Products
October 11, 2018: Integrated Cannabis announces a retail-focused collaboration with New Age Farm, Inc. (CNSX: NF, OTCMKTS: NWGFF) to deliver CBD education and innovative CBD products to the Colorado market this Fall. Integrated Cannabis with their CBD lifestyle brand X-SPRAYSTM and New Age Farm with their CBD lifestyle brands Kured and Fresh Water CBD will be teaming up to sell their innovative CBD products in a new and innovative way: pop-up stores in Denver.
Integrated Cannabis Company, Inc. (OTC MARKETS: ICNAF) (CSE: ICAN.CN) Announces Positive Results From Clinical Study of X-SPRAYS
October 4 2018: Integrated Cannabis Company announced results of its clinical trials. The controlled 60 patient trials were completed with a renowned pain clinic in Southern California, and the results were highly favorable; resulting in an improvement in patients' sleep patterns combined with the unexpected, but highly desirable, decrease in the level of pain. The study results have been published in the peer-reviewed journal: International Journal of Pharmacy and Life Sciences (Int. J. of Pharm. Life Sci., Vol. 9:5722-5729).
Integrated Cannabis Company, Inc. (ICNAF) Signs Co-Development and Marketing Agreement With a Canadian Licensed Producer, GTEC Holdings Ltd.
September 27, 2018: Integrated Cannabis Company, Inc. (ICAN.CN) (ICNAF) ("Integrated Cannabis"), is pleased to announce the completion of a Letter Agreement (the "Agreement") to collaborate on X-SPRAYS™ products for the Canadian market with GTEC Holdings Ltd ("GTEC") (TSXV: GTEC, OTCPK:GGTTF), a Canadian License Producer under Health Canada's Access to Cannabis for Medical Purposes Regulations (ACMPR).
Integrated Cannabis Company, Inc. (ICAN.CN) (ICNAF) Signs Distribution Agreement with Empower Clinics, Inc.
On September 20, Integrated Cannabis Company, Inc. announced the completion of a Letter of Intent (LOI) to distribute X-SPRAYS™ products throughout the clinics and doctors' offices of Empower Clinics Inc. (CSE: EPW), a leading owner and operator of medical cannabis and wellness clinics in the United States.
As of August 31, Empower has more than 25,000 patients under care across 15 locations with medical cannabis treatments in Oregon, Washington, and Illinois. The patient base in Oregon represents approximately one-third of the state's total medical card issuance. Also, Empower has a historical patient database of more than 120,000 in the two states.
Integrated Cannabis Company, Inc. (ICNAF) Develops THC-Infused Spray Product
On September 13, Integrated Cannabis Company, Inc. announced the completion of a market-ready Tetrahydrocannabinol (THC)-infused spray product and the required licensure for manufacturing of the product in Colorado.
Get Ready For The Next Surge In North America's Green Rush!
All of these developments, both from the company and the industry, could be telltale signs of a true groundswell for marijuana stocks. The writing could already be on the wall as Integrated Cannabis Company (ICNAF) (ICAN) has come out to say, directly that it anticipates immediately creating a presence in the world's largest cannabis markets.
As many of you already know, our track record has been solid when identifying early potential with companies within the marijuana sector and in our opinion, now could be the time to start taking notice of Integrated Cannabis Company (ICNAF) (ICAN).
It's our goal to "connect the dots" for our readers to help identify opportunity in this budding industry. And thus far we have done more than just recognize opportunity; we have helped some earn a small fortune. Our newest Connect The Dots featured company, Integrated Cannabis Company (ICNAF) (ICAN) has maintained a steady uptrend for weeks and as we approach the big day in Canada, we'll continue to follow the progress that the company makes, closely.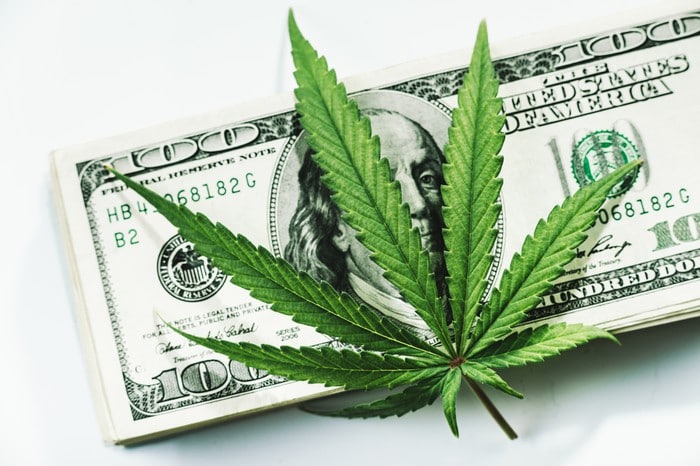 Disclaimer: Pursuant to an agreement between an affiliate of MAPH Enterprises, LLC (owners of MarijuanaStocks.com), Midam Ventures LLC and Integrated Cannabis Company, Midam is being paid $25,000 per month for a period of 2 months beginning September 4, 2018, and ending March 9, 2019. This payment has been increased to $75,000 per month for the period of November 4 2018 and ending March 9, 2019. We own ZERO shares of Integrated Cannabis Company. We may buy or sell additional shares of (ICNAF)/(ICAN) in the open market at any time, including before, during or after the Website and Information, to provide public dissemination of favorable Information about Integrated Cannabis Company. MarijuanaStocks.com, which is owned by MAPH Enterprises LLC., a Florida Corporation has been previously compensated $100,000 by a non-affiliate 3rd party for a 1 year period beginning August 1, 2017 and ending August 1, 2018 to publicly disseminate information about CNRP Mining, Inc. (CND.CN) (CRPGF) that is now Integrated Cannabis Company. We own zero shares.
---
MAPH Enterprises, LLC | (305) 414-0128 | 1501 Venera Ave, Coral Gables, FL 33146 | new@marijuanastocks.com