You've likely referred to them as "Marijuana stocks," or "cannabis stocks" or maybe heard a friend call them "Pot Stocks." What ever they go by, there's no denying that the subject of Marijuana Stock investing is a topical one. Ten years ago if you told your parents you were getting into "marijuana" they would have had you pee in a cup, now it seems dad & his poker buddies or mom in the PTA are saying "How do I get into weed?"
Today we see that the business of marijuana is not just one of cultivation and distribution. There are finance companies, consulting firms, industry analysts, security firms, real estate companies, biotechnology, tech start-ups, social media companies all involved in some ancillary vertical associated with cannabis. As the marketplace continues to grow (pun intended) we are seeing well-established industries entering the sector.
Within the capital markets public companies keep sprouting from, it seems, out of nowhere to try and carve out their own green footprint. Cannabis stocks, as volatile as they may be, continue to captivate investors looking to grab their own piece of a brand new industry, the same way their parents did ten plus years ago with "DotCom." Dot Bong seems to be the millennials' turn at finding the next Ebay or Amazon. Think about it, if you could have invested in alcohol just as prohibition was ending, would you (assuming that there was an opportunity to purchase shares of a publicly traded alcohol company)? I will be presumptuous and say "yes"f or you; and that's exactly what's happening. Marijuana is the newest "sin" sector in the public markets, joining the likes of big tobacco, Alcohol, and Gaming industry.
So do you know how to buy cannabis stocks VS others? It's very simple and is the same way you would purchase shares of Coca-Cola if you wanted to. The only difference is that most of these stocks will trade on the OTC or "Over The Counter" and regulatory issues could be an obstacle for some who are looking to invest in marijuana stocks. Information is everything and being able to take on the due diligence process is of the utmost importance before considering a cannabis stock as an investment.
A new report out from investment app SigFig shows that 1 in 8 investors have purchased so called "sin stocks", with 7% of investors buying into tobacco companies. More than 2% of investors have been shown to support marijuana companies; while just under 2% of investors go into both casino gambling and alcohol. A new breed is rising in the market especially when considering an investment into cannabis. "Stuffy" tobacco investors are older and generally live in the South, while investors in this "new crop" of marijuana companies are more likely to live in the Northeast such as in the New York tri-state area.
But here's the kicker, people are always talking about "younger generations not putting money into the stock market". But if you take a look into this study, it shows that far and away the disparity between the ages of marijuana stock investors and other "Sin stock" investors is incredibly evident.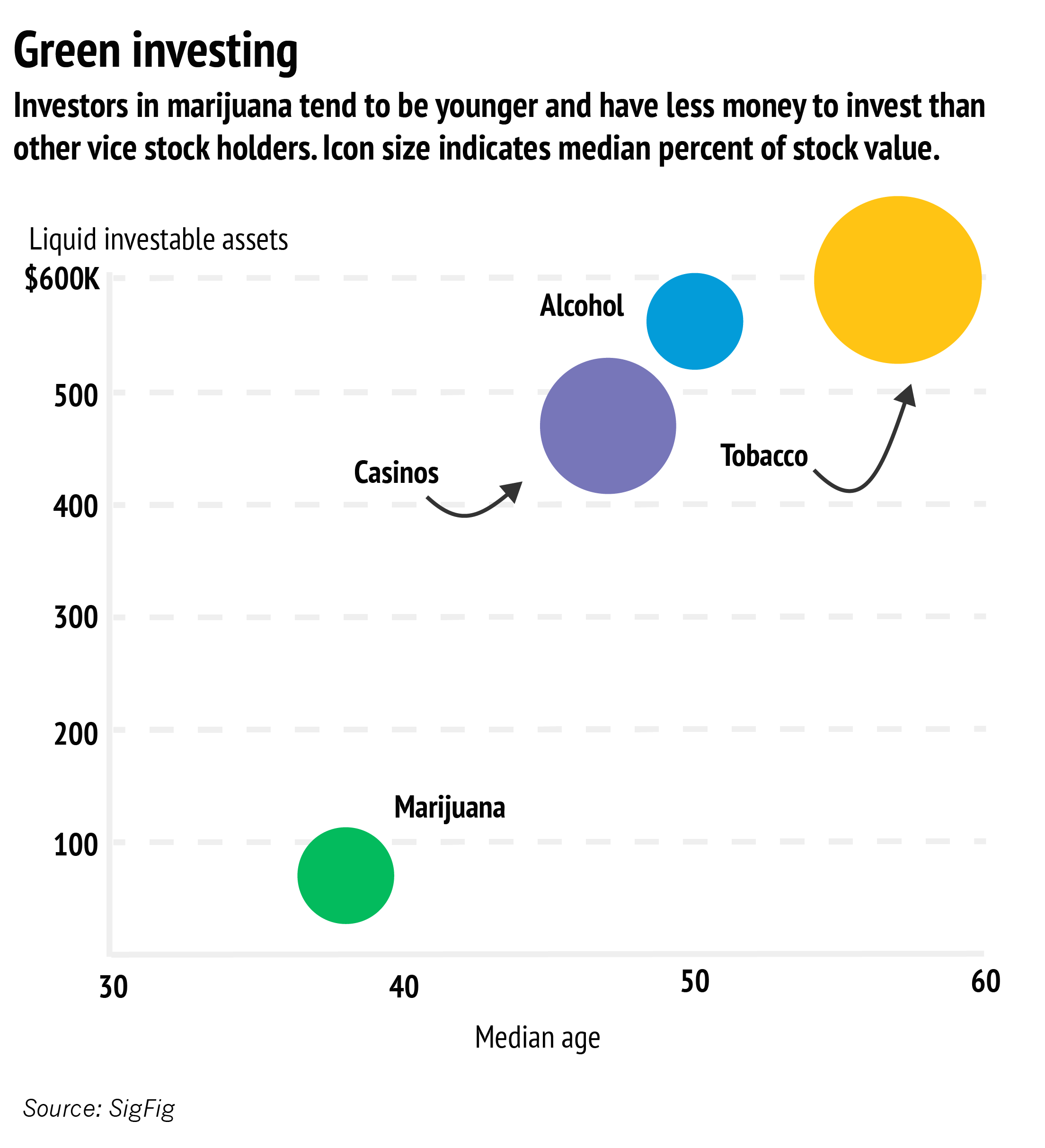 The "less money" to invest is exactly what has kept many flocking to cannabis stocks to watch. Take our own Wolf of Weed Street for example, along side thousands of others who were able to take a small investment and make it work for them in BIG ways. While many of these older investors choose to lay their money up for months or even years to find a return of 10-15%, many marijuana stocks have returned 50-5,000% in the matter of days or weeks…that's not to say that there is typically much more risk involved with small cap marijuana stocks VS the much larger tobacco and casino giants.
When the discussion about marijuana stocks comes about, where do you stand? Do you find yourself in the same mindset of at least 7 high net worth investment funds taking the leap into buying cannabis stocks or are you still watching from the sidelines? Let us hear your thoughts below
---
MAPH Enterprises, LLC | (305) 414-0128 | 1501 Venera Ave, Coral Gables, FL 33146 | new@marijuanastocks.com