Wednesday September 12 we brought you our newest Connect the Dots feature on a company that has just completed its first acquisition. Integrated Cannabis Company (ICNAF)(ICAN) & its subsidiary, X-Sprays™ have caught the attention of the markets this week.
If you are reading this for the first time, over the last 4 years, we have selected less than 10 companies to be featured in a "Connect the Dots" segment. As the marijuana industry continues to evolve into the most excellent investment opportunity since the Internet Boom, so do the Marijuana Stocks subscribers. We take great pride in providing you with the most up to date industry and financial information available today.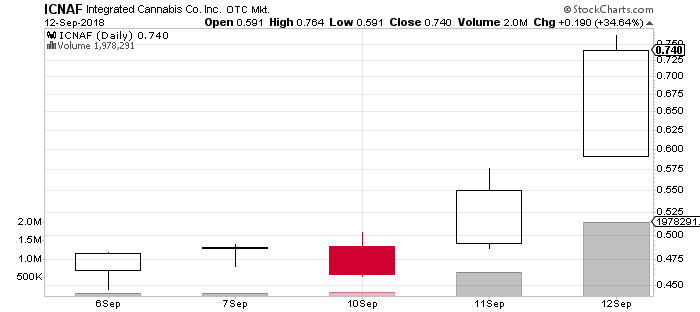 So, back to the focus: Connecting The Dots. Integrated Cannabis Company (ICNAF)(ICAN) is our newest Connect the Dots feature. We will be bringing continuing coverage on this company and following the story along the way. Last year we briefly covered this company before its name change, symbol change, and acquisition; basically in the infancy of the company. The run that it saw last year was from roughly $0.43 to highs of $1.98.
Since the dust had settled, we've kept track of things. As of June the company officially completed its X-Sprays ™ acquisition and has now begun to update the market on the road ahead.
And So It Begins
It looks like Tuesday (9-11-2018), interest began to build in the market and Integrated Cannabis (ICNAF)(ICAN) saw one of its most active days this year. Today we watched as Integrated Cannabis (ICNAF)(ICAN) saw its most active day in the company's history. The Canadian cannabis market has been waking up in a big way. As companies continue to set new record highs, it's our opinion that other Canadian marijuana stocks could follow suit.
The big focus for us is on what Connect the Dots means. Historically, these featured companies haven't been flashes in the pan; they have seen a long-term interest. Just look at some of the history of our Connect The Dots features
As you'll see, there are a number of "familiar faces" that we covered from the time they were still considered "under the radar". Today, many of these are considered "market leaders" with the likes of Canopy Growth, Cronos Group, & others setting a new tone within the industry. Today we brought Integrated Cannabis Company (ICNAF)(ICAN) to everyone's attention and so things have gotten off to a very active start.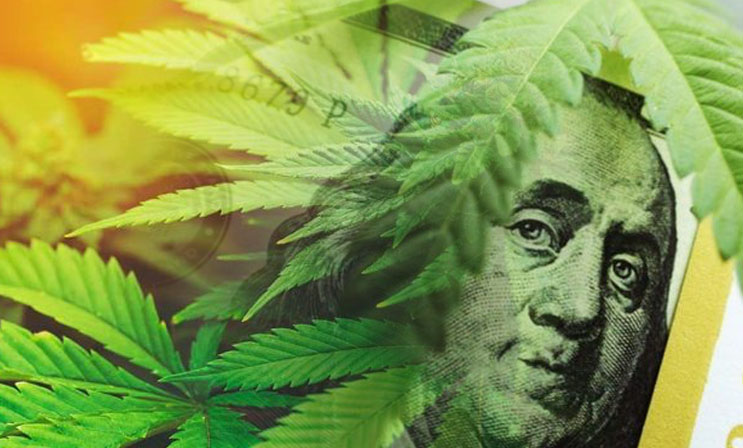 Disclaimer: Pursuant to an agreement between an affiliate of MAPH Enterprises, LLC (owners of MarijuanaStocks.com), Midam Ventures LLC and Integrated Cannabis Company, Midam is being paid $25,000 per month for a period of 6 months beginning September 4, 2018, and ending March 9, 2019. We own ZERO shares of Integrated Cannabis Company. We may buy or sell additional shares of (ICNAF)/(ICAN) in the open market at any time, including before, during or after the Website and Information, to provide public dissemination of favorable Information about Integrated Cannabis Company.